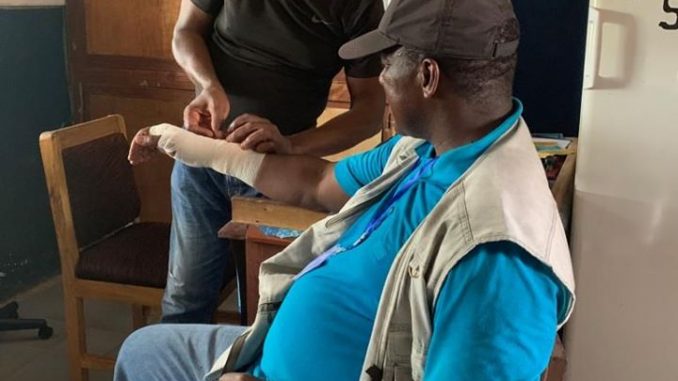 Dr. Kandeh K. Yumkella MP KKY warned authorities about the political thugs on LIVE TV yesterday and today Saturday he was attacked. It's a shame what's going on in Sierra Leone
_____________________________________
Supporters of the opposition National Grand Alliance ( NGC ) and journalists covering  the Kasiri local council bye-elections today have accused ruling Sierra Leone People's Party ( SLPP )  thugs of attacking and causing injuries  to the NGC leader Dr. Kandeh Kolleh Yumkella ( KKY ).
Moses Ben Kanu reports :
HEAVY VIOLENCE ROCKED WARD-210 (HON. YUMKELLA'S CONSTITUENCY) DURING THE ONGOING BYE ELECTIONS TODAY, SATURDAY NOVEMBER 23RD 2019 .  SLPP THUGS WENT  ON THE RAMPAGE , INJURING OPPOSITION LEADERS. 
CONFIRMED REPORTS  intimated that both Hon Dr. Kandeh Yumkella and Dr. Dennis Bright of the NGC have viciously come under heavy violent attack inside Kasirie (Ward-210) .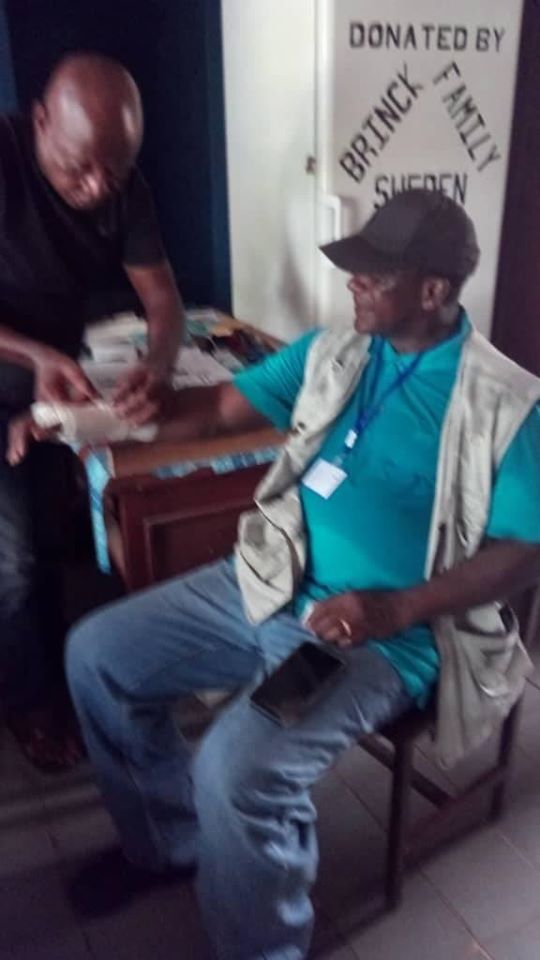 KANDEH YUMKELLA RECEIVING TREATMENT FOR HIS INJURIES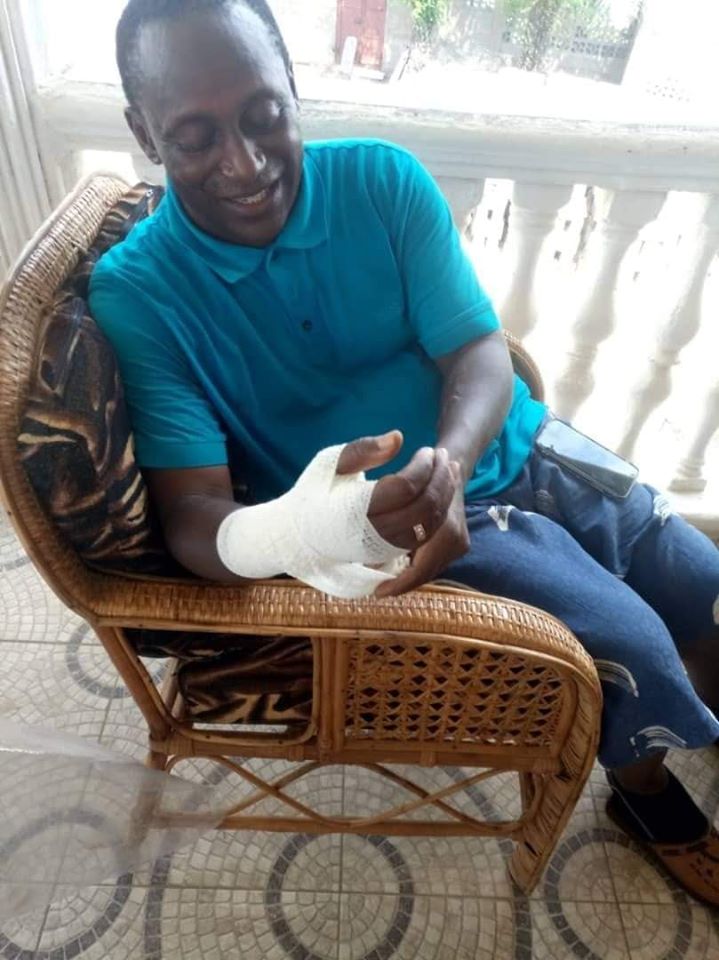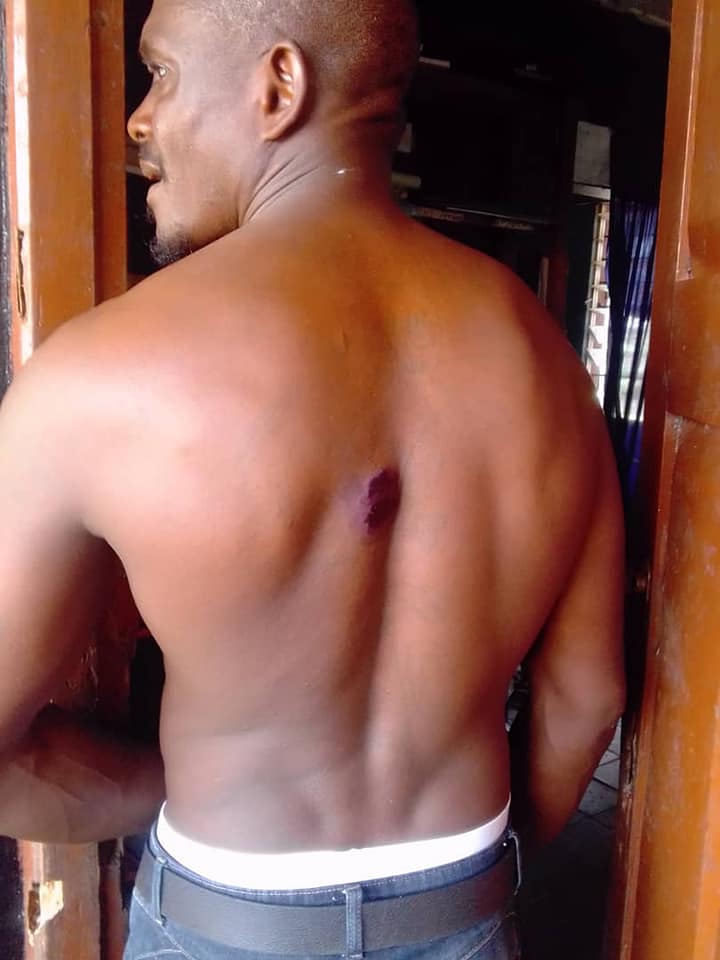 This is the Ward where a Bye-Election is being held and where Dr Yumkella had raised an alarm few days ago of government backed thugs and SLPP  terrorists planning to commit elections violence and mayhem in his constituency.
Reporters on the scene of the  incident  said a sudden unprovoked hail of stones rained down on the vehicle of the Dr Dennis Bright and Dr Yumkellah and left some NGC members wounded and bleeding and the two NGC political stakeholders , Dr Yumkella and Dr Bright fled for their lives to an unknown destination.
Even local and international reporters who attempted  to cover the bye-elections  were  met by violent threats from the SLPP Thugs – with cameras almost snatched from them and destroyed  to conceal evidence .
Over 7 mobile phones were snatched by the SLPP thugs  to prevent recording of the VIOLENT ATTACK and mayhem .
"We barely saved our cameras from being snatched by using special Ninja tactics. However, we have now run for cover". said one of the reporters"
Both local and international reporters have to flee for their lives and left Sierra Leone Police officers on the scene actively trying to calm the situation down and further prevent blood shed by the slpp Bio terrorists
Dr. Yumkella and other NGC political stakeholders have been taken to a safe hidden place for security reasons.
There are senior  SLPP  government officials present inside Kasirie Town , the constituency where the bye elections took  place but were using what seems to be government issued vehicles with license plates covered with black cloths.
HERE IS AN ARTICLE ON THE VIOLENCE BY FORMER SLPP OFFICIAL YANGUBA KAI-SAMBA :
The criminal violence and politically motivated attack on the leadership of the National Grand Coalition NGC party in the Kambia ward bye election, where Dr Kandeh Yumkella is the member of parliament should be roundly condemn by the people of Sierra Leone and the UN.
We are taking this threat to the lives of the opposition party leaders and the peace of our country seriously.
The only way to courter this threat, which has become real and alarming is for all opposition parties to form an election pack by the next election on self-defense mechanism of rapid intervention force to protect party leaders ,who find themselves under sudden organised violent attacks as well as protecting ballots in critical constituencies around the country.
That talks should now start because the paopas , aware of the mess they are in, and their inability to improve on the economy, are determined to deploy exceptional violence and election rigging tactics to remain in office after 2023 election.
The paopas SLPP government already have a record of grotesque violence,thuggery and murder of their own supporter during their party flagbearer campaign.
These attacks are organized and is not without a central clandestine command. We need to know this.
They should be identified and their names forwarded to ICC, human rights watch and other intelligence agencies concern about democracy and election violence.
The attack on Dr Yumkella and Dr Bright , in which the bodyguard protecting them was wounded is an attack on democracy and all Sierra Leoneans who wants to live in peace and vote for a leader of their choice.
We know the modus of operandi of the paopas SLPP administration. All opposition parties should come together and tailor their election strategies in anticipation that the 2023 elections will be exceptionally violent and bloody.
I extend my sincere sympathy and solidarity with the NGC, with Dr Yumkella and Dr Denis Bright ,as well as their bodyguard who is receiving medical treatment in hospital.
Sierra Leone was plunged into war precisely because of this type of injustices.
We can only wish for another war if we don't take a collective stand against political violence , thuggery lawlessness and election rigging.
Alusine Abraham Kamara This is the time for all opposition parties to unity and stand up against tyranny.