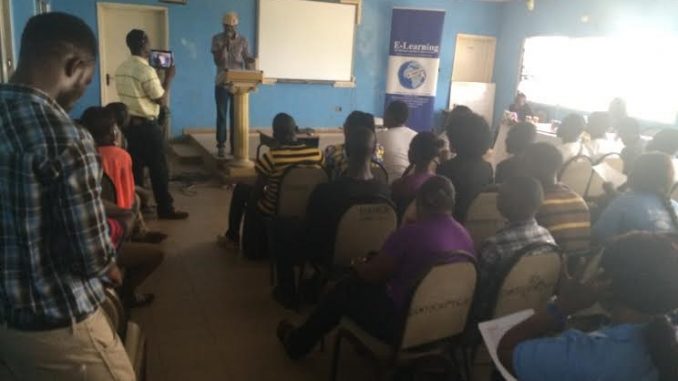 STUDENTS ENTREPRENEURESHIP PROGRAMME LAUNCHED
By ODA Communications Unit
With Support from the Dutch Ministry of Trade and International Corporation, the Migration and Development Consultancy headed by a Sierra Leonean Diaspora in the Netherlands in partnership with the Network University in The Netherlands, Institute of Advanced Management and Technology (IAMTECH) and Master Peace Sierra Leone has on Saturday 16th January 2016 launched the second phase of the online Students entrepreneurship Programmme (SEP) for entrepreneurs in Sierra Leone.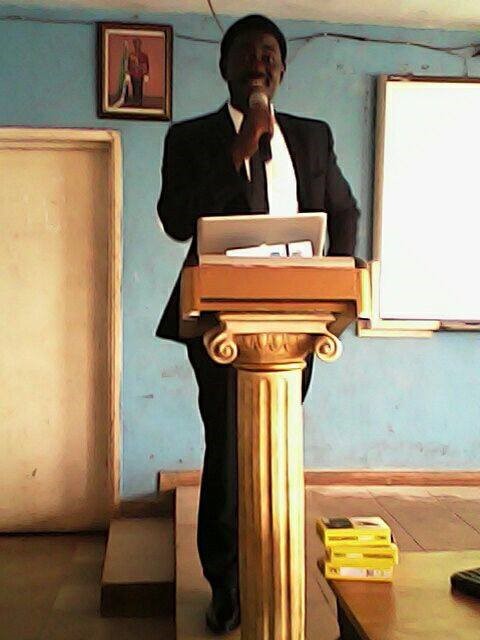 The initiator of the SEP, Abubakarr Bangura  Making a statement at the launching ceremony
The launching ceremony which took place in IAMTECH Hall in Kissy Dock yard Freetown attracted several people including students, young aspiring entrepreneurs and also experienced entrepreneurs like Dr. Sylvia Blyden and many other important stakeholders.
Speaking at the launching ceremony, the CEO of Migration and Development Consultancy, Abubakarr Bangura who is the initiator of the on- line Entrepreneurship Programme said that they started this programme five years ago, but because of funding they had to stop at some point. "Actually, we have completed the second phase of the programme and now moving to third phase.  We have trained over 80 prospective entrepreneurs; phase three will start this week and will end in August 2016 "Mr. Bangura explained. He also said that the E-Learning Entrepreneurship programme is a unique blend of distance online coaching and class room lessons training, adding that the programme is ambitious is to bring in new energy into SEP through ensuring that the online entrepreneurship programme is fully integraed and expanded to rural communities that have access to the internet. The new strategic plan was presented during the launching of SEP.
In her presentation title: 'Developing Young Entrepreneurs as a means of Nation Prosperity and Empowerment' Dr. Sylvia Blyden who is a successful entrepreneur that owned one of the widely circulated  local newspapers and also an internet café  defined an entrepreneur as a person who has a vision to start a successful business. She went further to mentioned names of successful entrepreneurs in Sierra Leone like the late Vincent Kanu who she said executed his vision through entrepreneurship that contributed greatly to the transformation of Makeni. '' As young aspiring entrepreneurs you should ensure to uphold the good virtue of integrity in engaging in entrepreneurship, that includes timely payment of tax, and also you should try hard to contribute to community development especially when you became successful entrepreneurs" Dr. Blyden advised. She also promised to link the E- Learning Entrepreneurship programme  with other stakeholders including Ministry of Trade and Industry and Bank of Sierra Leone.
Charles Boyle, head of Master Peace Sierra Leone revealed that they are going to award 20 scholarships to prospective candidates for the student e-learning entrepreneurship programme, adding that they will institute a strategy to give these scholarships to deserving candidates.  He advised students to treat the programme with the amount of seriousness it deserved. "In Sierra Leone to get a job is very difficult, with entrepreneurship you are self employed "he said.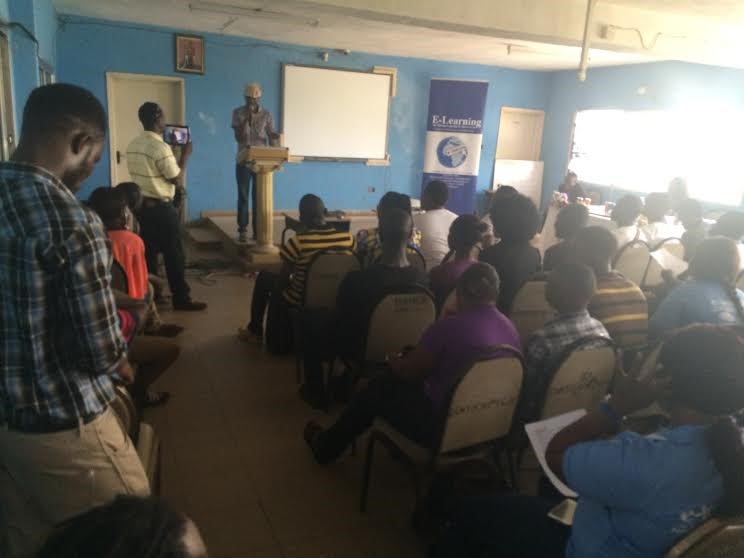 Participants at the launching ceremony
Mustapha Sanusi, one of the beneficiaries of the first phase of the entrepreneurship programme said he has done a business plan on waste Management. According to him the initiator of the entrepreneurship programme , Abubakarr Bangura  has linked him with investors  in Holland and some other countries in Europe. He however called on those who have interest in entrepreneurship to register for the e- learning entrepreunership programme.  Ibrahim Kamara, another beneficiary said: ''the programme has transformed me. Initially I am shy and afraid of educated people but now very proud and bold, have an email address and can communicate with friends online".
Meanwhile, the Students Entrepreneurship programme hereafter known as SEP was established in 2009 at the institute of advanced Management and Technology in Sierra Leone. SEP objectives are: to address the problem of youths unemployment, to instill in young people the culture of entrepreneurship through training , counselling and business clinics, to create links and partnerships for young startups and potential investors, locally , nationally and internationally and also to create a forum for business competition and other socio-economic activities.
Moreover, according to the coordinators of SEP registration can be done by completing the online registration form and application forms are available online: http. //ent.netuni.nl or contact the project coordinator, Mohamed S. Conteh at IAMTECH at 077596228,.