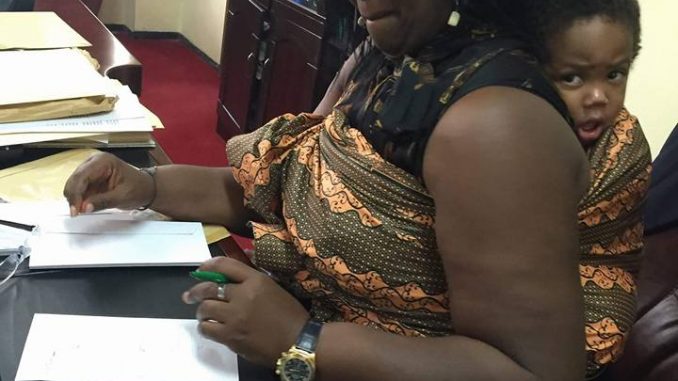 This photo of Sierra Leone's  Minister of Local Government and Rural Development, Madam Diana Konomanyi , carrying her granddaughter on her back and working in her office ( posted by Mr. Karamoh Kabba, the Deputy Minister of Political Affairs ) has gone viral in the social media.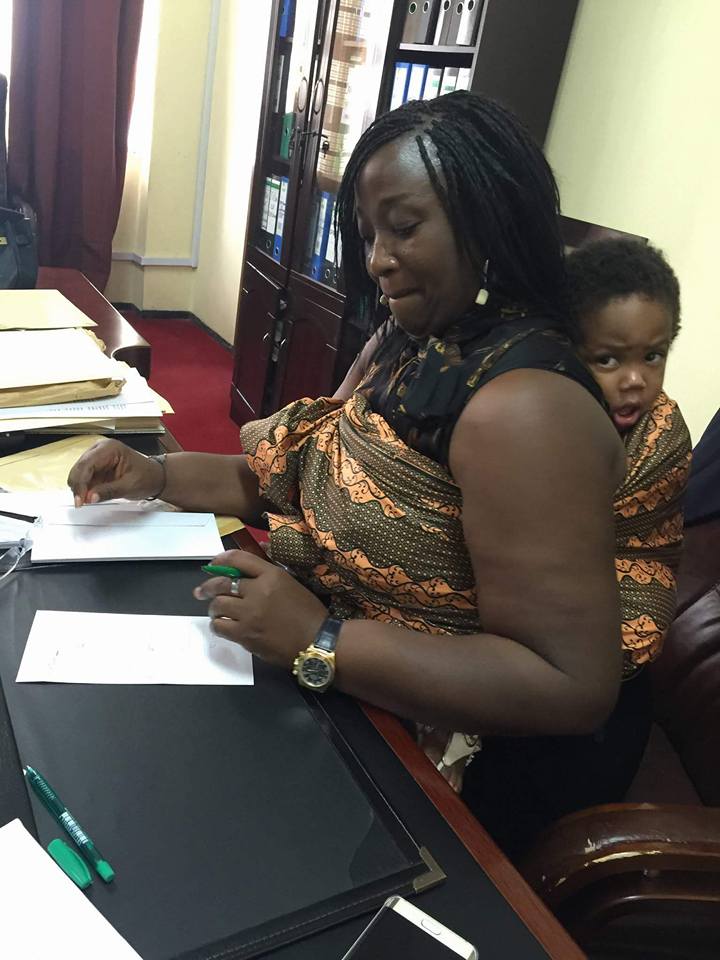 Many views have been expressed by Sierra Leoneans. Some say that it is a demonstration of the benefits of empowering women and placing them in positions of trust . Gibril Bangura said that "Diana is a clear example of a true African woman. " Patrick Foryoh remarked that :
"Sierra Leonean women are proud to mix work and family life…"
Women will go out of their way to do their work , whatever the encumbrances . One negativist found problems with the picture , citing safety concerns.
To COCORIOKO,  what the picture demonstrates is that not all  social  problems can stop a person from doing their work in today's technology-driven society if they want to do it. Of course if Diana had been working in a hospital or in an environment with dangerous ,  toxic and  other materials that would have posed a threat to the young baby, it would not have been advised to take the kid to work. However , if the work environment is safe, and the person is hard put to it, a way can always be found.
Some white-collar employers who are sick but not physically paralyzed , are still able to do their work, at least  in a home environment . The availability   of computers, fax machines and printers in today's world of technology have now made that  possible.  Some dedicated workers even carry their offices with them and can do their jobs in trains and planes and even on a cruise. It is all a question of devotion to one's duties.
In the Western and Eastern worlds where carrying babies on the back is not fashionable, it is difficult to see how this could be factored in, but in Africa, it is the mark of motherhood and where expediency demands , we could work around what Diana is doing, at least temporarily.
The other lesson of the picture is that though women caught in Madam Konomanyi's position could really have had a good excuse to call out from work for the day, creative means of working around the problem could still be found, as she is doing in the picture .
It is a photo studded with many object lessons.
EDITOR'S NOTE : Today is Friday and even in the U.S,  some parents take their children to work , especially when the pressure of work is not very heavy, ahead of the weekend break. Diana may have done that.