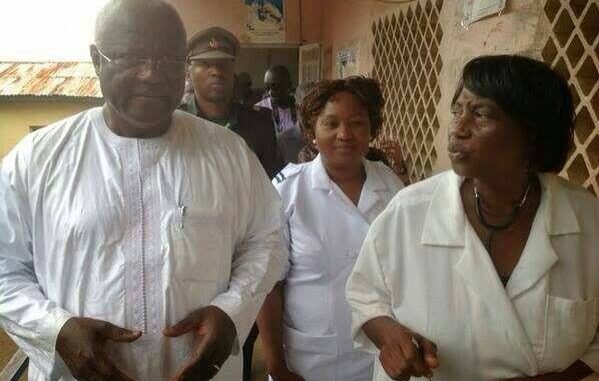 By  Titus Boye-Thompson, Strategic Media & Development Communications Unit :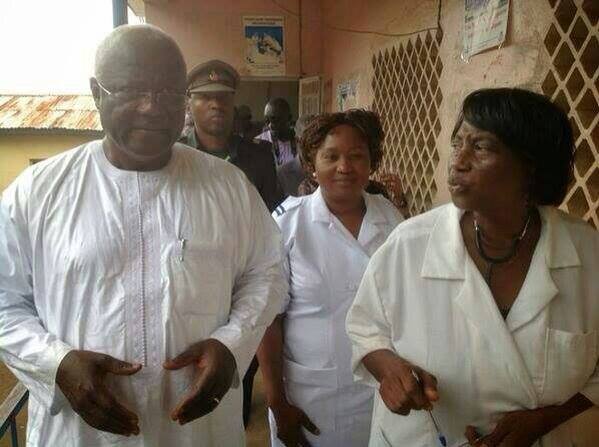 Dr Buck, to the left of His Excellency President Ernest Bai Koroma, just a few days before testing positive for Ebola.
The death of yet  another health worker is not an easy one to grasp when you consider the ramifications of that loss not only to the fight against Ebola but also nearer to home, her family and other people. Adding to that sad passing, it is now being rumored that the good Doctor's husband, a former police officer turned religious leader and their daughter, a pharmacologist may have tested positive.
The immediacy of their predicament is acceptably shocking for Regent, the small rural village community that they live in. There is the consideration that Regent village has already become Freetown's first hamlet epicenter of what in only a few months back was an affliction in the outermost parts of the country. The ease with which the Ebola virus has reached Freetown and its affluent society is both shocking and alarming.
Freetown is losing some of its best brains and committed people who have cared for the sick and dying from wherever they come and now the toll is becoming unyielding.   Many ask the question about whether Dr Buck needed to die. A pragmatic yet simple question borne out of the logic of countries sending planes to airlift a single citizen and the World Health Organization (WHO) doing the same for its staff. The question is menacing for several reasons, one of which entangles the World Heath Organization in a web of deceit and inaction, unfailingly devoid of concern and an utter lack of respect for our people.
It is clear that the WHO handles a sizeable chunk of the international funds sent over to deal with this epidemic. From a layman's standpoint, supporting primary care givers and protecting professional medical personnel is one sure way of assuring others that this battle can be handled. The failure to handle the matter of airlifting Dr Buck is of sizeable proportions and a complete disregard for the moral battle, faced by many. When someone like Dr Buck cannot be saved or her life is not given the same levity that a WHO staff enjoys, then what we are saying is that the World cares less of the lives of Sierra Leonean but more for their own lifestyles and latitude that they enjoy at our expense.
Many a UN Organization have used the predicament of Sierra Leone to their advantage. We stood by and watched the UN system of organizations deploy the largest peacekeeping force in Africa on the excuse of maintaining the peace in this country but when they left, there was no building or asset  left standing as a testament of that vast budget devoured by that deployment. They came with bivouacs and makeshift tents, slept in temporary barracks to underpin the transient nature of their interest in this country. Their lasting legacy was the dollarization of the economy especially in the cost of rental housing and dowry.
Slowly, Sierra Leone is experiencing that same attitude by an international community that takes so much from it but yields little. The request by State House in the name of our Presidency is enough to have moved Dr Buck out of this country. No other considerations outweigh such an executive order. There is also the added consideration that the good Dr. should have been identified as a person at risk by the Emergency Operations Committee that the WHO hastily housed at their premises. Their singular influence must have done such an e=assessment and made plans for the evacuation of such persons as Dr Buck and their families, given the way this virus spreads with such rapidity amongst loved ones.
Some of these people look after their dogs much better than the way they have offered to consider the lives of Sierra Leoneans and to all intents and purposes, this is just not right and cannot be acceptable.   In the preparations of country plans for epidemics, any rational planner would have considered the risk to personnel and their consequent care, with particular attention as to where they can get the best care. If the chances of care that can save lives are located outside of the field environment, then arrangements for immediate airlifts must be in place for proper treatment abroad.
Armies use helicopters for that very same reason, to airlift the war wounded away from the theatre of war. Why then did the WHO not have such a contingency but could identify and vary resources in a split second to send one of their staff away after he contracted the virus through sexual activity in Kenema, even in the conduct of such activity against the advice of the MSF. To say the least, the decision not to airlift Dr Buck is inhumane and disrespectful to our sovereignty and must be thoroughly investigated.   One would wish to learn, for example, whether any human interest considerations were taken when that request came to WHO from State House.
It is easy to identify whether the staff at WHO realized that the Government of Sierra Leone had no way of making such immediate arrangements because they have no recourse to the type of transportation that would have undertaken such an airlift. Considering that the Government is having difficulties airlifting Ambulances into the country from Dubai, was it not prudent for the UN to have used its resources in air transportation to move Dr Buck to safety, one can only wonder. The consideration of ho was responsible to fit the bill is secondary to the immediacy of the request.
Dr Buck was invariably left to die as technicians argue which budget was to be debited.   The twist to this sad episode is now looming. It is rumored that Dr Buck's husband and daughter may have tested positive to Ebola. Will WHO square their circle now by airlifting them to treatment abroad or will the very same tussle replay itself like a broken record. It is imperative that the authorities step in this time around to ensure that this family is not practically wiped out just because one of their member decided to remain human enough to care for her community and work diligently in her profession to make a difference.
Somebody needs to say these things because this epidemic is at everybody's doorstep now. I fear even for the Presidency because knowing his commitment to seeing that things get done, his unannounced visits to care centers and treatment facilities will expose him to danger and put him at risk. This is not a joke anymore, this is war and so far, we are not making headway.