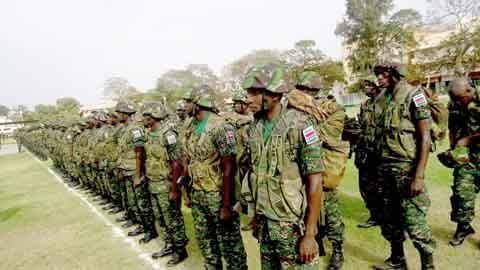 Gambia: AU will not recognise Jammeh as President from January 19
The African Union will cease to recognise Gambia's Yahya Jammeh as the nation's legitimate president with effect from January 19.
It is the date he is due to hand power to Adama Barrow, the winner of the December 1 election.
The AU's Peace and Security Council made this declaration after a meeting in Addis Ababa, the Ethiopian capital.
The council also warned of "serious consequences in the event that his action causes any crisis that could lead to political disorder, humanitarian and human rights disaster, including loss of innocent lives and destruction of properties".
The AU declaration came on a day President Muhammadu Buhari led a delegation of West African leaders to Banjul, Gambian capital, with the aim of persuading the soldier turned politician, to hand over power to Mr. Barrow.
Mr. Jammeh's political party, in the latest gambit, has gone to court to halt the inauguration of Mr. Barrow, on the basis that Mr. Jammeh's challenge of the electoral result has not been decided by the country's Supreme Court.
The case was adjourned for months, because the court could not form a quorum.
Meanwhile, opposition politicians are trying to offer some carrots to encourage Mr. Jammeh to leave power peacefully.
The regional bloc, the Economic Community of West African States (ECOWAS), had on December 23, 2016 put standby military forces on alert.
The ECOWAS Commission President, Marcel de Souza, said Senegal, The Gambia's only territorial neighbour, would lead any military operation in the country.
Other West African countries, would be requested to provide troops as well, Mr. De Souza reportedly said.
Mr. Jammeh lost the December 1 2016 Gambia presidential election to opposition candidate, Mr. Barrow.
He initially accepted defeat and congratulated Mr. Barrow but changed his mind and decided to challenge the outcome of the election.
He also vowed not to hand over to the winner as expected on January 19.
On Thursday, Mr. Jammeh said he would not step down before a Supreme Court decision on the disputed election, the BBC reported.
 The President, the report said, insisted his cabinet and the National Assembly would remain in place until the Supreme Court rules on his party's petition.
There is currently shortage of judges in the country to sit on the matter.
The case can only be heard in May if Nigeria agrees to supply judges to the Supreme Court.
West African leaders, led by President Buhari, the chief mediator, travelled to Gambia Friday to persuade Mr. Jammeh to accept an "honourable exit plan".
The outcome of that meeting is unknown at this time.
Gambian President Yahya Jammeh declared a state of emergency on Tuesday after refusing to hand power to opposition leader Adama Barrow, who won an election last month.
State television said the emergency would prevent a power vacuum while the supreme court rules on Jammeh's petition challenging the election result.
That suggests Jammeh will stay in power beyond Thursday, when Barrow was due to have been sworn in as president.
Gambian President Jammeh declares state of emergency
 Regional leaders have threatened to intervene militarily if Jammeh does not step down and on Tuesday a senior Nigerian army source said Nigeria and other West African states were preparing a military force.
"I … hereby declare a state of public emergency throughout the Islamic Republic of Gambia," Jammeh's declaration said.
The state of emergency banned "acts of disobedience" and "acts intended to disturb public order".
Barrow is not intimidated by the state of emergency, a spokesman told Reuters. He declined to comment on whether the inauguration would proceed on schedule.
Jammeh took power in a coup in 1994 as only the second president since Gambia's independence in 1965 and his government gained a reputation for torturing and killing perceived opponents, rights groups say. In 2015, he declared that the country was an Islamic Republic.
Pro-democracy activists across Africa welcomed his defeat, and his refusal to step down has provoked an internal crisis as well as a test of mettle for regional leaders.
Gambia's top judge on Monday declined to rule on Jammeh's election petition and in a political blow to the president, the ministers of finance, foreign affairs, trade and the environment have resigned, according to ministry sources.
The Nigerian source said that defense chiefs of staff of West African countries met on Monday to discuss strategies to remove Jammeh.
"Some West African countries will be contributing troops, including Nigeria, for the operation," said the source, adding that the United Nations and African Union had offered support to regional body ECOWAS for the plan.
State television said on Monday Finance Minister Abdou Kolley was being replaced by Benjamin Roberts, the minister of tourism. Finance ministry sources said on Tuesday Roberts had also resigned.
Ministry sources said other government figures, including Foreign Minister Neneh Macdouall-Gaye, had left the government and the country. The mayor of the capital Banjul has also resigned, according to sources at the city council.
Hundreds of Gambians have fled to Senegal, Gambia's only neighbor, fearing for their safety because of the turmoil, and Senegalese authorities have increased security. Barrow is also in Senegal, his aides say.
"We are scared. There are soldiers with guns all the time," said Awa Sanneh, 25, from Birkama in Gambia, who was leaving with two children and 24 other family members.
Gambia, one of the smallest countries in Africa, relies on tourism and one main crop, peanuts, to fuel its economy.
(Reporting by Felix Onuah in Abuja, Emma Farge in Diouloulou and Edward McAllister in Dakar; Writing by Matthew Mpoke Bigg; Editing by James Dalgleish)
Gambians Stock Up Food As Jammeh Declares State Of Emergency
Gambians have started stocking up food following the declaration of a 90-day state of emergency in that country by the outgoing president, Yahya Jammeh.
Journalism trainer, Haddija Jawara told TV3 Tuesday "some people were going to the market to stock up their food supplies," indicating the streets of the capital are empty.
"Everywhere is empty since the declaration of the state of emergency.
Generally, the streets in Gambia are very deserted because a lot of people have moved to the villages others have move to Senegal," she said on TV3.
According to her, the declaration of the state of emergency did not come as a surprise to the people of the Gambia considering that the outgoing president has lost all options.
ECOWAS Okays Military Intervention In Gambia, Joint Troop Stationed At Border
ECOWAS

has issued an order for military intervention in The Gambia to oust President Yahya Jammeh at the stroke of midnight Thursday when his mandate ends.

Troops from Senegal, Nigeria, Mali and other West African countries are already stationed at the border to jointly enter the country on air and by land in an operation to thwart any hostilities or breach of law in the country.

"The Nigerian Air Force (NAF) has dispatched a contingent of 200 men, as well as an aviation fleet comprising combat aircraft, cargo ships, a helicopter and a surveillance and reconnaissance aircraft in Dakar," The NAF spokesperson, Ayodele Famuyiwa, said in a statement issued earlier.

ECOWAS had assured that military intervention will be the last resort while it attempted unsuccessfully to convince Jammeh to step down.

Mauritanian President Mohamed Ould Abdel Aziz landed in the Gambian capital Banjul on Wednesday evening in an effort to convince Jammeh who remains defiant.

Gambia's Vice President Isatou Njie-Saidy resigned earlier on Wednesday joining eight cabinet ministers who resigned this month.

President Yahya Jammeh declared a three-month state of emergency on Tuesday starting from January 17 to April 17, 2017.

He also ordered the security forces, who pledged allegiance to him, to maintain law and order in the country during the period.