UNION OF YOUTH ORGANIZATIONS SIERRA LEONE
(March 25, 2015, Freetown)
Our organizations, working under the Umbrella of The Union of Youth Organizations Sierra Leone have been following the matters relating to the erstwhile Vice President, Alhaji Samuel Sam Sumana, and the appointment of Ambassador Victor Bockarie Foh as Vice President. We are also aware that the matter has been placed before the Supreme Court for determination of the constitutionality, or otherwise, of these actions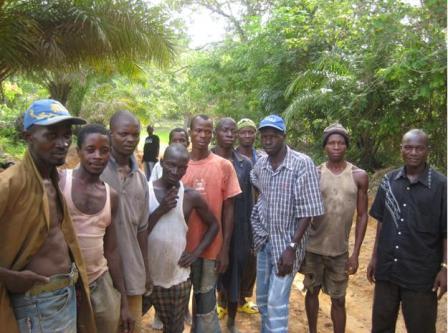 We also note with alarm the press release by the main opposition party calling for political action and demonstrations to get a reversal of the actions of relieving Alhaji Sam Sumana from his duties and appoint of Ambassador Foh; and we note the several writings and calls in the social media and other forums for youths to come out and demonstrate in the streets in support to get a reversal of the actions.
We are aware of the fact that youths have always been called upon by politicians to demonstrate in support of particular propositions, and that most times some youths are given drugs to make them highly confrontational in these instances. We also note that people with criminal intent often utilize these calls for demonstration to cause mayhem, molest peaceful citizens, destroy property and loot shops, stalls and wares of business people and traders.
We are also note that Sierra Leoneans are fully aware of the costs of violence and do not want the country to descend into violence, given the immense violence the country suffered during the rebel war.
We also note that mass demonstrations are a recipe for the spread of the Ebola Virus Disease, given that people that may be close together, some of whom may be coming from Ebola hotspots.
We are also aware of the current State of Emergency in the country promulgated by the Government as one amongst a number of extra-ordinary measures to defeat Ebola, and that demonstrations and incitement to violence contravene the provisions of the state of Emergency.
Pursuant to avoiding the occurrence of the above mentioned incidences, to wit, prejudicing a case which is now before the Supreme Court , violence, drug taking, looting, increase of Ebola cases, and contravention of the State of Emergency regulations and other laws, we the undersigned organizations and our membership demand that:
·

       
No youth or members of our various organizations should take to the streets or answer to any call for political action, strikes and demonstrations;
·

       
all parties should be aware that the matter is now subjudice, that is under judicial consideration of the highest court of the land and that respect for due process demands refraining from incitement and prejudicial comments on the matter
·

       
All youths should be vigilant and report to the authorities activities likely to cause violence, hatred, and descent into chaos
·

       
We also like the general public to note that members of our organizations are closely watching and recording the unfolding events and we stand ready to give evidence unto competent national and international court in relation to acts of incitement, violence, and chaos that threaten the peace, security and tranquility of our beloved nation   
President, Sweissy Jewellers
President, Cassette sellers  Association
Chairman, Belgium Sellers  Association
Chairman, Park sellers Association
Chairlady,  Abacha Traders 1&2
Country Director, Grassroot Pioneers for Development
President,  The Base Organization
Regional Coordinator  South- Momodu saidu
Regional Coordinator  North – Mohamed Turay
Regional Coordinator  East –     Fayaia Turay