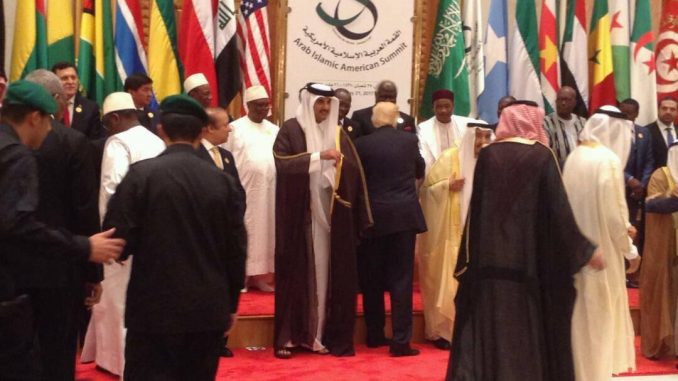 By KABS KANU :
President Ernest Koroma and U.S. President Donald Trump did not take long to get acquainted and Sierra Leoneans love it !
During an event recently in Saudi Arabia where world leaders had met to attend the U.S/Saudi World Summit, the U.S. President turned around and both he and President Koroma shook hands passionately as if they had known each other before , as shown in this picture, while other world leaders who, along with President Koromam  had been lined up behind, watched in fascination.
Sierra Leoneans loved every moment of it as they watched it live on CNN last week. Many of them expressed their delight with the event in the social media. Some said that the incident showed that President Koroma is held in high esteem by world leaders  because of his commitment to progress and development , while others hailed the fact that President Koroma is blessed in that though there were other world leaders behind Trump, he seemed to have singled out President Koroma for the handshake.
Here is one of the reactions to the event by journalist Editayo Temple :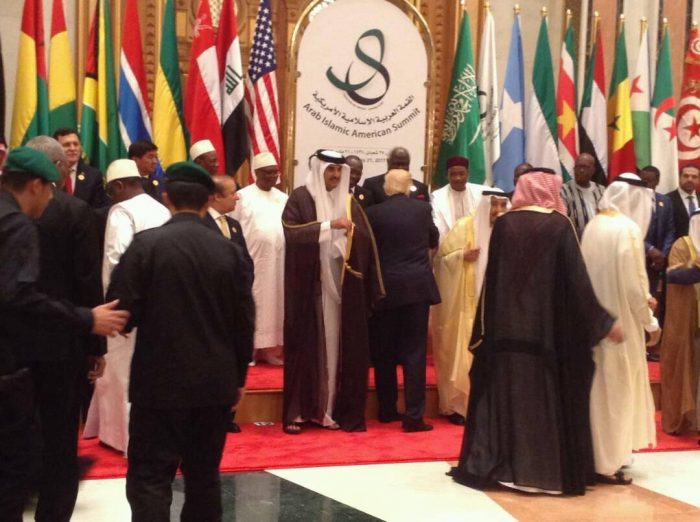 BREAKING NEWS
❗
❗
❗*
*Donald Trump Acknowledged President Koroma's Presence*
President of the United States of America, Donald J. Trump has in the midst of other World Leaders, acknowledged and recognised the blessed spirit and presence of the result oriented President of the Republic of Sierra Leone, His Excellency, Dr. Ernest Bai Koroma.
It is apparent that apart from the fact that Sierra Leone's contribution towards the successful conduct of the first organised Arab Islamic American Summit, held in Saudi Arabia, created positive impact, it was also a plus for Sierra Leone, when the U.S President, took a U-turn and extended a hand shake with the President of Sierra Leone, to the amazement of onlookers who were yawning for such opportunity.
Be it as it may, attached to this piece is the pictorial evidence and what comes out of their snap and fruitful deliberation, would be made know in my next edition.
EARLIER , SIERRA LEONE'S PRESS ATTACHE IN SAUDI  ARABIA, M.B. JALLOH ,  had reported the news event that the heads of state had been attending before Mr. Trump turned around and shook the hands of the Sierra Leonean leader :
Happening now :
By M.B  Jalloh
Sierra Leone's President atending the Arab Islamic American Summit at the King Abdul Aziz International Conference Center in Riyadh.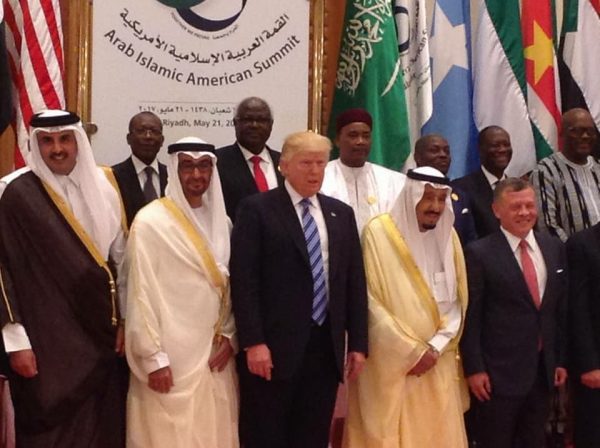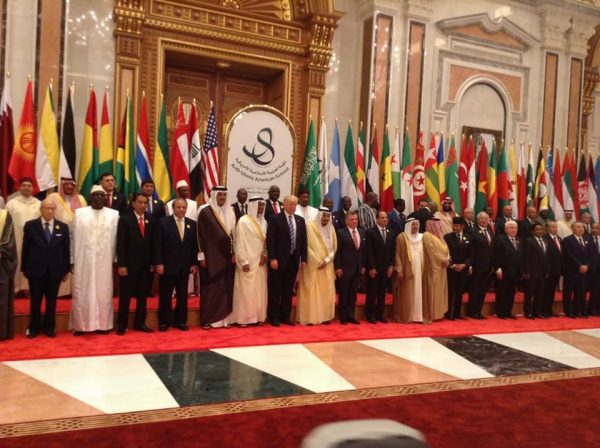 Photos below show President Koroma behind US President, Donald Trump and in the midst of the Saudi King, Kings of Jordan, Morroco, Paalestinian President, Presidents of Indonesia, Egypt, Malaysia, among over 50 Heads of State.
The summit is between leaders of Muslim-majority countries and US President, Donald Trump, which aims to decouple Islam's image from terrorism.
@ M.B Jalloh, Press Attaché, Saudi..