By Minkailu Turay, Global Times newspaper, Sierra Leone–
The World Bank has allocated US$50,000 to Sierra Leone for its Open Government Programme (OGP) and from that amount US$25,000 has already been disbursed to the OGP office in Freetown.
This was disclosed by the Lead Economist, Development Data Group, World Bank, Madam Ampero Ballivian in Washington at a meeting with the OGP delegation from Freetown last week.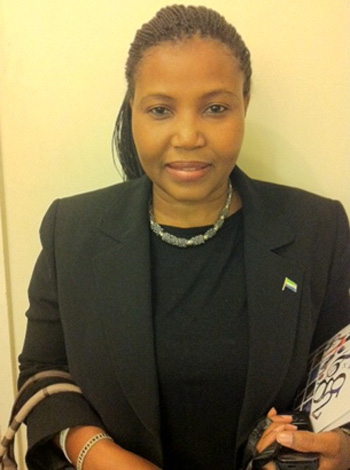 KHADIJA SESAY
Among the Sierra Leonean delegation currently in the U.S include the OGI/OGP Director, Madam Khadija Sesay, Commissioner Yeama Thompson of the Rights to Access Information Commission and Mr. Donald Conteh OGP Project Manager. The high profile meeting was held at 1818 H Street, NW Washington DC at the office of Madam Ampero Ballivian with the Agenda "Open Data Readiness Assessment and Open Data Portal".
During the meeting, Director Madam Khadija Sesay informed Madam Ballivian that the Open Data is needed in Sierra Leone now than any other time given the government's avowed commitment to promote transparency and corporate accountability to its citizens for continuing good governance. She told the senior World Bank Official that the OGP has a presidential mandate to set up an Open Data Portal. She explained the role being played by the International partners towards the fight against Ebola in Sierra Leone.
In her response, Madam Ampero Ballivian informed the Freetown delegation that, the Open Data is far more than just publishing information on a website rather she said it should be in a machine readable format and a license for its accessibility. She disclosed that the World Bank was doing the Sierra Leone Open Data Readiness Assessment when the Ebola Virus struck and the entire process stalled. The World Bank Economist cited Amadu Massalay as being aware of the process and was having communications with the World Bank.
Madam Ampero Ballivian further assured the delegation of the Bank's commitment to providing technical assistance on the Open Data Readiness Assessment. She noted that in the event of any travelling restriction because of Ebola their support will be provided remotely via video conference and the Sierra Leone team may access facilities in the country office for communication.
Madam Yeama Thompson in her statement underscored the importance of the Right to Access Information Commission created by the President, Ernest Bai Koroma noting that a chairman has already been appointed alongside four commissioners. Madam Yeama appealed for technical assistance and funds for operations.