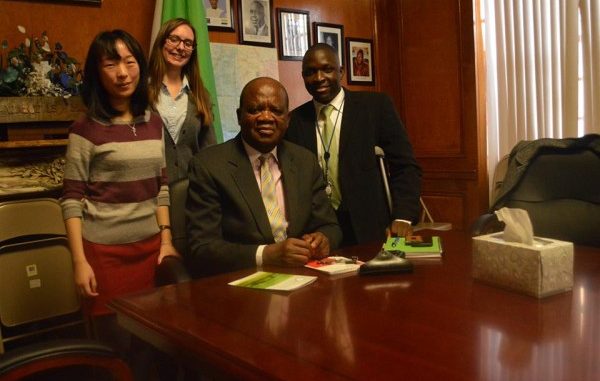 By PASCO TEMPLE :
Two officials from World Bank's Open Aid Partnership, Elizabeth Dadds and Giyang Xu are on their way to Sierra Leone to work with the development Directorate in the Ministry of finance and Statistics Department in particular, and other institutions to help collate data and make it transparent and accountable.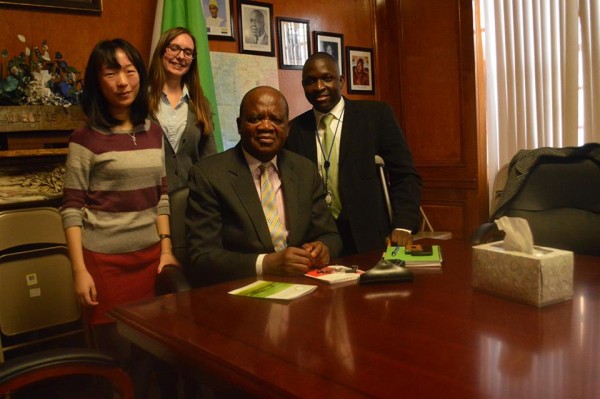 Briefing Ambassador Ibrahim S. Conteh at the 1701 19th Street Chancery in Washington DC today March 11, 2014, Ms. Elizabeth Dadds said the "Open Aid Partnership" works geared towards putting Development on the Map. It brings together development partners, governments, civil society organizations, foundations and the private sector in a bid to improve aid transparency and effectiveness.
She said the goal of her organization is to collect and open up local development data to engage citizens and other stakeholders in evidence – based conversations on development.
According to her, the key objectives of the Open Aid Partnership is to strengthen capacity of partner Countries to collect, curate and publish development data in an open and accessible format: Develop an Aid Map to visualize the locations of development activities on a Common mapping platform and build capacity of citizens, civil society and the media to understand, use and give feedback on an open development data.
The Open Aid Partnership does not work in isolation. "It works in collaboration between the governments of Bolivia, Canada, Czech Republic, Estonia, Finland, Kenya, Malawi, Nepal, the Netherlands, Spain, Sweden, the United kingdom, as well as the United States Agency for International development, African Development Bank, Development initiatives, the foundation Center, Inter Action, One Publish What you Fund, UN-Habitat, and the World Bank group." Said Giyang Xu.
The two ladies expressed their pleasure that many partners including Sierra Leone are willing to join in this effort to radically open up development and transform the way the world Bank Group report the nature of developments work to end poverty and promote Shared Prosperity.
Responding, Ambassador Ibrahim. S. Conteh welcomed the delegation led by Mr. Salifu Kamara, and thanked them for adding Sierra Leone to the number of Countries in the program.
"The Government of President Ernest Bai Koroma believes in transparency and such an institution will help considerably in putting out the Country's development strides." Said Ambassador Conteh. Adding that, "it will help correct erroneous data about the Country and also assist in the dissemination of positive news about Sierra Leone."