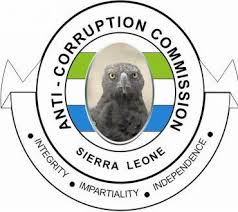 ANTI-CORRUPTION COMMISSION
CATHEDRAL HOUSE
3 GLOUCESTER STREET
FREETOWN
SIERRA LEONE, WEST AFRICA
TEL: 232-22 221468
FAX: 232-22 221900
Date:  27th June, 2014
PRESS RELEASE
HIGH COURT IMPOSES CUSTODIAL SENTENCE ON ELIZABETH KING FOR CORRUPTION OFFENCES
The High Court of Sierra Leone, presided over by Justice M A Paul, has convicted and imposed a custodial sentence on Elizabeth King, staff of National Revenue Authority, NRA. In his judgment delivered on 26th June, 2014, in the matter between the State vs Elizabeth King, the Judge found her guilty on two counts of Misappropriation of Public Funds contrary to section 36(1) and Conspiracy contrary to section 128(1) of the Anti-Corruption Act of 2008.
The convict will serve a sentence of five years and in addition pay a fine of Forty five million Leones (LE.45, 000,000).
According to the learned judge, 'anyone who is responsible for making a hole into the fabric of society poses a threat to the nation.'
This matter involves a Three hundred and ninety-two million two hundred and thirty-eight thousand eight hundred and sixty-four Leones (LE. 392,238,864) cheque paid by ADDAX Bio-Energy to the NRA that was converted into a private cheque and diverted into the account of Magsons Company operated by Solomon Katta and his wife Katherine Katta. A previous High Court ruling dated 3 April 2014 described Elizabeth King as the agent who took the said cheque to Eco-Bank for encashment.
The matter was prosecuted by Ady Macauley on behalf of the ACC.
Meanwhile, the third trial on the NRA-EcoBank matter, between the State vs Abraham Lavalie and others, is on-going with judgment pending.
.………………………………………..
KOLONEH SANKOH (Ms)
ACTING DIRECTOR, PUBLIC EDUCATION AND OUTREACH