Cocorioko is sad to report  the death of Dr. Olivette Buck,   the fourth Sierra Leonean doctor to die from the Ebola virus. She passed away last night.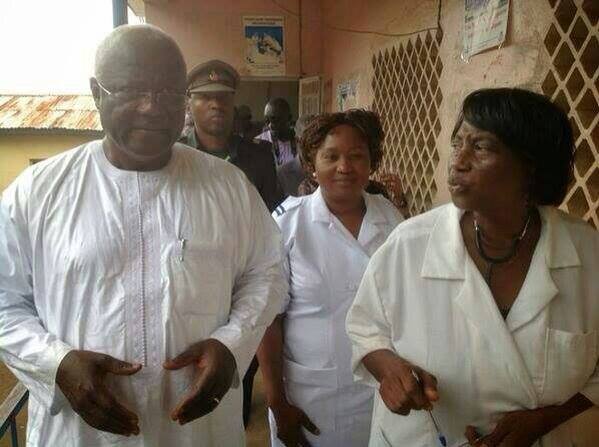 DR. OLIVETTE BUCK ( RIGHT ) IS SEEN HERE TAKING PRESIDENT ERNEST KOROMA ON A CONDUCTED TOUR OF THE LUMLEY HOSPITAL RECENTLY
In the deadly war against Ebola, Sierra Leone has lost another soldier. Dr. Olivet Buck died from the virus after attempts to evacuate her abroad failed, government officials said Sunday.
Buck is the fourth doctor to die from the hemorrhagic fever that has swept through West Africa in recent weeks, striking the impoverished nation of Sierra Leone with particular vigor.
Buck died late Saturday after the World Health Organization said it could not comply with a request to evacuate her to Germany, but would work to "facilitate the best care possible," including potential "access to experimental drugs," the Associated Press reported.
There is no known cure for Ebola, but a small number of unproven treatments have been administered to sick patients with varying degrees of success. So far, only foreign workers have been evacuated from Sierra Leone and Liberia.
Earlier in August, two American aid workers who had contracted the disease were flown back to the states for treatment. Both were given experimental drugs and have since recovered and been released from hospital.
A third US doctor who contracted Ebola in Liberia was also treated with experimental medicine and provided with a blood transfusion from one of the other surviving doctors. He remains in isolated care in Nebraska.
There's No Cure For Ebola Yet — But There Is an Experimental Serum. Read more here.
Ebola can only be spread through direct contact with bodily fluids such as saliva, blood, and sweat. The incubation period — from the time victims are infected to the exhibiting of symptoms — can be anywhere from two to 21 days.
As of early September, 301 health care workers have been infected, of which 144 have died across Guinea, Liberia and Sierra Leone, according to WHO statistics. Across West Africa, there 2,400 deaths due to Ebola have been documented.
The deaths of the doctors have added a devastating blow to the countries hardest hit by Ebola, where there is already a dire shortage of medics to help treat the overwhelming number of patients on the ground.
But a shrinking pool of doctors is not the only problem. There have also been reported cases of patients breaking out of treatment facilities for lack of food, while nurses have reportedly also gone on strike over insufficient protective equipment.
Lizzy Fields