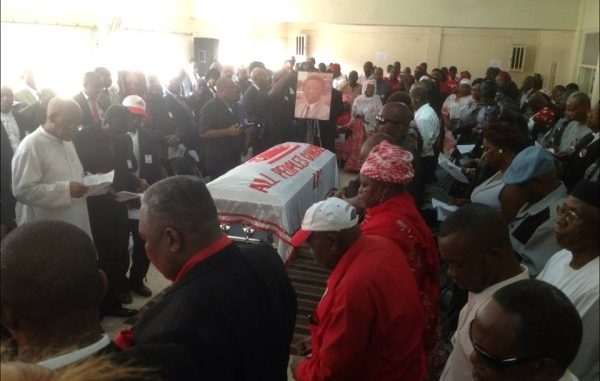 By Jarrah Kawusu-Konte
His Excellency, President Dr Ernest Bai Koroma in his capacity as Chairman and Leader of the All People's Congress (APC) arrived at the party's headquarter at Old Railway Line, Brookfields to attend the Laying-Out Ceremony for the late Hon. Abdul Franklin Serry Kamal who passed away at age 69.
He is survived by two daughters, a son and three grand children.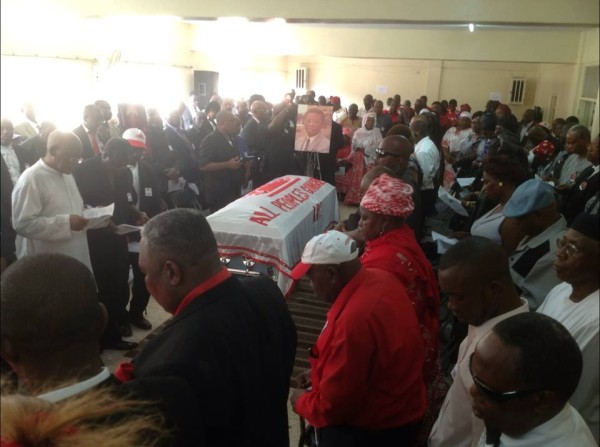 In his statement, President Koroma said the late Hon. Serry Kamal was a man that represented the grassroots and played a unique role in the APC; a role that could be equated to that of the Founding Fathers. "They gave the party an opportunity to represent the ordinary man," President Koroma asserted.
He went on to note that the second coming of the APC was midwifed by the late Serry Kamal and others. Serry Kamal, the president furthered, didn't join the APC because he wanted position or material wealth. "He came in at a time when even the most brave didn't have the guts to come forward to represent the party."
According to President Koroma, although Serry Kamal knew the party could not win the 1996 elections, he believed that it was a time to fight and stay in the game; a fight that brought the party back into governance. "He was a great warrior for the APC", the president noted, and asked rhetorically, how many Serry Kamals will we have again? How do we say good bye to him? How do we ensure the Kortoh Abdul flame continues to blaze in the APC? We should give him a fitting funeral, he emphatically said.
The Chairman and Leader recalled that when he was approached to be a member of cabinet under a certain president, it was the late Serry Kamal who advised him to refused the position, saying "Nar oil den wan rub pan you so", he said in Krio.
President Koroma urged the family to be very very proud of their late dad, husband, grandfather or uncle as his sacrifice for the APC was what brought the party back to power in 2007. "It's a big loss to the party, his family, the ordinary man and his professional colleagues. We will continue to emulate his loyalty and commitment to the party at all times. We look forward to your participation in the APC like your dad did," said the indefatigable Chairman and Leader of the APC.
The Secretary General of the APC, Ambassador Osman Foday Yansaneh in his short but very informative and glowing tribute to the great contributions of a late Comrade, Hon. Serry Kamal, who served the party diligently throughout his stay in this world said, "He was a man that stood tall among his peers."
According to the President of the APC Youth League who also doubles as Presidential Youth Aide, Bai Mahmoud Bangura, Uncle Serry was a courageous, determined and loyal APC stalwart.
Sierra Leone High Commissioner to Great Britain, Hon. Edward Turay in his tribute quoted the metaphysical poet John Donne in his poem "Death be not proud" as an indication that Hon. Serry Kamal is in a safe place and will die no more.
Please see poem below for ease of reference:
"Death be not proud, though some have called thee"
DEATH be not proud, though some have called thee
Mighty and dreadfull, for, thou art not so,
For, those, whom thou think'st, thou dost overthrow,
Die not, poore death, nor yet canst thou kill me.
From rest and sleepe, which but thy pictures bee,
Much pleasure, then from thee, much more must flow,
And soonest our best men with thee doe goe,
Rest of their bones, and soules deliverie.
Thou art slave to Fate, Chance, kings, and desperate men,
And dost with poyson, warre, and sicknesse dwell,
And poppie, or charmes can make us sleepe as well,
And better then thy stroake; why swell'st thou then;
One short sleepe past, wee wake eternally,
And death shall be no more; death, thou shalt die.