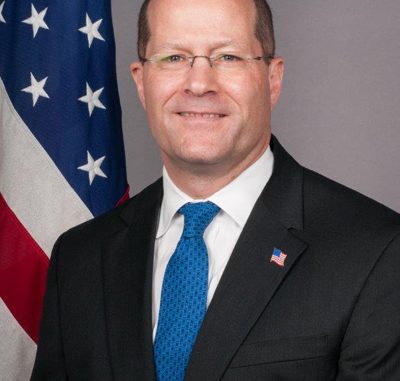 Remarks by U.S. Ambassador John Hoover
 Peace Corps Swearing-in Ceremony
Port Loko District Council
Today marks a milestone.  Today, we swear in the first group of regular, two-year Peace Corps Volunteers since the end of the Ebola outbreak in November 2015.  Our last such ceremony was in August, 2013, over three years ago.  A year later, in August, 2014 we were forced to evacuate 130 Volunteers in the face of the catastrophic Ebola outbreak.
In the frightening months that followed, as the virus raced across the country, infecting and killing thousands, it was not clear if Sierra Leone as we know her would even survive.
But with support from friends, including not least the United States, the government and the people of Sierra Leone stood firm and fought back.  In the end, with resilience, tenacity, and courage, Sierra Leone won the war against Ebola.  With optimism and hope, it is now picking itself up and looking ahead to recovery and a brighter future.
Today, we're part of that brighter future.  Today is an historic milestone in the return to Sierra Leone of the United States Peace Corps. It is an important step in rebuilding and renewing what has been a long and fruitful partnership that stretches all the way back to 1961.
This group of 15 Trainees is the first wave of two-year Volunteers.  They will be followed by many more, and by the middle of 2017, we expect to have around 90 Volunteers, teaching or providing public health services in nearly every district of Sierra Leone.  
This is a moment for thanks and appreciation.
I would first like to thank the representatives from the Government of Sierra Leone for coming today, but more so, for the strong partnership that you and your Ministries have helped build and continue to build between the United States and the Republic of Sierra Leone through the Peace Corps program.
I want to also thank the Port Loko District Council for the use of this hall for this important event, and for agreeing to allow the Peace Corps to use one of its buildings as a permanent training site for future volunteers.
Appreciation also goes to the Port Loko Teacher's College for its generosity in allowing Peace Corps to use your facility for nine weeks.  Thanks to the Principal, Mr. Ahmed Adakwa Koroma, and the Registrar, Mr. Mackotie Sesay.
I want to express special thanks to the people of Port Loko.  You suffered greatly during the Ebola outbreak and yet now, less than a year after it was declared over, you are opening your doors, your homes, and your hearts to the Peace Corps Trainees.  Thank you for your incredible kindness and generosity.
We also thank the leadership and the full-time staff of the Peace Corps office, which stayed open throughout the Ebola outbreak and became part of the U.S. Government's crisis response team.  Thank you for your heroism, and thank you for your dedication and time away from your families to provide first-class training so that today's Trainees will be successful starting tomorrow as Volunteers.
Last – but not least – to our Trainees, soon to be called Volunteers:
Thank you for coming to Sierra Leone.  You come from 11 different states, and from many different walks of life.  But you've come together here in Sierra Leone with a common purpose: to promote development and to deepen mutual understanding and friendship between our two great countries.
As I said earlier, the partnership between the Peace Corps and Sierra Leone is almost as old as me, and I'm not young!  In other words, you are part of something much bigger than yourselves.  You are the latest chapter in a long and storied relationship. 
Throughout this long history of friendship, the Peace Corps has touched tens of thousands of people, both Sierra Leonean and American, and brought our two countries closer together. 
Through the Peace Corps, Americans and Sierra Leoneans come to learn about each other.  To understand and appreciate the little things that separate us, but also to understand and celebrate the dreams and the values we hold in common. 
As the U.S. Government's senior representative in Sierra Leone, I could not ask for more.  You make my job easier and more fun.  You're a very important part of the broader partnership between our governments and our peoples.
We know that you will make good friends here, and that you will give generously to the people of Sierra Leone.  They in turn will give generously to you in many different ways.
Thank you for the work you've already done, and the even greater work I know you'll do in the coming two years.  I know that your service will make us proud.
With those few words, I have the distinct honor and pleasure to administer the official oath of office for this class of Peace Corps Volunteers.