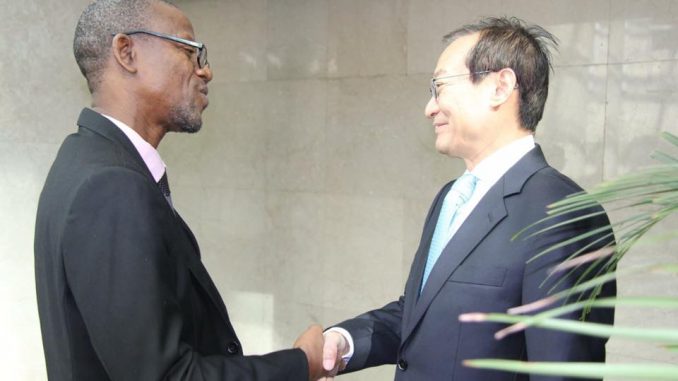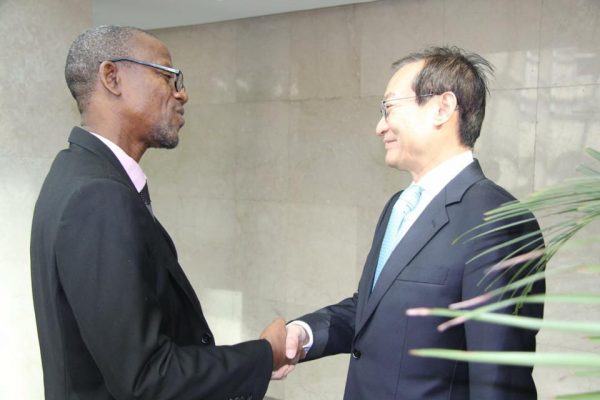 Minister of State1, Ministry of Foreign Affairs and International Cooperation has said Sierra Leone remains committed to moving forward with its long standing ties of friendship and cooperation with China, covering decades since both nations entered into bilateral ties.
Dr. Mohamed Gibril Sesay spoke on Thursday, 9th March, 2017, in Beijing, during bilateral talks with the Chinese Deputy Minister of Foreign Affairs, H.E Zhang Ming.
Minister Sesay said Sierra Leone notes China's support to her socio-economic development through various interventions in education, infrastructure, agriculture and health. Referencing their role in the fight against the ebola virus, he said "China stood by us and showed us they are true friends."
He also acknowledged the Chinese government's continued support over the years to the Ministry of Foreign Affairs and International Cooperation, further requesting for diplomatic training opportunities for new recruits in the ministry.
He assured of Sierra Leone's commitment to ratifying the Six Cooperation Agreements signed during the visit to China in December, 2016, of His Excellency President Ernest Bai Koroma, which he said, are "all geared towards lifting the bars of cooperation between the two nations."
Sierra Leone, the minister said, will utilize the scaled up bilateral relations through comprehensive, strategic cooperative partnership so as to fully exploit the ten point cooperation package announced during the 2015 Johannesburg FOCAC Summit.
Amongst other emerging geopolitical issues discussed, the minister said, Sierra Leone will always stand by China on issues of common interest and is fully supportive of the 'One-China' policy and that her position on the South China Sea remains the same and "unshakable."
He commended Chinese firms' contributions to revamping Sierra Leone's economy after ebola, specifically highlighting their intervention through the Tonkolili Mines.
Responding, the Chinese Deputy Minister of Foreign Affairs, H.E Zhang Ming said, both countries have had forty-six years of diplomatic ties and both have been each other's sincere friend and partner.
China and her people, the Chinese top diplomat said, will never forget the role Sierra Leone played, being one of the African countries that moved the motion to restore China's seat in the UN.
Deputy minister Zhang Ming informed his counterpart, that the Chinese government highly appreciates Sierra Leone's position on the 'One-China' policy and the South China Sea.
China, he said has profound friendship with Sierra Leone, which he said, was reflected during the ebola period.
The visit to China of President Ernest Bai Koroma in 2016, he said, "…injected strong and new impetus into the growth of our bilateral relations" as the two sides agreed to elevate their cooperation to a comprehensive, strategic cooperative partnership as well as signed six cooperation agreements.
China, he said, is ready to work together with Sierra Leone to implement the outcomes of the 2015 FOCAC Summit and those of the visit of President Koroma to China so as to bring the relationship to a new height.
At the political front, China, the deputy minister said, is ready to maintain the momentum of close exchanges between the political parties and government officials from both countries at different levels.
Speaking on Foreign Direct Investment, he said, his country expanded great support to the Tonkolili Iron Ore Project to help increase fiscal revenue and ensure job creation.
He said, China will offer rice and grain aid as well as send more technical and professionals to Sierra Leone to help enhance level of agriculture production, further assuring of more assistance to other sectors like health.
On education, China, he said, will continue to provide scholarships to Sierra Leone, disclosing that, there will be training opportunities for 440 Sierra Leoneans and 11 bilateral training programmes, further assuring of giving support to trainings of Foreign Service staff from Sierra Leone.
Both ministers underscored the strategic importance of the Mamamah airport when constructed, with commitment to ensuring it success.
They both also discussed issues of common interest particularly at the multilateral level with each committing to be supportive of the other.
John Baimba Sesay
Information/Press Attaché
Sierra Leone Embassy
People's Republic of China