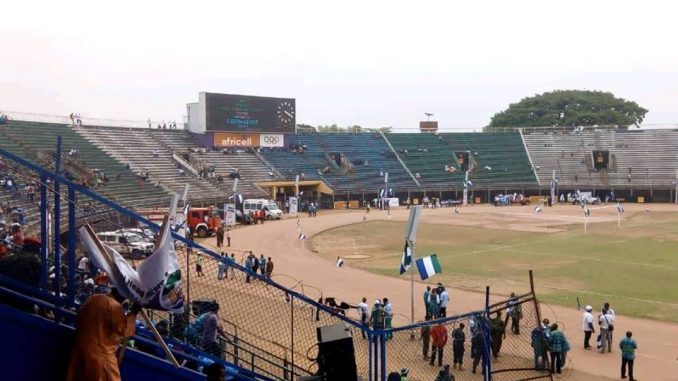 Photo News: 27 April 2019
Poor Turnouts for Today's Independence Day Anniversary Celebrations!
The photos below speak for themselves about the very poor turnouts in today's independence anniversary celebrations!
There is no spec of doubt that the reaction of the people is a direct translation of the growing level of poverty and hardship ravaging the country.
The New Direction must take the bull by the horns to alleviate the plight of the masses. Pretending as if everything is normal in the country is being insensitive to the current context.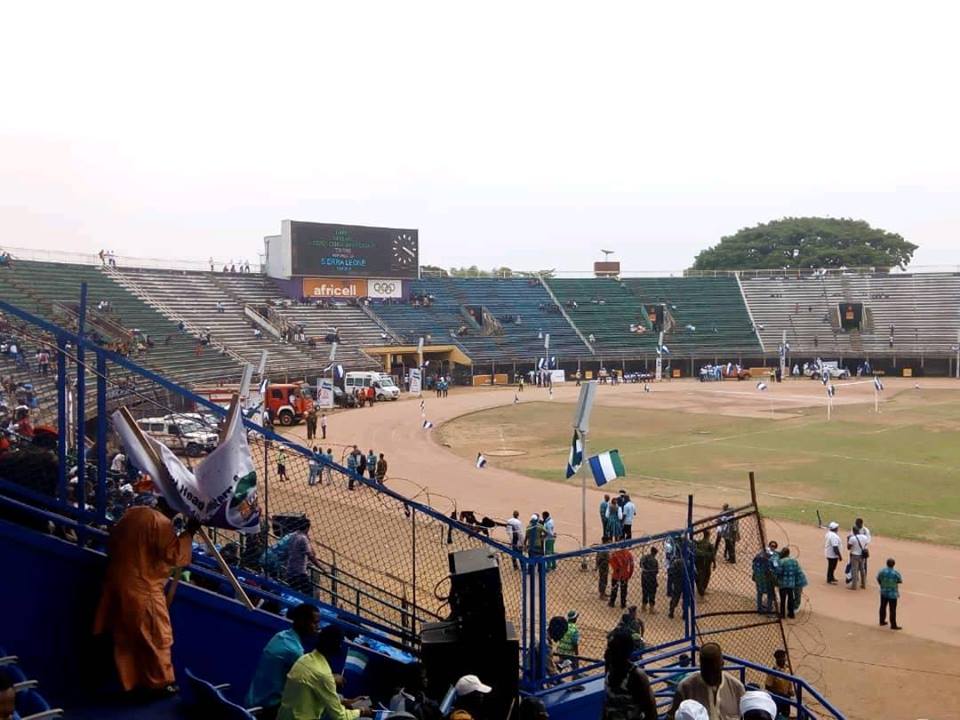 The people are hungry and have become more vulnerable in the face of rocket high inflation that has rendered the national currency worthless.
The ministers are too many and some of them have very little to do. There are too many deputy ministers and too many ambassadors and deputy ambassadors for a poverty devastated country like Sierra Leone with a very hungry population that is up to its neck in chronic poverty and hardship.
The big dem too boku na Salone pan tap dis hardship!
President Bio must do something now or never.
Kanu John
Whosoever advises Bio or let me put it this way; Bio should use common sense and empathy if he should regain his popularity. How can you tamper with the common man's means of socializing? Put a ban on masquerades! It's unbelievable that a decree was put out not recognizing Monday as a public holiday! How did he arrive at the decision; God alone knows. It's always been the case that when a public holiday falls on a weekend, the following working day is a holiday. How can he just issue out a decree barely a week before the independence! I'm sure the people are angry. He is showing complete lack of sensitivity and respect for the masses.
Saheed Koh
Any government that relies on the IMF will never prosper. Because the IMF is anti prosperity…all their conditions leaning to their monies are dangerous and are meant to destroy and inflict hardship on our people…any government that wants their money is forced to increase taxes cut of subsidies etc. How can a poor country like ours survive in such conditions? This is what led the fallout with the past administration…May God help Sierra leone
Salma Neneh Bah
The people of Sierra Leone have spoken. Lesson should be learn lol. Infact they will blame APC for the empty stadium, because all they do is blame, blame and blame. Stop the blame game and take action of your inability to rule the country.
 DISHEARTENING THAT AT 58 YEARS OF INDEPENDENCE; OUR COUNTRY IS AN EXAMPLE OF A NATION THAT HAS LOST DIRECTION..
58 Years after Sierra Leone's Independence, the normal rituals of speech delivery on tv&radio stations with sugarcoated vibes, and on social media networking sites across the country with empty promises with no effect on the lives of the ordinary people.
It's just disheartening seeing this LAND THAT WE LOVE from being the ATHENS OF WEST AFRICA to be the laughingstock of the world.. It is no news that this GREAT NATION of ours has not lived up to expectations, and the state of the nation today would surely make the fathers of Independence turn in their graves.The divide between the rich and the poor gets broader by the day with greedy and unrepentant self centered politicians, and shenanigan business people.
As our Motherland 🇸🇱 marks another Independence Anniversary, there will be celebrations of mediocrity as it has been in recent times. Rather than embark on sober reflections and seek ways out of the present predicament, the political class will use this opportunity to send goodwill messages and list their 'achievements' which seem only visible to them…😏
At 58, is there still hope for Mama SALONE? The answer is YES, but this is only possible if our current crop of political leaders shun tribalism, nepotism, regionalism and corruption and work to make Sierra Leone great again in one accord as it was founded upon as we are ONE NATION, ONE PEOPLE. UNITY FREEDOM AND JUSTICE!!!
@58 nothing to smile about 😌
©️Alkay
Lawrence E. Faux
There is nothing to celebrate d economy is in red a symbol of bad governance bio must get out paopa
Oooh finally r see d reason why bio nor wan celebrate d independent
Na for dis kind disgrace e balance
Dat why e use Fatima bio to see if the people of Sierra Leone will turn up
Maada bio says APC dea tiff
But the people of Sierra Leone turned  up in large number to celebrate the independence . Now take a look d difference
Vickie Remoe
Stadium was empty because na to dem sef dem sef. Unity is not something you can pretend to be or do. To unite people within the SLPP, to unite SLPP and APC, to unite Sierra Leoneans as a nation you can't do it alone or with a group of women who supported President Bio's election campaign. The elections are over. It doesn't matter who supported him, when it comes to Sierra Leone's Independence Day it has to be for and about all Sierra Leoneans not just the President's cheerleaders. If it was his Birthday fine but on Sierra Leone's Day it should be about unity and Sierra Leone First. Until we get that equation and understanding right and are truly genuine and inclusive it will continue to look like what it is; partisan pageantry.
Amara Benson Kargbo
Well this is the result, if they would have done something better with in this one year, then they will have reasons to celebrate. This have showed that the people of this country are not fools.
INDEPENDENCE @58]
OUR CONSCIENCE AND CONSEQUENCES: WHAT KIND OF INDEPENDENCE TO CELEBRATE!
AT 58: SOME WILL BE POSITIVE, WATCH, REFLECT AND PRAY FOR THE NATION, WHILE OTHERS WILL BE NEGATIVE, MERRY, CELEBRATE IN JUBILATION.
IT IS ALL PART OF THE RITUAL OF USHERING A NEW DAWN IN OUR BELOVED COUNTRY SIERRA LEONE AS WE FEEL IT IN REALITY.
*LET US IN REMEMBRANCE WITH HINDSIGHT ALL THOSE WHO SACRIFICED THEIR LIVES FOR US TO LIVE AND SEE THIS DAY.*
What is there to celebrate?
I can understand. The question is relevant to many because there seems to be something in it for some while nothing to be joyful or celebrate in the bigger picture for the majority suffering masses. The questioner's question is your question, is every genuine and patriotic citizen's question".
Sierra Leone do not need any celebration or merry making at a time like this but prayers and atonement for all its past evil and atrocities. Reflecting on the innocent lives lost, rendering deliberately families and others useless through selfies political machinations, greed, corruption, persecutions and victimisations.
WHAT IS THERE TO CELEBRATE ALL THESE YEARS SINCE ATTAINING SOVEREIGN STATEHOOD OF INDEPENDENCE 58 GOOD YEARS AGO?
As a point for reflection DUBAI AND RWANDA were in a worst terrible state taking just 15 years to become the envy of Africans, politicians and leaders globally.
What did we do with *58* good years only political party merry-go-round, confrontation and violences, coups, executions, war, reducing the people to refugees, scavengers, poverty, in fragmented decay state of traumas, high crime rate, hate, envy, pulling each other down, living in a city like a jungle where everyone is now a predator fighting for survival at any cost.
GRAND SCALE CORRUPTION WITH IMPUNITY, THE ABUSE OF CONSTITUTION, EROSION OF STATE INSTITUTIONS AND JUDICIARY, DETERIORATION OF PEOPLES WAY OF LIFE, POOR EDUCATIONAL AND HEALTH SYSTEMS, BREAKDOWN IN LAW AND ORDER, MANIPULATION OF THE STATE SECURITY INFRASTRUCTURE LEADING TO A FAILED STATE CLASSIFICATION.
An Independence day should mark the anniversary of an achievement that is considered great or is celebrated to respect the beliefs or values that people hold dear but necessary nonetheless. It suppose to give us an opportunity to look back upon what we have done the previous year, to see where our lives have taken us, and those memories that we will cherish forever and those that we'd rather forget and set a plan for the days to come.
It must mark a milestone in our lives, the sense of achievement that we have endured another year and the knowledge that we will wake up the next day and be able to start afresh. And to do that in another year spirit along with everyone on board makes it so much more special.
But most of all why do we celebrate? Well, do we really need a reason to?
SIERRA LEONEANS DO NOT HAVE ANYTHING TO CELEBRATE THIS PARTICULAR INDEPENDENCE AFTER ELECTIONS WITH SO MUCH REVELATIONS ABOUT CORRUPTION AND IMPUNITY TO PONDER 🤔
LET CITIZENS GO INTO A MODE OF SUPPLICATION IN REVERENCE. THE COUNTRY MUST ATONE, REFLECT WITH HINDSIGHT.
PRAY TO SEEK GOD'S DIVINE INTERVENTION FOR ITS SALVATION OR ELSE WE PAY THE PRICE OF GOD'S WRATH FOR BEEN A STUBBORN NATION.
If my people, who are called by my name, will humble themselves and pray and seek my face and turn from their wicked ways, then I will hear from heaven, and I will forgive their sin and will heal their land." 2 Chron. 7:14
Sierra Leone need investors and strategic business partnerships. What we do not need is exploiters and explorers, briefcase and fly by night posing businessmen and speculators only interested in minerals and resources.
INVOKING A TRUE SPIRIT OF RECONCILIATION is the beginning to progress in building positive synergies for unity, peace and security.
We have all wrong each other in one way or the other. Nobody is bigger than humility which is the greatest weapon to reality which can unite any troubled nation.
Today, let us start by approaching each other from a positive premises even in our differences there is always a common ground we can land on in a new direction.
EGO AND FOOLISH PRIDE is the biggest problem today in SIERRA LEONE that has brought us down on our knees. Pouncing on others with criticisms and vilifications without understanding and appreciating the bigger picture wanting to be always right.
Securing insatiable needs and unjustified craving for wealth and power through whatever means, has always been consequential to the greater obligations owe to the country and each other.
We definitely need each other irrespective of colorations, tribal affiliations, political party lineage or religious denominations.
We are one, and all of us bears the greatest responsibility to posterity by contributing "actions" and "inaction's". In every society and groups, there are good, bad and evil elements even in us as individuals.
But we must be able to separate these forces to appreciate there are two sides always to a story. Everyone of us knows his/her pains best, and who feels it knows it all.
Today, let us start by approaching each other from a positive premises even in our differences there is always a common ground we can land on. Including make amends and finding the inner strength to apologise if you were wrong in reciprocity. We have all wrong each other in one way or the other.
No individuals, politicians, rich or poor is bigger than Sierra Leone. Humility is the greatest weapon to reality. He that humble himself shall be exalted, and he that exalted himself shall be humble.
As a country, nation and people, we have disobeyed and sinned against GOD. We have exalted ourselves is why we have now been humble by GOD with-hindsight in CIRCUMSPECTION.
Dealing with our pride and ego @58 is a greater sign of strength than pounding our chest with insults and apportioning blame as usual taking one step forward and ten step backwards. We must all work as a family in a nation, to right the wrongs of history rather than continue to cry and fight over the rights that have been trample upon and the evil of the past.
Let unity, freedoms and justice prevail. Those politicians businessmen and government officials who stole from the country must return all what they took as the people are united in the fight against corruption to see their monies returned.
*GOD ALMIGHTY FATHER IN THE HEAVENS, INTO THY HANDS WE SUBMIT OUR BELOVED COUNTRY SIERRA LEONE @58 FOR DIVINE RESTORATION.*
AMEN 🙏🏽
*Syl Juxon Smith*
My people are in pain. In tears. In desperation for a leader. A true ruler that seeks the betterment of all citizens. Not only catering for a single tribe or party members. We are all missing the knowledge, wisdom and understanding of President Ernest Bai Koroma (former). We missed the freedoms we enjoyed. The unity we cherished and the harmony we lackadaisically valued.
Yes, as a nation, we are down. But we are not out.
We will rise again. The APC will come in again to clear the divisive mess Bio and his enthusiastic tribalists are fermenting. Yes, the APC is guaranteed to come again, just like the ☀️ is guaranteed to rise and bring light into dark places.
I love you all my people. Home and abroad. Irrespective of tribe, region or creed. If you are a Sierra Leonean, you are my blood.
I cannot in good faith though be hypocritical to wish you all a happy Independence Day. We all have no happiness. Only a few are enjoying the national cake. The scraps are then left for their tribal kinsmen. The rest of us have to make do with what God gives us.
Stay blessed and hopeful. We will once again enjoy Unity, Freedom and Justice.
Mamu Al Conteh