The Secretary General of the ruling All People's Congress ( APC ), Ambassador Alhaji Osman Foday Yansaneh, today announced during the laying-out ceremony of the late former Eastern Region Resident Minister, Mr. William Juana Smith, at the party's headquarters at Brookfields , Freetown,  that the cabinet has anonymously approved the return of the country's national stadium to its original name–The Siaka Stevens Stadium. Chernor Ojuku Sesay broke the news on Facebook today.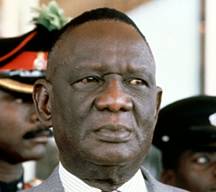 LATE PRESIDENT SIAKA STEVENS
It must be recalled that the Sierra Leone stadium was constructed in the mid-19970s by China through the instrumentality of the former Head of State, the late President Siaka Probyn Stevens .It was one of the stellar development projects undertaken by the late President, which included the magnificent Congo Cross Bridge.

 THE MAJESTIC SIAKA STEVENS STADIUM 
However, following the 1992 military coup by the NPRC junta, which overthrew the APC Government led by Gen. Joseph Saidu Momoh, the late President's name was removed from the stadium which then became known as the National Stadium.
COCORIOKO is on record as being one of the many media  ( APC personnel did the same ) that campaigned for reversion to the original name of Siaka Stevens Stadium, in appreciation of the efforts of the late President , who redeemed Sierra Leone from the curse of having some of the worst pitches for soccer : the then Association Grounds , Kingtom and the then Brookfields Recreation Grounds .
President Stevens traveled purposely to China to negotiate for help to have a new stadium constructed in Sierra Leone. Construction work started in 1974 and was completed in 1979 when the ultra-modern stadium was commissioned by the late President himself.
COCORIOKO  accused the NPRC soldiers of reaping where they did not sow when they changed the name of the stadium. We had always argued that it was a mark of disrespect and ungratefulness to the late President to have his name removed from the stadium. We cited the example of neighbouring Liberia where the name of the national stadium remained the Samuel K. Doe Sports Stadium . even after the late President Samuel Doe, who had it similarly constructed by China, had been killed by rebel forces in 1990. Doe was a dictator who committed unspeakable atrocities and plunged his country into war, but the Liberians were gracious enough to remain grateful to him for providing them the stadium.
The NPRC action was vindictive and reprehensible. However, today, President Stevens will sleep more soundly  in his grave as his honor has been restored .
Welcome to the SIAKA STEVENS STADIUM, BROOKFIELDS, FREETOWN.