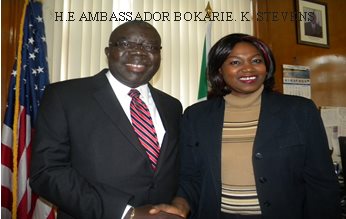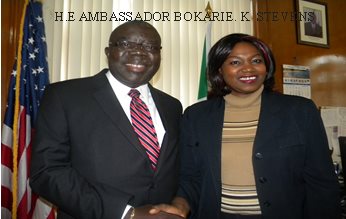 All feet led to the Days Inn Banquet Hall on Friday May 9, 2014 as the Sierra Leone Association of Artists and Musicians (SLAAM) held their 2nd Annual Honorary Lifetime Achievement Award event.  An event that had caused an uproar in the Sierra Leone community worldwide over the past two months as an intense online voting process took place involving all aspects of the Sierra Leone entertainment industry. An exquisite black-tie event with the members dressed in a uniform and classic black and gold; the event took off with a rendition of the Sierra Leone national anthem sang by founder – gospel singer – Giileh Scholz and the USA anthem sang by talented Singer/Pianist, beauty queen, and actress Janet Lagah-Bona now only 14 years old, – who also received one of the three President's Choice Awards for community service that night.
The entertainment started with two of Sierra Leone's newest artist's, Amstelina Decker who only a week ago had released her version of Krio Reggae Hymns – Part 1; followed by Stofresh, all the way from Arizona with "Bless Me."
It was a solemn moment when the spouse of late Yulisa Amadu Pat Maddy gave a speech in honor of her husband flanked by her children, before the night resumed with a grand performance by Lifetime Achievement Award winner for Gospel all the way from Sierra Leone, Evang Hannah Williams as she wowed the audience with her song "Why You Lek Me So."
The night continued with the results of the voting polls that left some speechless. As Festus George-Sawyerr (in London) took home the Book Author of the Year Award; with touching moments like when the Promoter of the Year Award was received by "Self-Made" as the wife of Fullah Boy burst into tears.  Proceeded by the elegant Clavenda Boxx Konteh who received the award of Lifetime Achievement for Promoter on behalf of her husband Boxx Konteh.
The MacCormack family once again reigned supreme in the entertainment industry as the younger brother of Bunny Mack (SLAAM Lifetime Achiever 2012- music) – Aki MacCormack received the Lifetime Achievement Award for Disc Jockey.
The event was graced by all the big names in the industry representing every category, and SLMTV was in full force to receive the Lifetime Achievement Award for their hard work promoting the music industry through their online radio.
Jimmy Bangura went away with three awards, winning not just the Lifetime Achievement Award, but also the awards for Best Movie Production Company of the Year and Best Actor of the Year.
Three persons received the distinguished President's Choice Award for their outstanding support of others, and most especially their efforts towards the entertainment industry. H.E. Ambassador Bockari K. Stevens, Save Sierra Leone Foundation a non profit organization founded by Patricia Thorpe-Finney; and 14 year old Janet Lagah-bona, Chairman of Children Empowerment Foundation.
– See more at: http://www.sierraexpressmedia.com/archives/68154#sthash.efUEWZKm.dpuf