Nothing reflects the depth of our intellectual, social and moral decline in Sierra Leone than the quality of our political discourse. It is high time we returned to the lofty heights from which we have fallen.
Where citizens of our West African neighbours like Liberia, Ghana, Nigeria and even little Gambia engage in reasoned , balanced and educative socio-political discourse on burning issues affecting their country, all you find in Sierra Leonean forums online and the social media are deliberately and carefully-concocted lies , character assassination, envious and defamatory attacks on perceived rivals and antagonists and profanities. We have really declined from the pedestal of intellectual excellence we once commanded , and it is a shame.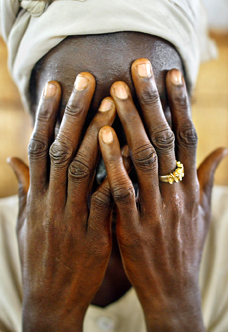 Sierra Leone is carving a niche as a country whose citizens do not know how to bridle their negative emotions. Normal human beings are capable of disguising their feelings of hate, malice, envy, tribalism,  jealousy, inferiority, pomposity , bias and perfidy for the general good, but it is not in the creed of many Sierra Leoneans to be discrete. No wonder that the company of  some Sierra Leoneans is a world  thriving with lying, destruction of innocent people's character, framing of malicious stories against one another, backstabbing, dirty tricks, machiavellian-styled plotting  against one another , conning, manipulation, and every conceivable vice. And a country whose citizens cannot control their emotions will always be embroiled in chaos.
The most conspicuous platform that Sierra Leoneans now use to expatiate the negativity and devilry in them is the social media –Facebook, Whatsapp, Twitter and forums.  A media set up to benefit mankind has been turned into a platform by Sierra Leoneans to demonstrate just what is essentially wrong with their country.
First of all, it would seem like everybody has now become an expert on social media , from the educated fools  to the  blandly  ignorant,  who cannot even spell their own names right but think they know it all ; from the psychopath to the depraved ; from the mentally- disturbed to the out-and-out criminal; from the shameful and shameless tribalist to the deliberate political rabble-rouser ; from the dangerously disgruntled  to the devious opportunist seeking leverage. They are always right and the other guys are always wrong. They are saints while the other guy is Satan because of his divergent views. This dangerous combination of men and women have made the social media a hotbed of political intolerance, cheap blackmail, hatchet jobs of defamation of character and peddling of lies and alarming stories about their country. Where there should be intelligent discourse, profanity and vulgarity reign supreme.  What often passes for political discourse is a slanging and shouting match to determine whose minds and mouths are  more profane and filthy .
The dismissal of the former Vice-President, Mr. Samuel Sam Sumana opened a witches' cove of  self-depreciating   charade of profanity  among Sierra Leoneans . Whole day on Facebook, Whatsapp and forums, they are busy hurling insults and threats at each other,  instead of gainfully discussing the pros and con of the issue. When they are not involved in profanity- laced fights, they are busy spreading alarming stories about their President, government and country, aimed at destroying the international image of their motherland. Listeners come off worse, their moral sensibilities outraged and their psyche stained by vulgar speech. One can only imagine the impression being created among  the international community about our country . People think that they are damaging the name of the President , but it is the country's international respect and credibility they are undermining.
There are a whole lot of good Sierra Leoneans , and they are in the majority but they are silent and stoic about events in their country. There are many learned Sierra Leoneans , especially in the U.S, who would have made a difference but they have decided to sit on the fence. Who will blame them ? They do not want to be insulted or threatened. Shame.
Whatever happened to civilized discourse where participants arrayed their debating skills, logic , intellect and wit against each other ? Whatever happened to the intellectual capacity that once earned us the nomenclature of ATHENS OF WEST AFRICA ?
Sierra Leoneans, what ails thee ?