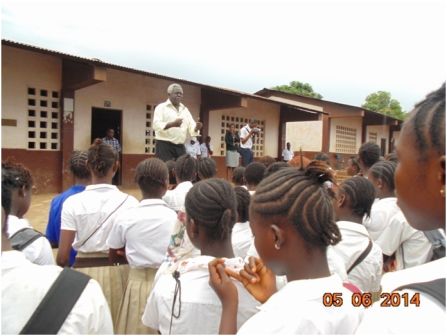 The Attitudinal and Behavioural Change Secretariat has on Tuesday 3rd June, 2014, started the Agents of Change Inter- Secondary School Visitations within in the Western Area.  (Photo: Mariama B. Jalloh, President of the ABC Club, Methodist Girls High School talking to pupils of the Technical Secondary School)
The four schools were visited from Tuesday 3rd June to Friday 6th June viz are; the Technical Services Secondary School, Saint Joseph Secondary School, Independence Secondary School and Saint Edwards Secondary School.  
The school visitations is in line with the implementation of the Agents of Change Pilot School Project. In February this year, the Secretariat trained pupils from four pilot  schools as Agents of  Change on negative attitudes and behaviours within the school system and how they could serve  as peer educators within their school, siblings and their communities .
The Secretariat is making use of  those trained pupils from the pilot schools to teach their colleagues in other schools about negative attitudes and behaviours in the school system and how those negative attitudes and behaviours are affecting their academic lives and futures.
At Technical Secondary School, pupils of the Methodist Girls High School highlighted a lot of negative attitudes within the school system such as truancy, lateness in school, "truancy in school will not help you in school and in your future" said Mariama A. Jalloh.
Lala Sidibay advised her colleagues to take their school work very seriously and to know the friends they are making because bad friends breed negative attitudes and behaviours, adding that they should always be with good friends and they should be a role model to those friends.
Pupils of the Freetown Secondary School for Girls paid visit to their neighbouring school, the Saint Joseph Secondary School. At Saint Joseph's, the FSSG pupils also preached on attitudinal and behavioural change messages to their colleagues. The President for the ABC Club at FSSG, Agnes Moseray spoke about dress code, she told her colleagues that as school pupils, they should learn to put on their correct school uniforms as prescribed by the school.
Marion Clarkson spoke to her colleagues about examination malpractices in school, "you should learn to study very hard as school pupils rather than engaging yourself in examination malpractices" she emphasised.
She asked her colleagues not to go behind teachers for grades as that will not help them in the future, She also called on the teachers not to give grades to pupils for money or exchange for sex.
The Independence Memorial Secondary School was visited by pupils from the Ahmahdiyya Secondary School. Fatmata  B. Barrie, the Assistant Secretary for the Ahmadiyya ABC school club stressed on the negative dress codes of  her colleagues, "don't be like gangster, but dress up as pupils" she emphasised.
Mohamed Sow, elaborated on examination malpractices, he told them to study hard, adding that if they fail to prepare well they are bound to fail and it will not help them in the future, "if you rest while others are working you will work while others are resting" he said. he called on his colleagues to desist from examination malpractices.
Halimatu C Bah, noted that school pupils should be well dressed by putting on the right uniforms and school dress code. She added that the girls should not dress in a way that will stimulate their teachers.
At Saint Edwards Secondary School, Mohamed A Conteh one of the pupil at the Saint Edwards School spoke to his colleagues about examination malpractice, according to him, he feels disappointed when he heard that his colleagues are engage in it and also informed them that it is a negative attitude, he therefore advised them to deviate from it for a better Sierra Leone.
He urged them to inculcate these words" thank you, am sorry and told them  to follow good friends as there is an adage which goes "show me your friend and I will tell you who you are. He admonish them to spend more time on their studies rather than extra activities" Nigerians are not better than us, they are making good grades in examinations because they spend a lot of time on their school work, stop stealing your friend's books in class, for the place for thieves is the prison" he concluded.
 Mohamed Deen Jalloh another pupil told his colleagues that there are two types of attitudes ;these are positive and negative attitude. In his explanation he emphasised on studies, that they as pupils need to study very hard if they want to succeed in life and admonish them that positive attitude is the key to success whilst negative attitude destroys one's life.
 "our parent are suffering to pay our school fees so we  as pupils are expected to study hard in order to make them happy by getting good grades at the end of the day" he emphasised.
Mr .Sahid Z Koroma ,Focal teacher for the Prince of Wales Secondary School at Saint Edwards asked the pupils to change their attitudes and behaviours and to accept all what their colleagues from the sister schools had explained to them.
Oladipo Coulson Olowu, pupil of the ABC Club POW informed his colleagues that attitude is the way a person react to things or the environment. He asked them to stop portraying negative attitudes in schools and society. He said "by portraying positive attitudes, you first have to identify yourself as a role model, let us all be agents of positive attitudes and behaviours to propagate positivity 'he concluded.
Victor Mambu, the Public Relations Officer of the ABC club at the POW spoke about dress code ,"as pupils you have to dress as the school authorities request you to "he told them that their dress codes tell people if they are to be regarded as gentlemen or gangsters. He encouraged them to copy the good attitudes of their principal as he is a role model in the educational system in this country. "stop going to school late, avoid playing truancy, use the best you have to get what you want he concluded.
The Principal for the Independence Junior Secondary School, Mr. Barkharn Boyle told his pupils to change their negative attitudes and behaviours, and to learn to do their assignments, go to school early, stop truancy and to study for their examination rather than involving themselves in examination malpractices.

He asked the pupils to cultivate strong foundation for their future as they are the future leaders. He commended the effort of the ABC Secretariat noting that; "if you educate a man in mind and not in morals, you educate menace to society" he mentioned. Mr Boyle handed a book to the Secretariat that he wrote on Attitude and Moral education.
A teacher of the Independence Secondary School, Mr Yusuf Cham Kamara told the pupils to emulate good people in society and not bad ones, he stressed that attitude is everything in life.
He also mentioned that what keeps people from their natural destinies in life is their perceptions, he called the pupils to change their attitudes for the better as they are the future leaders of Sierra Leone.
Mr Solomon F. Edwin the Senior Outreach Officer at the ABC Secretariat encouraged the pupils that "you should know the friends that you are keeping company with, friends that will  inspire you and not friends that will expire you",   . He condemned the issue of examination malpractice and went further to say that "it is a crime when you are caught in Examination malpractice and is a big disgrace to you, your school, families and even your community" he stressed. As your examinations are approaching I encourage you to study very hard and wish you good luck in your examination he concluded.
ABC Communications Unit