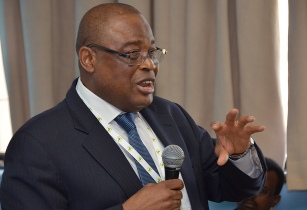 The Ministry of Agriculture, Forestry and Food Security on Thursday 26th May 2016 launched its annual retreat at the Makeni City Hall to discourse on ways forward for the Ministry, particularly on how to engage its stakeholders in the 10 – 24 months period of the Presidential Recovery Initiative on its Key Results Area 1, to increase production and productivity in the agriculture sector and to engage young people by providing up to 10,000 jobs for youths along agricultural value chains. Chairman for the occasion, Mr Sahr Matturi remarked that this is a retreat undertaken by the all-important "bread basket Ministry" of the country. "There is potential to do what we need to provide for our basic needs. " he said. He further went on to express the hope that the deliberations here will have a resounding influence on how we progress into the future.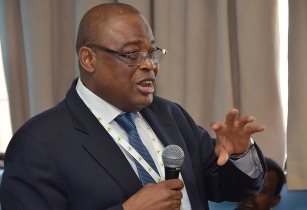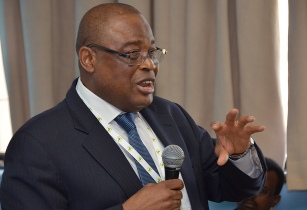 PROFESSOR MONTY JONES
Welcoming the delegates to Makeni, a representative of the Mayor of Makeni City reiterated that there is an urgent need in both public and private life to have these kinds of meetings. Referring to the need for actions and reflections, he expressed the hope that reflections from the deliberations at this retreat would give rise to action on key points agreed. Such meetings he said, would strengthen and reassure stakeholders in agriculture to deal with the social and economic crises of the country. He lamented the fact that although crop production is a major activity for the people of Sierra Leone with over 75% of rural communities engaged in this activity, agriculture was rendered extremely unproductive and impoverished by the onslaught of Ebola and Vulnerability to food insecurity increased exponentially. "As you engage in these deliberations, please have a good time and enjoy Makeni City," he remarked.
SECTOR OVERVIEW PAINTS A BRIGHT FUTURE
The Chief Agriculture Officer, Mr Foday Sankoh painted a bright future for agriculture in Sierra Leone when he gave an overview of the Ministry in its annual retreat at Makeni City Hall on Thursday 6th May 2016. While accepting that this retreat was not new and have been held in the past as internal events, with only stakeholders in the sector invited to join in the deliberations, he registered that this retreat is a departure from that trend as other Ministries and Agencies have been invited to broaden engagement between MAFFS and other institutions in the state economy.
Recounting the Ministry's achievements, Mr Sankoh said that as a Ministry, "we are very determined to work assiduously under the current Minister to move on to higher heights." He further went on to state that the Ministry has established quality objectives to increase productivity and production. Recent milestones and achievements he cited include support to transfer ownership of farm equipment by farmers; promoting commercial agriculture through the small holder commercialization scheme; In the last five years, the Ministry has attracted over 20 private sector organizations in the sector including international brands like ADDAX, SOCFIN, SIERRA AKKAR among others. Processors have come in to the sector in the likes of Lion Mountain and Mountain Lion and they are packaging rice to cater for many demands, 5, 10, 20 Kilos etc. Mr Sankoh stated that the Ministry had tried to address cross cutting issues of gender, youths and farmers health, and can now boast of a Gender Unit. He recounted other key initiatives such as working closely with SLARI to strengthen research in the sector, establish 1218 farmer field schools; 402 ABCs all over the country, and agricultural units and facilities in every Chiefdom; The Chief Agriculturist added that the Ministry had done so much to open up the country and as such had constructed and rehabilitated 2,707KM of feeder roads throughout the country. "The Ministry has pushed for access to finance for farmers by 51 financial services associations and 17 community banks. We are encouraging farmers to move to lowlands areas and 5000 hectares of inland valley swamps have been rehabilitated," he concluded
PUHEHUN DISTRICT COUNCIL CHAIRMAN ADMOMNISHES MAFFS OFFICIALS
Mr Sadiq Sillah, Chairman of Pujehun District Council admonished senior staff at the Ministry of Agriculture, Forestry and Food Security that as elected officials, they have no qualms in challenging them to account for their service delivery functions to the agriculture sectors, particular in the areas of farmers welfare and the supply of seeds and inputs for agricultural production. Speaking at the Ministry's annual retreat at Makeni City Hall, Mr Sillah congratulated the Minister for the delivery by Mr Leslie Scott, a member of the President's delivery team on behalf of the Ministry of Agriculture, Forestry and Food Security when he addressed Council Chairmen and other officials in Freetown just two days prior. He admitted that from that presentation, he was able to understand that the new Minister has a clear focus and vision for improving production and productivity in agriculture. Mr Sillah told the gathering that the appeal from Local Councils is for the agriculture Ministry to introduce practical methodologies and to change the way farmers work. He complained that the Ministry of Finance and Economic Development (MOFED) has been strangling agriculture by its reluctance to release devolved funds to Local Councils and the delay in receipt of such funds have a direct effect on the low yield and productivity experienced in the country. He stated that no disbursements have been made to Councils up to this time when farmers are now well into the planting season for this year. He praised the Minister of Agriculture, Forestry and Food Security, Prof. Patrick Monty Jones for what he called a "progressive vision" and expressed the hope that the future for agriculture is bright under the Minister's leadership
MINISTER OUTLINES HIS VISION FOR AGRICULTURE
Minister of Agriculture, Forestry and Food Security has spelt out his vision for agriculture going forwards and has warned that he wants to detract from the business as usual in the sector with low yields and inefficient farming methods that account for low production year in year out. Giving his keynote address at the annual retreat of the Ministry at Makeni City Hall on Thursday 26th May 2016, Prof. Monty Jones expressed confidence in the staff he met at the Ministry and referred to an answer he gave a journalist who recently asked him what kind of Ministry he inherited. He described the staff at MAFFS as bright, educated, committed, highly skilled and knowledgeable in agriculture and its impact on the economy. The Minister was quick to stress that he believes in building up from the foundations he had met and would do so with the dedication and commitment that he has for agriculture. In his first policy announcement, the Minister confirmed that he intends to keep the six divisions in the Ministry. He stressed that his commitment is to embed all the projects – seven ongoing or just about to terminate – "but we want to see all our projects incorporated into all the six divisions of the Ministry to increase collaboration and reduce duplication," but he added that he had instituted two key directives to strengthen their work. Firstly, he had established an Executive Management Committee (EMC) which assists in the decision making process at the Ministry and exemplifies his consultative e way of leadership. Secondly, the Minister announced the formation of the Strategic Advisory Unit (SAU) for which recruitment is currently on going. He reiterated that he views the SAU as a strategic Think Tank that will advise the Minister whilst acting as the monitoring eyes and ears of the Ministry to ensure that the Divisions are making the desired impact by their work. He explained that the SAU will interact with every Division and every project in the sector to strengthen service delivery and align the goals of the Ministry such as to increase production and productivity in the immediate future.
The Minister stated that this retreat has been called to promote agricultural growth and development in Sierra Leone, and that this is a retreat to reduce foreign exchange expenditure on agricultural products. These are very important priorities that have been captured in the Presidential recovery initiative and so the focus would be on these two priorities and sub initiatives. "so that we can achieve the goals we have set for the 10-24 months period." The Minister went on to state that the Ministry should promote agricultural production and productivity and concentrate on total factor productivity. "We should increase productivity between 2 – 4 tonnes per hectare on rice cultivation, and encourage our farmers to go down to the lowlands and promote sustainable agricultural productivity." The Minister admonished farmers to discourage slash and burn and other destructive activities that are harmful to the environment and instead use methodologies that are more beneficial to commercialization. "We must encourage private sector, work across the value chain from research to extension to production and in all intent, to align ourselves to the Presidential initiatives and move from the farm to industry." He continued
The Minister challenged his officials to be innovative in supporting those who want to help the country achieve its objectives to increase production and productivity while at the same time ensuring that farmer's and land owners welfare are secured by market price valuations and support for out grower schemes that would change and improve farmers' lives. He stated that since assuming office, he has engaged on nine projects which are in various stages of negotiation and have so far signed contracts with two projects expected to start imminently. The SEWA project will bring 35,000 hectares of rice into production with ancillary milling and local development services for the community at Tormabum while the Sierra Tropics project has secured land in Bo and is scheduled to start this year. He also mentioned another project that would engage in poultry and maize with a production capacity for 500,000 day old chicks into the poultry sector. The Minister promised that projects would be spread across the countries with a view to leveraging benefits to every corner of the country and to anchor projects in areas where they would have the requisite comparative advantage.
He concluded by throwing a challenge to the delegates to map out a paradigm shift in agriculture in Sierra Leone, to identify and set a road map on how the Ministry can deliver on increasing production and productivity and for this retreat to establish a benchmark for value addition across the agriculture value chain to secure the objective of over 10,000 jobs for young people in agriculture. He warned that there will be no room to continue with business as usual but rather for thinking to be done outside the box as this is the beginning of "business unusual."
PARAMOUNT CHIEF SALUTES MINISTER MONTY JONES
In his vote of thanks to mark the end of the plenary session of the Ministry of Agriculture, Forestry and Food Security' retreat at Makeni City Hall on Thursday 26th May 2016, the Paramount Chief of Bombali Sebora, PC Bai Sebora Kasanga after expressing thanks to God for enabling such an august gathering in his Chiefdom, saluted the Minister of Agriculture, Forestry and Food Security for what he called "a vision of extra-ordinary import" that the new Minister has brought to agriculture in Sierra Leone. The Paramount Chief admitted that Prof Monty Jones has been the first ever Minister of Agriculture who had handed over rural farming to the supervision of the Chiefs and he did so with the requisite respect and adulation for their office as Paramount Chiefs and custodians of the traditions of their peoples. In that regard, he thanked Minister Monty Jones profoundly and on behalf of all Paramount Chiefs pledged to support the Minister's efforts to increase production and productivity in agriculture. PC Bai Sebora Kasanga extended his best wishes for s fruitful deliberations to the delegates and entreated them to enjoy Bombali for the ensuing days that they would be hosts in his Chiefdom.