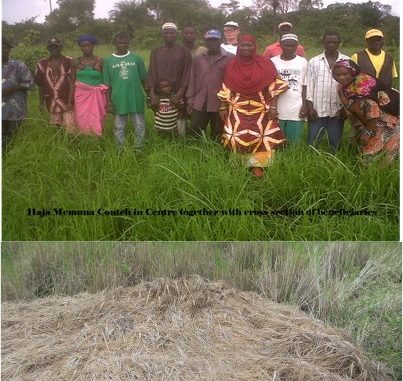 By Gunther AB Daramy :
In line with President Koroma's hitherto 'Agenda for Change Initiative' that laid emphasis on the need for the country to attaining food sufficiency, prioritizing the agricultural sector by increasing budget allocation from a paltry of 1.6% in 2007 to about 10% in order to make agriculture the engine of socio-economic growth and development of the country which had improved the living standard of citizenry, the Comprehensive Women's Organization (CWO) has experienced bumper harvest of rice in Port-Loko District.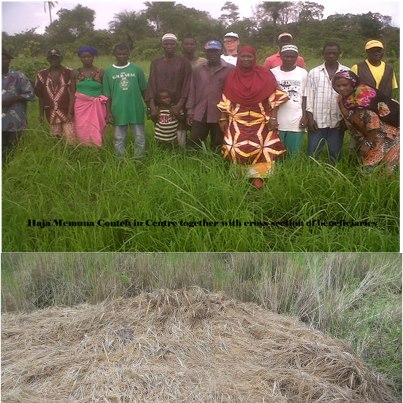 The Comprehensive Women's Organization (CWO), which according to recent findings is engaged in large scale cultivation of rice, cassava and other vegetables in the Masimra and Koya Chiefdoms in the Port-Loko District.
Speaking during a conducted tour made by this writer at one of the farms, the President of CWO, a dynamic woman of substance, Haja Memuna Conteh spoke on the historical background of the organization which she said started in 2002 after the war which affected women in the Port-Loko district, adding the project is gearing towards alleviating poverty amongst war affected people especially women who were the most vulnerable.
The project, she explained, started with widows that lost their husbands during the war and that the project was 'born' out of goodwill to elevate women from their psychological trauma as many of them were thinking on how they could send their children to school.
She however lauded what she said is a ''timely attention'' given by the APC Government led by President Dr. Ernest Bai Koroma when he ascended to the mantle of leadership of the country in 2007.
Her organization, she maintained, was able to greatly improve the lives of widows in that part of the country and that farmers are now making abundant profit from their harvests.
Dilating on constraints encountered during the project, Haja Memuna Conteh intimated, it takes commitment and endurance to do agriculture as according to her sometimes you cultivate and make no profits.
She added even beneficiaries' attitude towards the project is not encouraging at times.
Giving an update on the financial source of the project, Haja Conteh said, ''as women we rely on our little contributions and through other benevolent humanitarians.''
The potent and calculated woman activist described agriculture as her 'second nature' as she said in her entire life she shall serve humanity as she maintained she got that training as a Qualified Mental Retardation Professional (QMRP) many years while she was in the United State of America.
Commenting on this year's harvest, the President of CWO said the harvest was bountiful, noting it is an indication of collective successes relating to food security.
Interviewing one of the beneficiaries, Mabinty Kamara who is a widow of five children disclosed CWO's project has not only helped them in raising funds for their children to go to school but had also helped them with capacity trainings and other meaningful sensitization programmes, which, she noted, have extremely contribute to boosting their socio-economic status.
This writer toured about one hundred farms that were originated from seeds and other inputs denoted by Haja Memuna Conteh to the war affected and poor farmers in that part of the country in rounding up the tour.