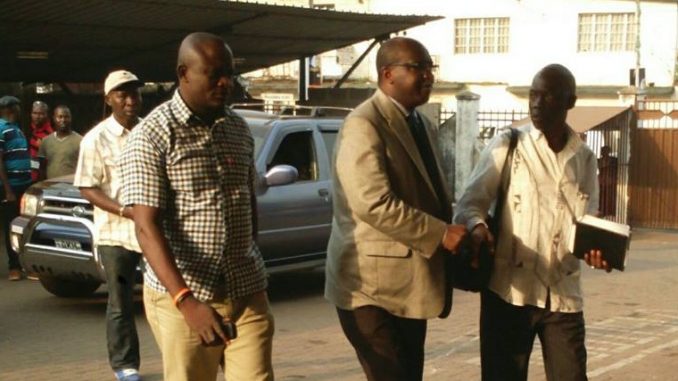 Politician  Allie Kabba has been arrested. The flamboyant politician, who wants to contest for the presidency under the banner of the opposition Sierra Leone People's Party ( SLPP ) , was arrested this morning by the Sierra Leone Police for alleged  bigamy.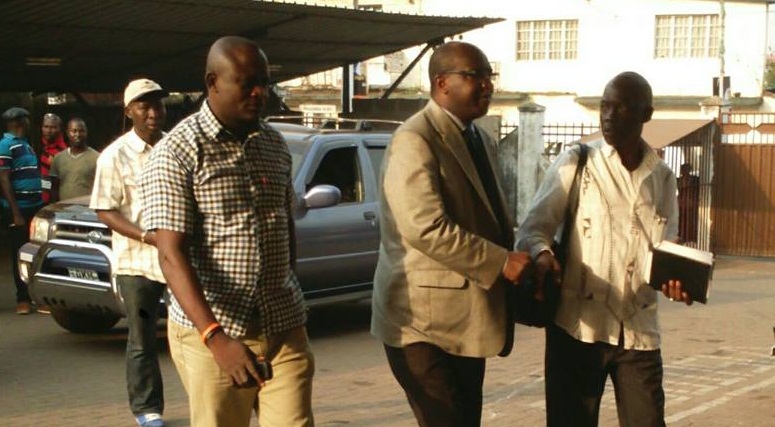 ALLIE KABBA (SECOND FROM RIGHT ) BEING FROGMARCHED TO THE CID 
Kabba was one of the students of Fourah Bay College expelled  by the college administration in the mid-1980s for rebellion against the college authorities .He fled Sierra Leone and together with the late Sierra Leone rebel leader, Foday Sankoh, formed the Revolutionary United Front ( RUF),  which waged an 11-year war on the people of Sierra Leone from 1991 to 2002.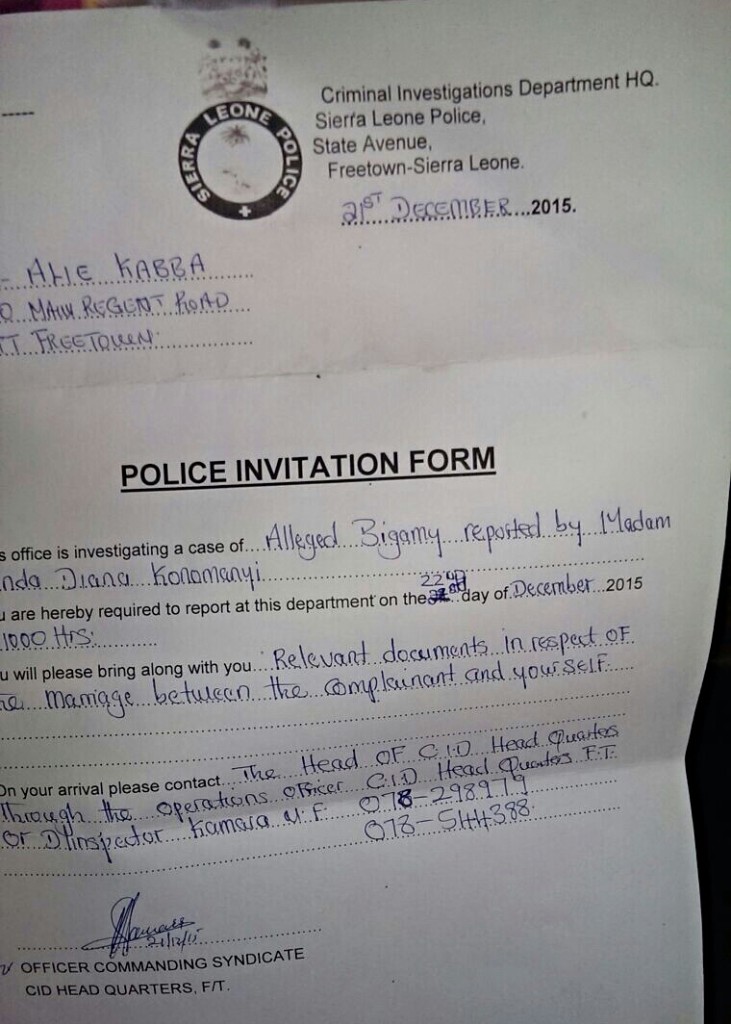 THE CID INVITATION MR. KABBA ALLEGEDLY SNOBBED
Two years ago, Kabba , who had been living in the United States, broke his silence and declared his intentions to contest the 2018 Presidential elections. From his safe haven in the U.S, Kabba has been launching a vicious propaganda of lies and defamation against President Ernest Bai Koroma.
According to reports , Mr. Kabba married Madam Diana Konomanyi and another lady in the U.S.
Social media commentator, Abdul Kabba , writes :
"Comrade Alie Kabba has signed the Registry Register 3 times and has never respected any one of them.
He dumped his first wife with a 17yr old boy. He has not been in talking terms ever since. It was Diana that brought the boy home and prevailed on Alie to support the boy.
The 2nd wife also has two kids. She has also been dumped with her kids. She is there struggling with the kids…….and waiting for a divorce…….
The most interesting drama here is that these 3 women are in good talking terms…and they have all realized that Alie Kabba is a deceitful husband……."
The Criminal Investigations Department ( CID )  invited Mr. Kabba to the Police, but according to allegations he snobbed the invitation.
We will keep you updated on this big news.