His Excellency, Ambassador Ibrahim Sorie and diplomatic staff of the Sierra Leone Embassy in Brussels have concluded a two-day working visit to the Kingdom of The Netherlands to follow-up on the outcome of bilateral Agreements reached last year.
In July last year, at the height of the Ebola scourge in Sierra Leone, the Trade Minister of The Netherlands, Madam Lillian Ploumen led a high-powered Dutch Trade Mission to the three Ebola affected countries. During this Trade Mission, there were bilateral engagements at both government and private levels and MOUs signed.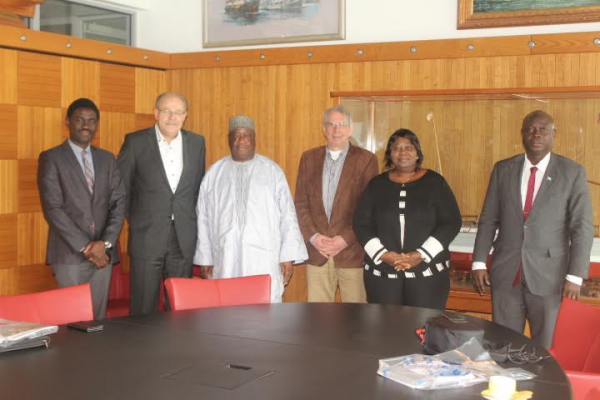 Ambassador Sorie and team at the STC- Group in Rotterdam
Furthermore, in November last year, the Dutch government organised a post-Ebola investment conference dubbed "Back to Growth" in The Hague as a way of attracting potential investors to Sierra Leone, Guinea and Liberia. With the active collaboration of the Embassy, the Sierra Leone Investment and Export Promotion Agency (SLIEPA) and the Ministry of Trade and Industry, over 30 Sierra Leone's private business conglomerate participated.
"I am here with my delegation on behalf of the people and government of Sierra Leone to express thanks and appreciation on the exceptional role played by the Dutch government in the fight against Ebola and your government's efforts in trying to lure potential investors to do business in Sierra Leone", Ambassador Sorie told the Acting Director of the Africa Department in the Ministry of Foreign Affairs in The Hague, Mr. Paul Litjens.
He furthered that, President Ernest Bai Koroma's message to all his diplomatic Appointees is to deviate from the traditional diplomacy of wining and drinking and embark on economic diplomacy that will attract serious investors to the country thereby creating the much needed employment for Sierra Leoneans. "I am here to make a follow-up and see how the agreements that were signed with some investors last year can come to fruition".
Ambassador Sorie described the year just ended (2015), as "a very good one", especially the role played by th government of The Netherlands in the Ebola fight and the eventual declaration of the end of the Ebola sickness by the World Health Organization in November, 2015.
Mr. Litjens expressed appreciation for the visit and further praised the Ambassador and team for the tireless role played during the Ebola fight in mobilising international support.
Ambassador Sorie and team also held fruitful discussions with the Management of the Port of Amsterdam International and the STC-Group in Rotterdam, a marine vocational training institute that specialises in simulation, education, training, consultancy and research.
Ambassador Sorie was accompanied by the Head of Chancery and Financial Attaché at the Embassy, Madam Florence N. Bangalie and Michael M. Kargbo respectively. The Chairman of the umbrella organisation of Sierra Leoneans in The Netherlands (Sierra Leone Central Union), Abubakarr Bangura was also part of the delegation.
By Chernor Ojuku Sesay,
Head of Media & Public Affairs Dept.
Embassy of the Republic of Sierra Leone,
Kingdom of Belgium (Brussels) /EU.