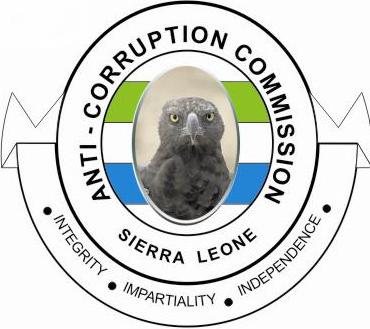 ANTI-CORRUPTION COMMISSION
CATHEDRAL HOUSE
3 GLOUCESTER STREET
FREETOWN
SIERRA LEONE, WEST AFRICA
TEL: 232-22 221468
FAX: 232-22 221900
7th August 2015
PRESS RELEASE
ACC CONCLUDES INVESTIGATIONS INTO CORRUPTION ALLEGATIONS AGAINST FORMER MINISTER OF TOURISM
The Anti-Corruption Commission (ACC) has concluded investigations into allegations of   misappropriation of donor funds meant for Ebola victims, and diversion of public property (furniture) donated to the Ministry of Tourism and Cultural Affairs, against the former Minister of Tourism, Mr. Peter Bayuku Konteh.
Upon thorough review of the evidence and verification of site visits to the Koinadugu District, the Commission holds that donated funds were appropriately applied, and beneficiaries identified acknowledged receipt of same. Therefore, the ACC concludes there is no evidence to warrant a charge in respect of misappropriation offences under the Anti-Corruption Act of 2008.
However, it is the view of the ACC that the former Minister could have made sufficient disclosure concerning the funds received from international partners in a transparent and accountable manner.
With regard to the furniture donated by the Bintumani Hotel, the Commission instructs
Mr. Peter Bayuku Konteh to refund the sum of Three Thousand United States Dollars ($3,000USD) or its equivalent in Leones at the current bank rate, being the value of the furniture at the time of the taking. The said amount to be made payable into the Consolidated Revenue Fund.
Meanwhile, the Commission has requested the former Minister to provide information on the use of the remaining Forty-One Million Four Hundred and Eight-Nine Thousand Six Hundred and Fifty Leones (Le. 41,489,650) funds meant as donation for Ebola victims.
It may be recalled that Mr. Peter Bayuku Konteh was invited by the Commission on 24th December 2014 for questioning on allegations of corruption and impropriety while serving as Minister of Tourism and Cultural Affairs.
…………………………………
Patrick Sandi
DEPUTY DIRECTOR, PUBLIC EDUCATION AND OUTREACH