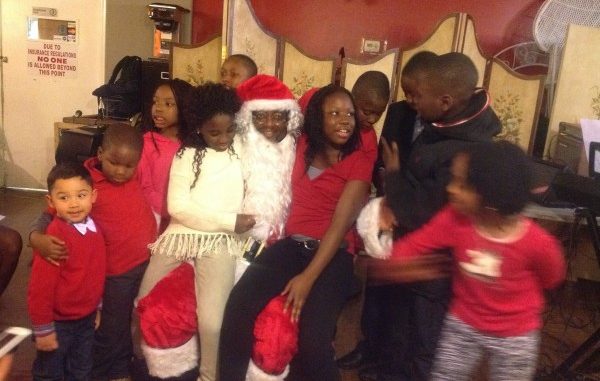 It was meant to be a Christmas Eve Vigil and Carol-Singing program and glorification of our Lord and Savior Jesus Christ whose name was lifted indeed high in songs and the sermon delivered by Associate Pastor Gibrilla Dumbuya , but the kids of Covenant Child World Ministry will always be thankful that they took the time off ( their play and anxious wait for Santa Claus to arrive on his sleigh from his long trip from the North Pole with bags of goodies for them ) to accompany mummies, daddies, aunts and uncles to the program. They got a big surprise they did not bargain for : SANTA CLAUS MADE A SURPRISE APPEARANCE DURING THE PROGRAM .
Even your humble servant did not know that Santa was going to appear. I thought he would still be on his long trip from the North Pole. But he had a surprise for all. As the Praise and Worship team  took a break from their melodious carols which had put everyone in the Christmas spirit , the kids were invited to render their scheduled and practiced contribution–A simulation ,  with biblical verses and a song, all glorifying the Lord Jesus .
They all clambered to the front. Led by their organizer, Mrs. Princess Dumbuya , they gave an educative rendition of biblical verses connected with the birth of JESUS CHRIST , our Lord and Savior, who was born on Christmas Day to save man from his sin. The kids were very impressive and fascinated all with their knowledge of the Bible and their ability to memorize the key passages of the birth of Christ.
They started   to climax their brilliant performance with a Christmas song. They started singing :" Better watch out, better not cry, better watch out I am telling you why, Santa Claus is coming to town…" They had not gone deep in the song when the crowd of parents and guardians , who had been cheering them off all the way, erupted. THERE WAS A SURPRISE VISITOR IN THE CHURCH FOR THE KIDS . SANTA HAD SUDDENLY APPEARED. HE HAD ARRIVED  AT THE PROGRAM  UNANNOUNCED . WHAT A BIG SURPRISE . In his red and white garment and silver white beard, St. Nicklaus strode through the aisle as the children too erupted with excitement,  and rushed to hug him. Kids and their Santa… You can't beat them. Christmas is incomplete for kids if there is no Santa .  But didn't we too go through it when we were kids ?  Though Christmas is always about JESUS CHRIST –and we have not failed to teach them this immortal message–yet, kids will always be kids. We must let them enjoy their Santa fun. It is part of the growing up process.
Christmas is for kids and Santa will always be part of the fun for them . They all ran to hug him, save the the toddlrts who were scared of him. They had a great time with him and he even shared out their gifts presented by the church . The kids sat on his lap and had photo ops with him.
Santa left after giving the kids their festive  cheer  and the carol-singing vigil resumed with JESUS CHRIST being hailed and glorified  . Senior Pastor Tigi reinforced Pastor Gibrilla's message that God sent Jesus on this earth to save man from sin and reconcile man to God after the fall at the Garden of Eden. Your humble servant too contributed by telling the congregation that it was the Word of God that  took on human flesh and dwelt amongst men in the form of Jesus Christ, the humble man born in a stable by a virgin on Christmas Day , which is what we are celebrating today.
But those kids… Did they have fun. And why not ? CHRISTMAS IS FOR KIDS.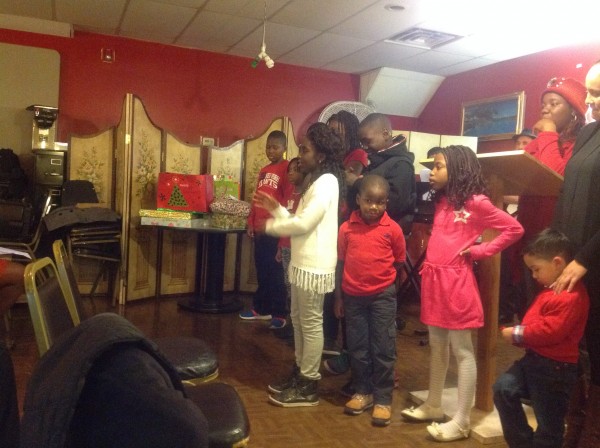 THE CHILDREN PROVIDING THEIR CHRISTMAS RENDITION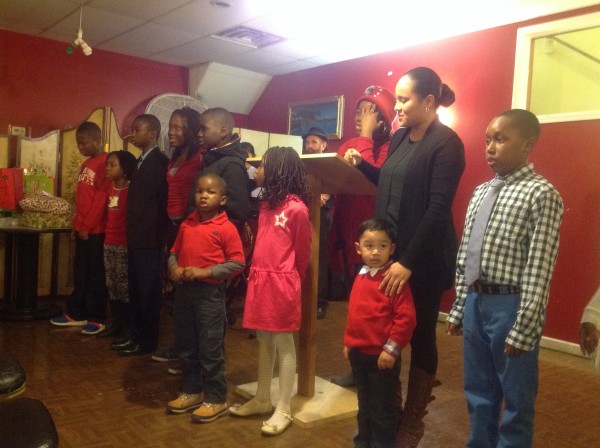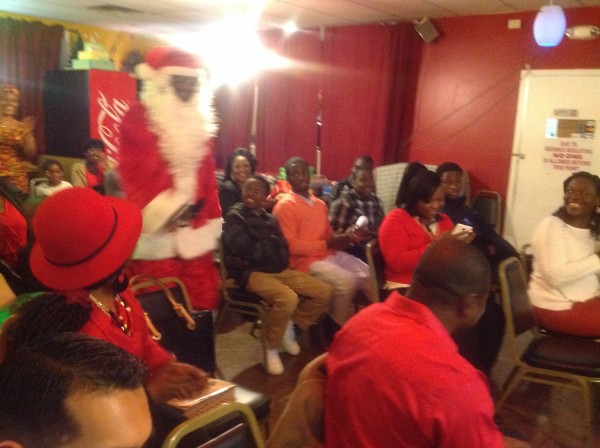 SANTA ARRIVES UNANNOUNCED