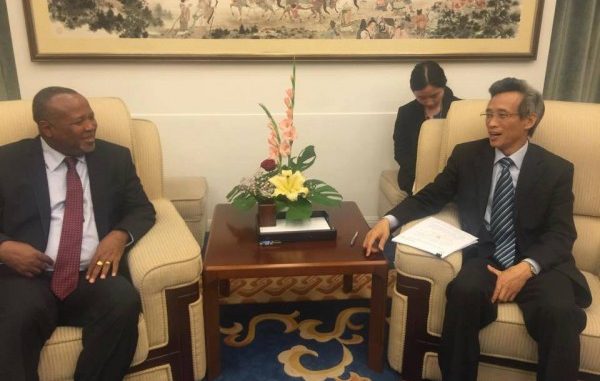 Director-General of African Affairs at the Chinese Ministry of Foreign Affairs has hailed Sierra Leone's Ambassador to the People's Republic of China, saying his government attaches great importance to the appointment of Hon. Alimamy Philip Koroma as Ambassador given his background as a former senior Government Minister and the fact that he took over from a predecessor that became Sierra Leone's Vice President.
Ambassador Lin Songtian was speaking on Thursday, 26 May 2016, during a courtesy call on him by Hon. AP Koroma, Ambassador Extraordinary and Plenipotentiary to China, with accreditation to several south East Asian Nations.
The two top diplomats discussed issues of mutual benefits, especially along the need for incessant surge in diplomatic and people-to-people ties.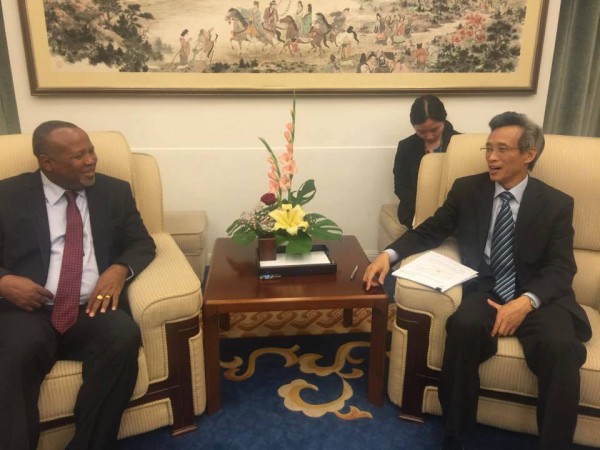 Ambassador Songtian on his part, congratulated Ambassador Koroma, and assured him of his country's commitment to always stand by, and support Sierra Leone's development efforts. "We are ready to work with you", he said, noting that now is the time to translate the good friendly ties into more concrete actions.
Both countries, he said, have enjoyed a "fine and unique relationship" for decades and as friends, the two should continue to "fight against poverty for prosperity."
As a developed nation, Ambassador Songtian said China would continue to open its doors to friendly nations across the globe in line with their policies, notwithstanding the size of a given state.
Sierra Leone's Ambassador Koroma, in his response thanked the Chinese Government on behalf of President Ernest Bai Koroma, for its support to his country, especially during the challenging Ebola period, referring to the Chinese' arrival then as one that gave "hope and courage to Sierra Leone."
He said he was in China to further strengthen the bond of cooperation ties between the two Republics, and at the political front, between the APC and CPC
He said Sierra Leone's President Koroma values the trust of friendship between the two countries and also attaches great importance to the relationship between the two states.
Sierra Leone, Ambassador Koroma went on, will always stand by China and remain committed to the 'One-China' Policy.
On the Forum Of China-Africa Cooperation (FOCAC), Ambassador Koroma said as a country, Sierra Leone looks forward to working closely with the Chinese to have a better share of the commitments made during the 2015 Summit. "We want to see how we could also benefit from the FOCAC arrangement", he said.
In the area of human resource development, the Sierra Leone ambassador thanked the Chinese Government, through the Director-General, for China's yearly award of scholarships and training opportunities to deserving citizens of his county. However, he asked that more opportunities be opened and more offers be made since human resource development is crucial to national growth.
John Baimba Sesay
Information/Press Attaché
Sierra Leone Embassy
People's Republic of China.