By State House Communication Unit
The leaders of the Economic Community of West African States (ECOWAS) met in New York on Tuesday September 20, 2016 to consider the plan to end the crisis in Guinea Bissau and the modalities for the gradual withdrawal of the ECOWAS Military Intervention Force in Guinea Bissau (ECOMIB).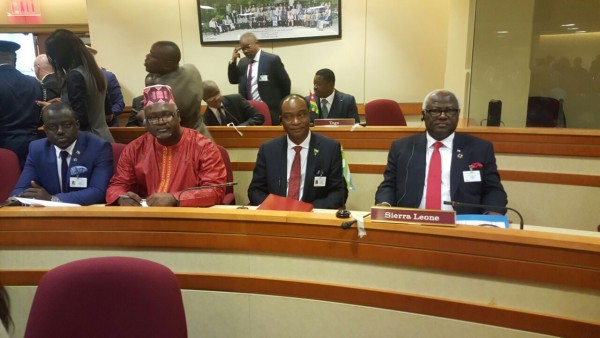 The meeting was informed of the conclusions of the Presidential Mission to Guinea Bissau on September 10, 2016, led by the ECOWAS-designated Mediator, President Professor Alpha Conde of Guinea and assisted by Sierra Leonean President, Dr Ernest Bai Koroma.
The plan to end the crisis, validated by the ECOWAS Authority of Heads of State and Government, focuses on the following six points:
(1) bringing together all stakeholders for an inclusive roundtable dialogue based on a platform of the 15 dissent Members of Parliament, PAIGC, PRS, other political parties, civil society and religious and traditional leaders,
(2) forming an inclusive, consensus government to implement the platform set up by the roundtable, to lead the country until the next legislative elections in 2018,
(3) undertaking reforms of the Constitution, electoral laws, Charter of political parties, the territorial government and strengthening the judicial system for greater credibility. From an analysis of the country's forty-three years of independence, it emerged that no elected Head of State has been able to complete a term in office and no government has implemented its programme in a term. The roles of the executive, legislative and judiciary will need to be redefined,
(4) putting in place a 3-level monitoring and evaluation mechanism by: converting the office of the ECOWAS Special Envoy in Guinea Bissau to a Permanent Office with a team to monitor the programme of the platform; enhancing the role of Mediator with involvement in the reconciliation of the different parties in the conflict; instituting a ministerial committee under the auspices of the Chair of ECOWAS Council of Ministers; to conduct periodic assessment (quarterly) of the implementation of the platform's programme.
(5) implementing the Defence and Security Reform Programme following a review in Abuja involving the Programme Coordinator and the Guinea Bissau Minister of Defence,
(6) the gradual withdrawal of ECOMIB forces over a 6-month period, after training a contingent of the Guinea Bissau army to replace ECOMIB in the protection of institutions and senior Government officials.
The leaders of ECOWAS therefore call on the PAIGC, the 15 dissident MPs, PRS, civil society, religious and traditional leaders and all citizens of Guinea Bissau, to provide steadfast support for the consistent implementation of the plan to end the crisis.
The meeting which took place in the margins of the 71st General Assembly of the United Nations was chaired by the current Chairperson of ECOWAS, Mrs. Ellen Johnson Sirleaf, President of Liberia.
Participants at the opening ceremony included major partners from Guinea Bissau and representatives of the United Nations Secretary General, Director General of the International Monetary Fund (IMF) and Director General of the World Bank.