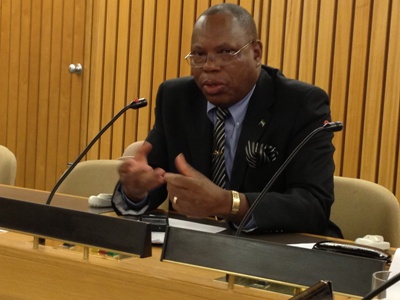 Sierra Leone's multi-accredited Ambassador to the Federal democratic Republic of Ethiopia, His Excellency Andrew Gbebay Bangali was unanimously selected today (10th October 2013) by the ECOWAS Group of Ambassadors to represent the region on a Special Technical Committee to work on the expected outcome of the Extra Ordinary Sessions of the Executive Council and the Assembly of the African Union which will commence tomorrow in Addis Ababa.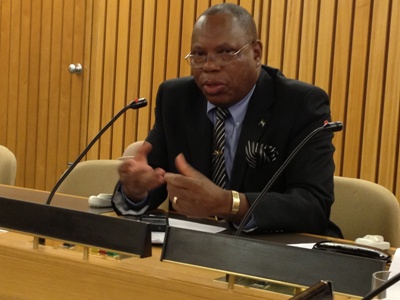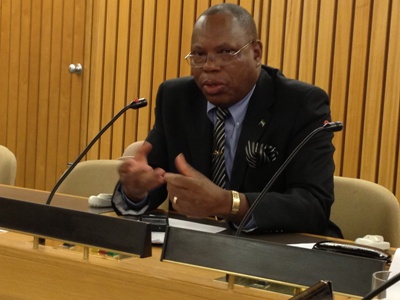 This year's Extra Ordinary Sessions of the Executive Council and the Assembly of the African Union which is themed: "Africa's Relationship with the International Criminal Court (ICC)" has legal, political and diplomatic implications.
The Special Technical Committee of Ambassadors is composed of the Regional Deans with Kenya leading the process. The technical committee also agreed to co-opt one member each from the region to work with the Ambassadors.
Chairperson of the Permanent Representatives' Committee (PRC) and Ethiopia's Ambassador to the African Union Commission, Her Excellency Madam Kongit Sinegiorgis speaking on the preparations ahead of the Extra Ordinary Sessions said her Government has put in place all the logistics arrangements in place.
She however pointed out that their only challenge is the huge road construction that is going on the city which might cause a little inconvenience for the delegations coming for the Summit.
"I hope the Heads of State will bear with us and I expect that their respective Ambassadors would have informed them about this situation," she said, adding that they would try to minimize the inconvenience.
On the issue whether it is prudent for the ICC to make a statement at the Summit, Deputy Chair of the African Union Commission, His Excellency Erastus Mwencha pointed out that the rules and procedures were duly followed.
He said that at Extra Ordinary Sessions, external invitations are not extended to external factors to make statements.
The Commission's Deputy Chair further said that the Summit is beyond the ICC because there is an election to replace the Commissioner for Peace and Security, Ambassador Ramtane Lamamra who was recently appointed as Algeria's Minister of Foreign Affairs.
"The Executive Council will elect Ambassador Lamamra's replacement which will be endorsed by the Heads of State," he said.
Meanwhile, on 9th October 2013, Ambassador Bangali attended the Quarterly Briefing of Ambassadors which the Executive Secretary of the United Nations Economic Commission for Africa, His Excellency Mr. Carlos Lopes, organizes.
The outgoing First Secretary in the Embassy of the Republic of Sierra Leone in Addis Ababa, Mr. Christopher Bockarie accompanied the Ambassador to the meets.
Abdul Karim Koroma
Information Attaché
Embassy of the Republic of Sierra Leone
Addis Ababa
Ethiopia
Email: akk23222@gmail.com