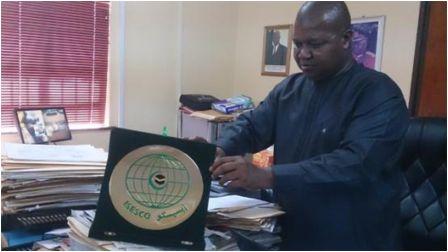 Sierra Leone's Minister of Education Science and Technology Hon. Dr. Minkailu Bah has continued to bags international awards in the field of Education both in Africa and the world over.
The latest one being when the Minister made Sierra Leone proud on 27th November 2015, during the 12th Secession of the Educational , Scientific and Cultural Organization(ISESCO) General Conference at Baku, capital of the Republic of Azerbaijan. He was awarded First Class Gold award for his contribution in immensely improving the educational activities in the Sierra Leone.
"In consideration for your distinguished contribution to the driving educational, scientific and cultural progress and appreciation of your dedicated support for ISESCO Activities we are here by awarding you the First Class Gold award," said the Director of the ISESCO, Dr. Addulaziz Othman Altwaijri, whiles reading the citation.
The Director called on other education Ministers around the world to continue to work for the progress of education in the world emphasizing that "education is the key to life."
In receiving the award, the Minister of education for Sierra Leone, Dr. Bah expressed thanks and appreciation to members of ISESCO and participants in this year's conference for the honor accorded him and his country.
He promised his continuous support to ISESCO for the progress of education in Sierra Leone.
It could be recorded that even in the peak of Ebola; his Ministry ensured timely payment of all government teachers across the country. Dr. Bah's dedication will forever be remembered when he made frantic efforts for the re-opening of schools and academic institutions
In a related development, the Minister has been invited for African Education Leadership Award at Mauritius on 9 December 2015.
By Abdul R. Bedor Kamara