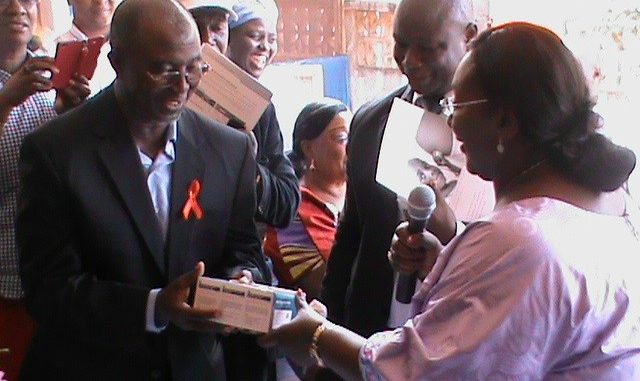 Freetown, Nov. 24, 015 (MOHS) – The First Lady Sia Nyama Koroma has reiterated commitment of First Ladies of Africa Vision 2030 to end HIV and AIDS in Africa.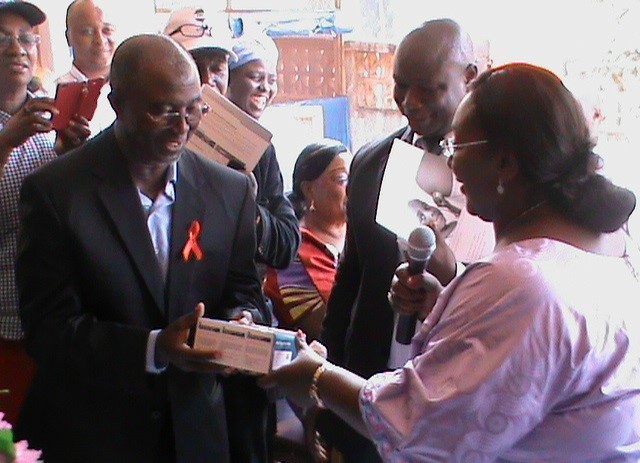 First Lady, Sia Nyama Koroma presenting the testing kit to the Director General NAS, Dr. Momodu Sesay
Making her keynote address at the launching ceremony of 4000 HIV/Syphilis Duo Test Kits at the Ministry of Health and Sanitation Dwarzack Community Health Centre in Freetown, the First Lady thanked the donor ALERE for the gesture adding that it would go a long way in promoting maternal and newborn health. The kits she maintained would help eliminate mother to child transmission and reduce mother to child mortality.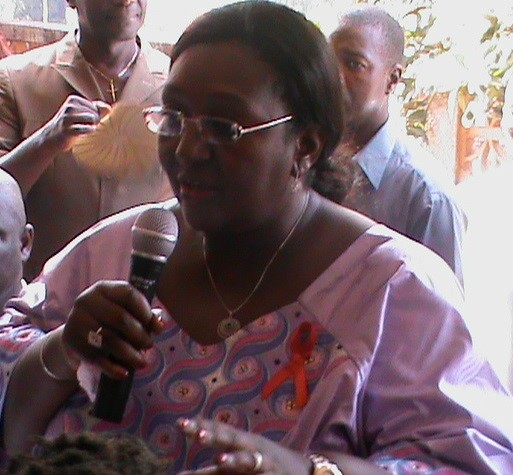 First Lady, Sia Nyama Koroma making her keynote address
She described the event as a ground preparation for stringent testing, and encouraged her women folk to be ambassadors in engaging women in their different communities to take the test. The availability of the kits, the First Lady said is a great opportunity with confidentiality, and implored all women and their partners to make good use of it. Sexually transmitted diseases, she told her audience ignited HIV and Syphilis and can also affect the growth and development of the child.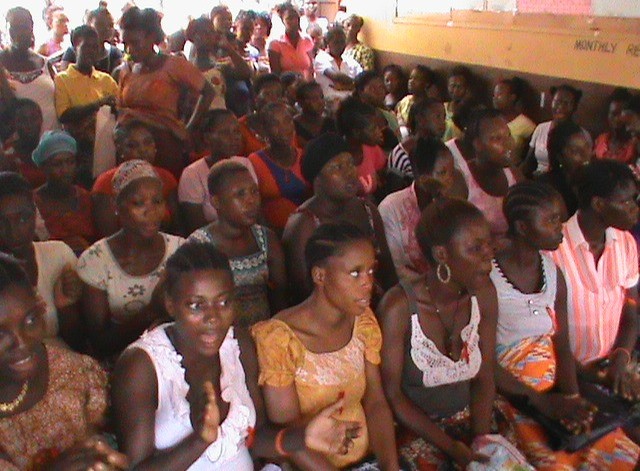 Cross section of pregnant women and part of Dwarzack community
She spoke about some of the signs and symptoms and urged all women to take the necessary precaution. The President Dr. Ernest Bai Koroma and the government of Sierra Leone, the First Lady opined cares for the survival, growth and development of the women and children in the country.
The WHO Country Representative, Dr. Anders Nordstrom reiterated his organization's continued commitment towards rebuilding a resilient health system for Sierra Leone, describing the event as an important moment in the history of Sierra Leone health care delivery system. "It is good that we are able to diagnose syphilis because it is easy to treat", the WHO Representative said. "It is disheartening to see our children suffering from HIV and AIDS especially now that we are starting a new life with the end of Ebola". He told his audience.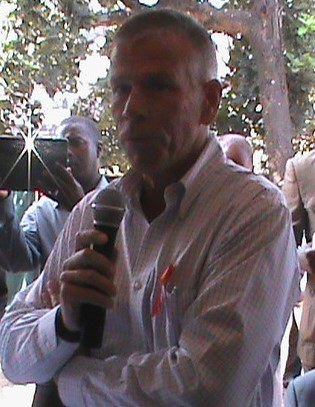 WHO Country Representative, Dr. Anders Nordstrom
The Director UNAIDS, Dr. Michael Brown admonished parents especially women not to expose their children to HIV and encouraged them to inculcate a culture of knowing their status by making use of the testing kits. "No woman should die giving birth", Dr. Brown advocates.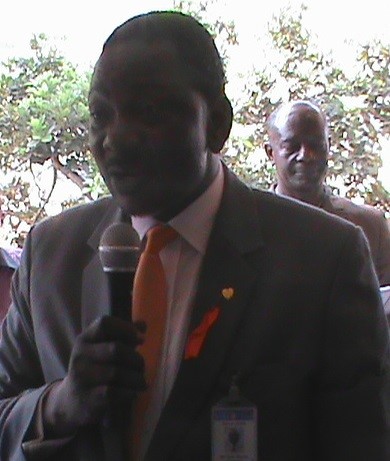 Director, UNAIDS, Dr. Michael Brown
The Director General, National AIDS Secretariat, Dr. Momodu Sesay underscored the importance of the Rapid Testing Kits and assured the First Lady, the donor ALERE, Logistics Solutions and Services Exclusive Distributor, Standard Diagnosis Sierra Leone and the audience of the judicious use and accountability of the testing kits.
Other highlights of the ceremony include presentation of baby packs by the Office of the First Lady and the Airtel Mobile Company.
JAK/KK/MOHS/SLENA