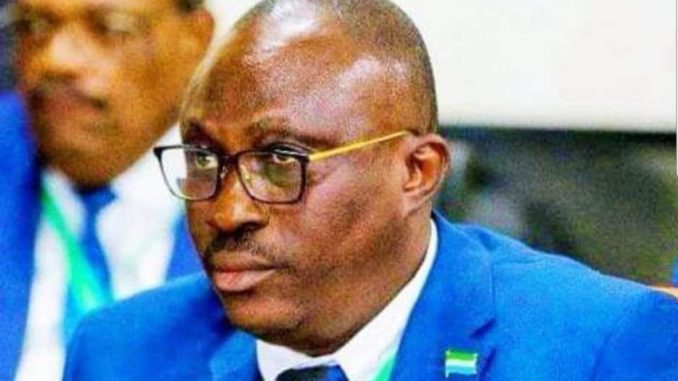 FINANCE MINISTER JACOB JUSU SAFFA
Sierra Leone Economy from broken to Shambles?
1)the miracle promised to address bread and butter issues in six months by SLPP paopa New direction to the people of Sierra Leone is yet to happen and there is no evidence that it will occur any time soon. instead SLPP paopa is asking for more time to find the causes of our economic problem and no concrete solutions /policies to address the deteriorating econony put forward
2) The dollar has appreciated against the leone (and is expected to be worth around Le 1.5 million in the next two or three months). Currently blackmarket goes for 1 million Leones for $100
3) The economy itself appears to be in free-fall. Interests rate is currently at 20.5% and a further hike is expected, which will result in massive inflation.
4) Projected GDP growth of 5% is not visible as the current growth Growth rate is expected to slow down to 3.2%, from 3.7 % in 2017 if not lower.
5) It has been 16 months and counting since SLPP government took over the reins of the country and it is already evident that SLPP government, dont know the direction the economy is going .
6)It is very clear that Our economy is in shambles, we cannot afford to make mistakes anymore.
7)So unless our government takes drastic steps to improve the situation and address some of the bread and butter promises made and impending price hikes.
8.) Adding to the hardship of higher prices of inflation and skyrocket exchange rates in barely 16 months fuel prices have gone up twice in one year a big squeeze across the board
©Perspective Scope
WHY IT IS NOW TIME TO TAKE THE PAOPAS TO TASK ON THEIR APPARENT FAILURE TO STOP THE ECONOMIC DETERIORATION BEFORE WE ALL START TO EAT OURSELVES.
[14/08, 00:19] yankubakaisamba: Sierra Leone should not listen to any economic lecture or excuses from J J Saffa , who promised us before the election that he would fix the economy within 6 months .
They should also disregard any statement from president Bio on employment, who also made a promise to the people of Sierra Leone, three months to the last election, that he would create half a million jobs within a year of his presidency.
Instead we should now demand that they deliver on those promises.
If a company removed its director for making loses , the new director that replaces the sacked director, cannot continue to explain or give excuses for his inability to make turn around the loses by blaming his predecessor.
The new director, if competent and with the right capability, would have within a year began to show signs of confidence in the economy.
But this is not the case,thus far, when the exchange rate of Leone to one dollar has escalated to 1 million leones with certainly clear evidence of hardship across the country than when they came to power.
[14/08, 00:28] yankubakaisamba: Blaming someone for the reason why you haven't solve the problem he left seems you have no clue as to how to improve the economy.
The paopas cannot tell us they were unaware of the extent of economic contraction in Sierra Leone before they came in to office.
That was why I described the promises they made to us, in several of my commentaries, during the election campaign as "bogus and economically illiterate"
Such excuses we now hear from them will show either they had deceived the voters when they promised to fix the economy quickly or an admission of their incompetence.
I don't just think so. I believe a man like kky awarded by several world leaders and leading economic institutions would've have within a year began to address the bread and butter issues , put measures in place to stabilize the economy, attract investors and the country could have benefited from his remarkable distinguished international experience and achievement and contribution to human development , for which he is respected and received national honours from several world leaders.
Imagine Dr Kandeh Yumkella travelling to the north African state of Algeria, who once borrowed the IMF with 5 billion dollars , with 24/7 electricity supply even in villages and supply gas to European countries. A country that had awarded Kandeh Yumkella with Algerian highest national award citing his contribution to human development and described him as " the pride of Africa"
Imagine Kandeh returned to Algeria and meet with the authorities there and tell them this: you gave me your country's national award for my good work done in the field of energy and development. My country has elected me as president. The world expect me to succeed and improve electricity supply in my country. I need your help in this regard to show to my people that what I accomplished in the world at large, can be done in Sierra Leone, as president.
Beside, kky is an economist and an expert in development, who is still consulted by world leaders and institutions.
What a sad missed of opportunity.
From my own prospective, Sierra Leone needs substantial investment in rural development where poverty and deprivation are particularly pernicious and where majority of people reside.
The first bold action for a compassionate and responsible government is to trim down money spent on paying people holding political positions.
Cabinet will be reduced to 16 including deputies, by amalgamating the bloated ministries.
I would have created the minister for employment, education will be under one ministry.
Economic planning and business investment opportunities will be under one ministry.
Foreign affairs and climate change will be under one ministry.
Interior , law and order enforcement ministry will be created under one ministry.
Agriculture, rural development and local government will come under one ministry.
Marine , mineral resources will be under one ministry.
A new ministry for equality , depoliticization and detribalisation will be created.
The ministry for women affairs, children , disabled will be created and merged under one ministry called ministry for the welfare of disadvantaged.
As the work of the government is actually done by our civil servants, there will be sufficient and appropriate training to meet international standards as government needs an efficient and professional civil service to implement its policies.
Fast forward. The number of MPs , which is about 140 or so will be trimmed to 70 by amalgamating neighbouring constituencies. This will not only save public funds but reduce violence as politics provides the only route to get rich quick.
I submit this paper as the benchmark for justice, reforming governance and prudent economic management to lead us to building a sound economic foundation in the future.