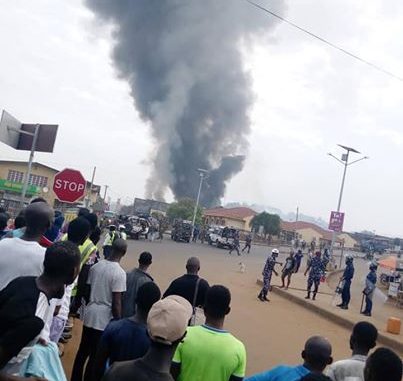 Lunsar on Fire!!!
The Lunsar police station, the residence of the Local Unit Commander and the house of the Paramount Chief have all been burned to ground by angry youths following the arrest of a youth leader by police this afternoon.
The youth leader who calls himself Bulgur accuses Paramount Chief, Bai Koblo Queen of usurping development funds which, according to the youth leader, has left Lunsar grossly underdeveloped.
Bulgur sent out audio messages on several whatsapp groups calling for the dethroning of the Paramount Chief. Police reacted swiftly by arresting Bulgur which triggered the outbreak of violence as an army of youths mobilised to free the detainee.
The police station was attacked with stones forcing the police officers to flee in disarray. Eyewitness accounts say the police station has been set ablaze and several road blocks have been mounted by youths thereby obstructing the free flow of traffic.
Paramount Chief Koblo Queen who has been declared wanted by the youths is said to be in hiding.
According commentators who called me from Lunsar, several factors could be attributed to the chaos in the town. Firstly, there is growing hardship and hunger ravaging the township due to unemployment and the massive redundancies that occurred following the closure of the mines.
The devastating effects of the outbreak of the Coronavirus pandemic and its excruciating hardship has made an already bad situation worse!
The issue of the Paramount Chief is just the last straw to breaks the camel's back!
The prevailing atmosphere in Lunsar is acrimonious as the authorities struggle to maintain law and order.
Youths armed with machetes and sticks and covering their heads with headbands are said to be on the rampage assaulting people at will.
The youths have reportedly imposed a curfew in the township and have prohibited business activities for one week.
Army and police reinforcements are said to be en route to Lunsar!
Yesterday it was a prison riot in Freetown death toll still not known with Amnesty International calling for full investigations with the possibility of cover up by the state.
Today in Lunsar, Northern Sierra Leone, youths took to streets to protest against the Paramount Chief whom they say is very corrupt.
What is happening in Salone? Govt response as usual is scorched earth policy with police using high handed tactics including live ammunition as their first response against unarmed people.
Violence erupting everywhere it seems under the reign of former junta leader – Maada Bio.