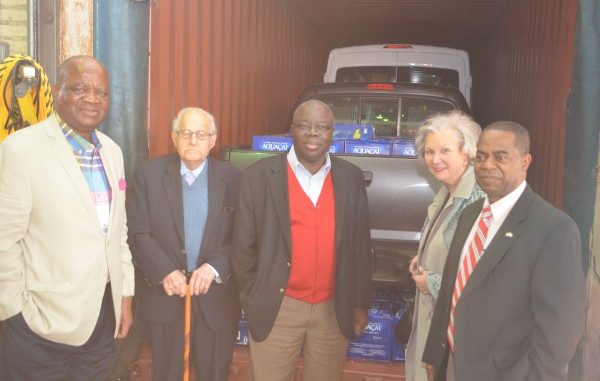 A package consisting of Four (4) new vehicles, One hundred and Sixty Eight(168) Pallets  of Aquacai water,several Hundreds notebooks,Five Hundred(500) Pencils and a consignment of medicines – all stacked in two Forty Feet(40') Containers have on Wednesday March 18th 2015 departed the shores of New Jersey for the Queen Elizabeth 11 Quay in Sierra Leone.
Donated by the People of New Haven, Connecticut, the twin sister City of Freetown, the package is geared towards the fight against Ebola and also help in the Post Ebola recovery era.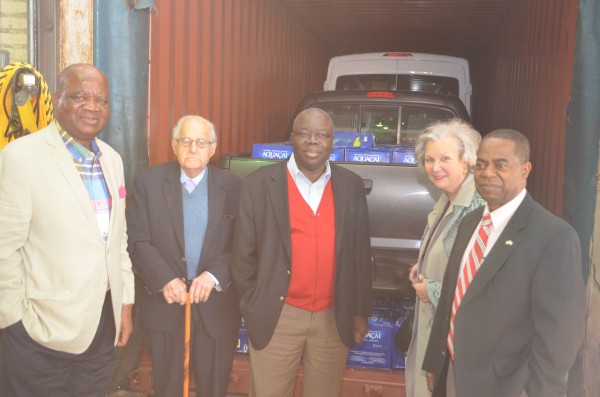 FROM LEFT : AMBASSADOR CONTEH, MR. RALPH MADDER, AMBASSADOR STEVENS, MS. NORCOTT AND MR. BARRIE
According to Alithea Norcott Chairlady twin Sister City Committee, it costs the Committee Fifteen Thousand ($15,000) United States Dollars to transport  the two containers from Connecticut to Freetown via the warehouse of Millwright in New Jersey.
She praised the efforts of Mr. Alfred Marder Chairman of the NewHaven Amistad Committee whose tireless efforts ensured many people of different backgrounds making genuine contributions towards their brothers and Sisters in Freetown Sierra Leone.
She thanked Hon. Mayor Toni Harp of New Haven City for supporting the initiative and launching the fund raising program.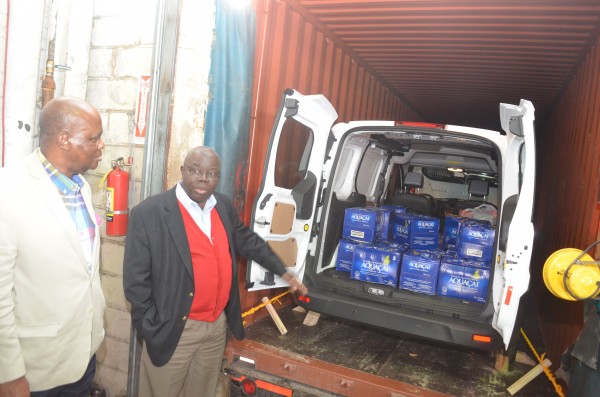 AMBASSADORS CONTEH AND STEVENS STANDING IN FRONT OF THE OPENED CONTAINER WITH THE CONSIGNMENT
Handing the keys, Mrs. Norcott re-echoed the statements of Congresswoman DeLauro who said "we want the people of Freetown to know that their brothers and sisters in New Haven Connecticut care about their plights and want to help them however that we can."
She paid tribute to late Freetown City Council Chairman Florence Dillsworth who jointly worked with them to twin the two cities of Freetown and New Haven. As a matter of fact, she visited New Haven in 1997 and signed the agreement. In 1996, some of us went to Sierra Leone and visited some historic sites including Bunce Island, Government Wharf, Charlotte Village, Tokeh, Waterloo and other places that have bearing to slavery.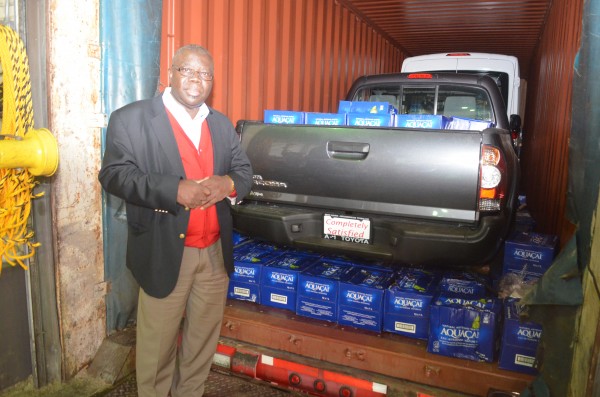 AMBASSADOR BOCKARIE STEVENS
Responding, "Let me on behalf of President Ernest Bai Koroma, the Government and People of Sierra Leone thank you so much for your gesture towards us." Said Ambassador Bockari Kortu Stevens: adding, we appreciate the good people of the City of New Haven for their thoughts and kindness.
He re-echoed the fact, "that Ebola is yet to be fully conquered, because we continue to have single digit cases.
According to him, "the vehicles will be handed over to the Health Ministry through Sierra Leone's Foreign Ministry and International Cooperation, and they will be judiciously used for its intended purposes.
He described the donation of books and Pencils as timely, because it is coming at a time when the government is planning to reopen Schools throughout the Country.
Ambassador Stevens said the medicines will also help our health system.
According to Mr. Al Marder, it is his pleasure to work for the two cities of Sierra Leone and New Haven.
We are hopeful that this is the end of this dreadful disease.
Other people present were Deputy Chief of Mission Ambassador Ibrahim S. Conteh, Sierra Leone Consul to Boston Alhaji Mohammed Barrie.
Pasco Gerald Temple
Information Attache
Embassy of Sierra Leone to the United States
1701 19th St. NW
Washington, DC
20009
Tel:+202 4466958