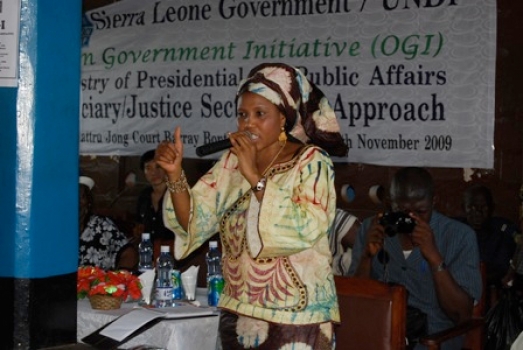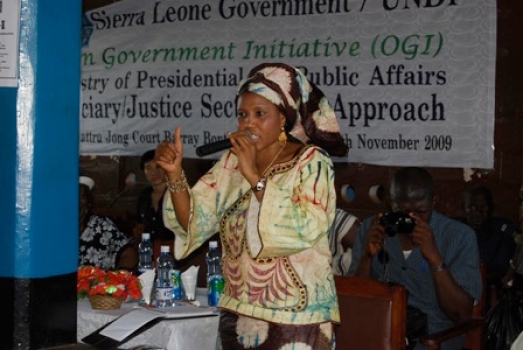 BY KABS KANU :
The Director of the Open Government Initiative/ Open Government Partnership , Mrs. Khadija Sesay, last week held a meeting in New York with the organizer of the upcoming Sierra Leone Fashion Week, Ms. Tia Knox,  at the Permanent Mission of Sierra Leone to the United Nations.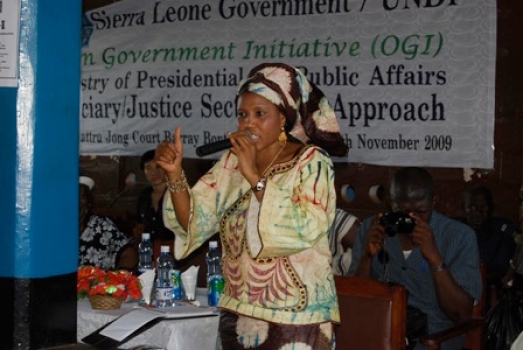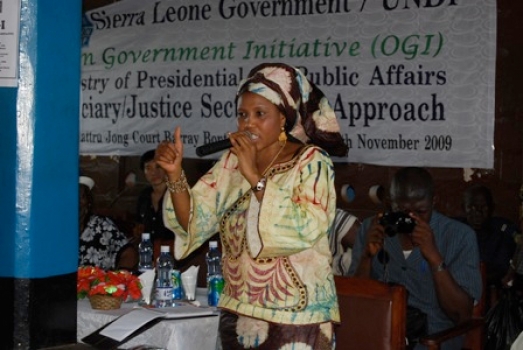 MS. KHADIJA SESAY : OGI/OGP DIRECTOR
According to Ms. Khadija Sesay  in an interview with COCORIOKO , the Sierra Leone Fashion Week Industry invited the OGI to New York for the Initiative to add value to what the Industry would be doing  with regards to Sierra Leone . "Because of the credibility  garnered over the years by the OGI, the Sierra Leone Fashion Week Industry  wanted us to add value to the talents that Sierra Leoneans would be demonstrating during the Fashion Week",  she added.
Khadija Sesay said that the invitation of the Fashion Week organizers leveraged on the mandate of the OGI/OGP  to provide a level ground for all Sierra Leoneans. Madam Sesay further stated  that the beauty contest,  being a private sector activity,  also falls within the mandate given  to the OGI  to work with the private sector.
The Sierra Leone Fashion Week will be held in New York on April 20 to 24 , 2016.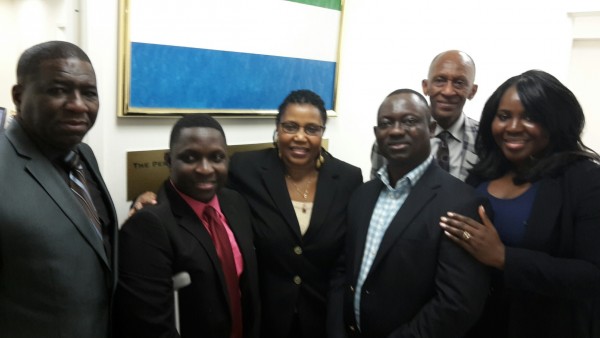 AT THE SIERRA LEONE MISSION : FROM RIGHT : TIAH KNOX, HOC ALHUSINE SESAY AMBASSADOR KOROMA, OGI DIRECTOR KHADIJA SESAY , MR. SALIFU CONTEH AND MR. FODAY MANSARAY
The meeting was also attended by the Deputy Permanent Representative for Political Affairs, Ambassador Amadu Koroma, the Head of Chancery/ Minister Plenipotentiary, Mr. Alhusine Sesay , Counselor Franklin Fawundu , Mr. Foday Mansaray of New Jersey and a World Bank representative, Mr. Salifu Conteh.
The Fashion organization and the OGI had the meeting  to give Ms. Tiah Knox the opportunity to disclose the aims and objectives of her organization and her future plans.
In another development , Ms. Khadija Sesay , on Christmas Day, visited  New Jersey where she met with a group of Sierra Leoneans whom she acquainted with the objectives  and activities of the OGI/OGP.
During the New Jersey meeting,  which was chaired by Mr.Foday Mansaray, Ms. Sesay said, among other things, that she is non-partisan and works with the media, civil society , women's groups and all strata of the society to bring the Government  closer to the people.
She highly commended President Ernest Bai Koroma for giving the OGI/OGP  freedom and leeway to conduct its operations, without any interference from the executive branch of the government . The OGI/OGP, she went on,   allows citizens to criticize the government where necessary to help improve its functions .
The OGI/OGP Director said she will be traveling next to Virginia and  that she will be holding meetings  at the White House and the State Department with U.S  officials in Washington DC.