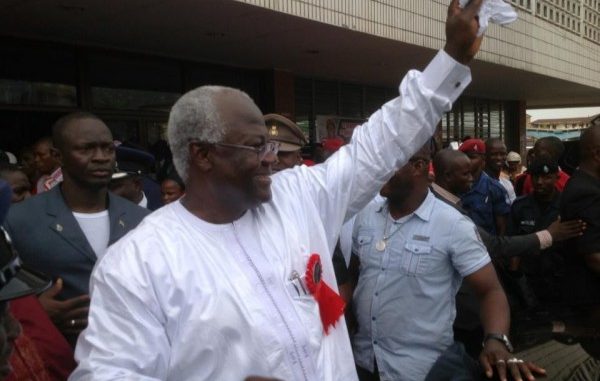 Yes, the poll was taken two years ago, but if you believe what the pundits say that in politics every favourable rating counts in piecing together the final jigsaw puzzle,  then this second international poll that rated President Ernest Koroma's stewardship high ,  is still very important.
In a 2013 Gallup Poll, President Ernest Koroma was adjudged the 6th most popular President in Africa. To demonstrate how significant this poll was, we must first understand what a Gallup poll is and the place it occupies in world ratings. Gallup is one of the biggest, most popular and one of the most reliable research-based opinion polling systems in the world.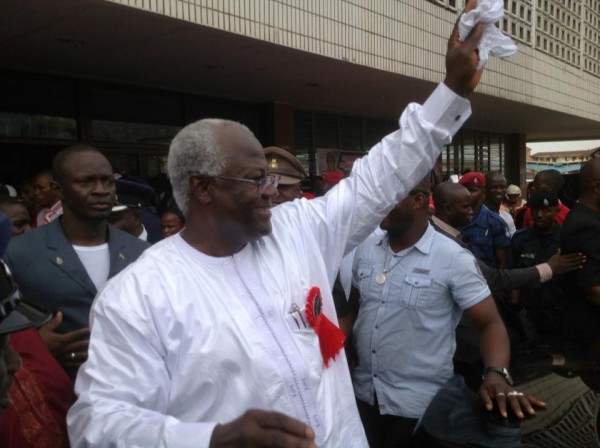 "Gallup, Inc., is an American research-based, global performance-management consulting company. Founded by George Gallup in 1935, the company became known for its public opinion polls conducted in several countries". (Wikpedia).
"Gallup.Com provides data-driven news based on U.S. and world polls, daily tracking and public opinion research. ….For more than 70 years, Gallup has built its reputation on delivering relevant, timely, and visionary research on what humans around the world think and feel. Using impeccable data, our advisers assist leaders in identifying and monitoring critical economic and behavioral indicators that are vital to their strategic plans. No other organization captures the human need to share opinions and the breadth of the human spirit like The Gallup Poll.  " (Gallup.com ).
How reliable are Gallup polls ?
"Since 1935, The Gallup Poll has chronicled reactions to the events that have changed our world — and in turn, those reactions have shaped who and what we are today. Today, The Gallup Poll continues to be a reliable source of intelligence for a changing world. Our data often answer the questions that are "top of mind" with leaders around the globe. Through its offices worldwide, Gallup measures public opinion and attitudes on virtually every political, social, and economic issue. Its data reach the highest levels of government, the judiciary, business, and academia". ( Gallup.com )
Though two years have passed since the poll was taken, it is still very important because it is an achievement to President Koroma when you recall that in 2010, the prestigious East African magazine  opinion poll found President Koroma the 9th best performing African leader out of the 52 African Heads of State then.
What do these polls show ? 
These polls indicate that President Koroma has always  been considered a high-performing African leader , especially at crucial moments in his presidency and an inference could be drawn that his tenure has been wholly impressive and successful , even though the Ebola outbreak of 2014 almost derailed his good work. However, to his credit still, President Koroma summoned his extraordinary leadership skills to fight the Ebola plague with all his might with the assistance of Sierra Leone's international partners and the World Health Organization ( WHO ), CDC, MSF, Red Cross,  and other world medical organization , with the result that Ebola would soon be a thing of the past in Sierra Leone. Ironically, the very Ebola, after it would have been totally defeated , would add to President Koroma's impressive credentials as a high performing President and would even signal a further surge in future polls. These polls will add to the President's growing credentials that the world always considered him an outstanding leader.
The polls also authenticate the truism that President Koroma's detractors and the opposition Sierra Leone People's Party ( SLPP )  have always been biased and wrong in their perception of the President. President Koroma is the best Head of State Sierra Leone has ever had since Independence. In all the 11 years of his leadership, President Koroma's predecessor , President Ahmad Tejan Kabbah of the SLPP , was never rated high in any international poll to even deserve mention.
______________________________________-
BUSINESS INSIDER MAGAZINE
 Here Are The Most And Least Popular Leaders In Africa
Read more: http://www.businessinsider.com/ratings-africas-leaders-2014-8#ixzz3ZAbkCesW
This week, the first-ever U.S.-Africa summit is taking place in Washington, D.C., bringing many of Africa's leaders to America's capital. In the spirit of this event, Gallup re-released a 2013 poll featuring the approval ratings of the leaders of 26 sub-Saharan African nations.
Interestingly enough, leaders of 24 of the 26 African nations had a higher approval rating than President Barack Obama, which stood at 41% as of Monday.
With an 86% approval, Mali's president Ibrahim Boubacar Keita had the highest rating of any of the 26 leaders in September 2013, one month after he was elected to office. He got this high rating even while his nation was (and still is) swept up conflict with insurgents who are looking for greater autonomy in the Northern area known as Azawad.
Five of the leaders included had been in power since at least 1990 when the poll was conducted, and of those, Cameroon's Paul Biya, Burkina Faso's Blaise Compaore, and Uganda's Yoweri Kaguta Museveni all enjoyed approval ratings above 60%. The other two, Zimbabwe's Robert Mugabe and Chad's Idriss Deby, had some of the worst results in the polling, each scoring a 44% approval rating.
The lowest rating by far belonged to the Democratic Republic of Congo's President Joseph Kabila, who had a 24% approval rating, a whopping 17% below the next lowest rated leader. Many Congolese believe Kabila is actually Rwandan, which has a major negative connotation in the nation because Rwanda went to war with the Congo between 1998 and 2003, according to the Daily Maverick.
Kabila's more extreme detractors want him dead. South Africa's highest court recently ruled that a group of rebels plotting to overthrow and murder him must face trial in that country, reports the South Africa Times.
Here is the complete list of leaders included within the Gallup poll:
Gallup
Read more: http://www.businessinsider.com/ratings-africas-leaders-2014-8#ixzz3ZADNJM6O