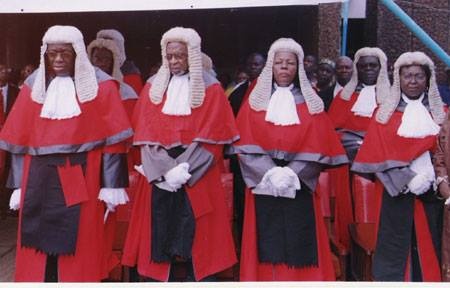 By Mahmud Tim Kargbo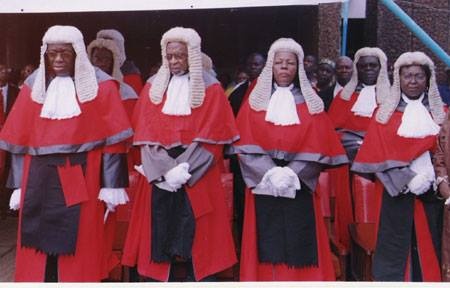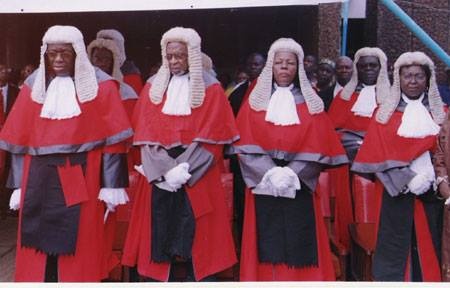 IS IT WRONG TO CRITICISE COURT JUDGEMENTS IN THE MEDIA? The case of the Sierra Leone Supreme Court judgements delivered 8th day of September 2015 and judgement delivered on the 9th day of September 2015 involving SLPP, PMDC and Alhaji Samuel Samsumana respectively.
It is a matter of deep regret that Sierra Leoneans, especially journalists routinely engage in unwholesome practice of criticising judges even when matters are sub-judice. Criticising judges in the media even when the critics are yet to read their judgements, in other to determine the reasoning of the court; and commenting matters that are sub-judice, are common practices and also constitute examples of unwholesome practice. Frankly, this state of affairs was completely unheard of few years back and where such misconduct was reported, it draws the condemnation and appropriate action.
Unarguably, while matters are sub-judice, discussing and misrepresenting facts or cases and making prejudicial statements pertaining thereto matters in court signify disregard for the independent of the judiciary.
In Nigeria, section 133 of the Criminal Code Act, Cap c38 of the Laws of the Federation of Nigeria, 2004 provides for the offence of contempt of court and prescribes punishment for same to the effect: "any person, who while a judicial proceeding is pending, makes use of any speech or writing misrepresenting such proceeding, or capable of prejudicing any person in favour of or against any party to such proceeding, or calculated to lower the authority of any person before whom such proceeding is being heard or taken; or commit any other act of intentional disrespect to any judicial proceeding or to any person before whom such proceeding is being heard or taken is guilty of a simple offence and liable to imprisonment for three months".
Furthermore, in Nigeria Rule 33 of the Rules of Professional Conduct for Legal Practitioners, 2007 stipulates that "a lawyer or a firm engaged in or associated with the prosecution or defence of a criminal matter, or associated with a civil action shall not, while litigation is anticipated or pending in the matter, make or participate in making any extra-judicial statement that is calculated to prejudice or interfere with, or is reasonably capable of prejudicing or interfering with, the fair trial of the matter, of the judgement or sentence thereon". From the forgoing provisions it shows clearly that what is prohibited is the misrepresentation (in speech or in writing) of proceedings of court in a manner that demeans the judge, or prejudices or interferes with the fair trial of a case while the court proceedings are pending.
Obviously, the provisions in Rule 33 as applicable in Nigeria does not applied to criticisms of court judgements (final) by the general public including journalists and lawyers after court proceedings in those cases have ended.
In Sierra Leone, section 10 (b) of the Legal Practitioners (Code of Conduct Rules) Act 2000 is permitted to give advice to the public or section of the public in cases of lecturing, teaching, writing or editing of legal text-books or articles in newspapers or journals.
In spite of what is known about the sub-judice rule, research has shown that due administration of justice is a matter of public interest, and, therefore, a fair matter of public comment. Trial proceeding, conduct and decisions of the Judge are matters of public interest which may be lawfully commented upon as soon as judgement is rendered in a case with the exception of matters that are pending. There is no known provision in our laws that prohibit media criticism or critique of Judges and judgements after delivery of judgements, by lawyers and non lawyers. For lawyers, being officers in the temple of justice and owing the court a duty do not preclude lawyers from criticising Judges and their judgement in the media.
However, in doing so as an officer of the court a lawyer shall not do any act in his comment that may affect the administration of justice but shall always treat the court with respect, dignity and honour. And where a lawyer has a proper ground for complain against a judicial official, he shall make his complaint to the appropriate authorities.
When a lawyer criticises a judgement in the media after judgement, he is expressing his opinion on or his disagreement with the findings and conclusion of the Judge: – findings and conclusions which are covered by judicial immunity and for which the Judge cannot be sued or sanctioned, even if there is misdirection or errors of law.
In ordinary matters in the high court or trial courts the intended or actual exercise, by a lawyer of his client's constitutional rights of appeal against a dissatisfactory judgement, does not bar the lawyer's right to publicly criticise the judgement in exercise of his constitutional rights to freedom of expression.
Lawyers and non lawyers have a right to hold opinions and express such opinions publicly through the media, whether those opinions are on court judgements or not. Section 25(1) of the Constitution of Sierra Leone, Act No 6 of 1991, states that: "Except with his own consent, no person shall be hindered in the enjoyment of his freedom of expression, and for the purpose of this section the said freedom includes the freedom to hold opinions and to receive an impartial ideas and information without interference, freedom from interference with his correspondence, freedom to own, establish and operate any medium for the dissemination of information, ideas and opinions and academic freedom in institutions of learning"; section 25(1) contains proviso to the effect that "nothing in section 25 shall invalidate any law that is reasonably justifiable in democratic society for the purpose of maintaining the authority and the independence of the court; it is clear therefore that there is no statutory or case law or rule of law today in Sierra Leone that prohibits criticism of Judges and judgements in the media in line with this proviso.
In a constitutional democracy, judgements of court are a product of discharge of public duty, just like a piece of legislation or an executive act, order or policy, which is not and cannot be immune to public criticism. Bills are publicly debated before they are passed in to laws and therefore the laws so passed are received by members of the public. Legislators are criticised or condemned for making or not making laws.
However, media criticisms of Judges and judgments are to a greater extent limited to the learned men of the wig fraternity who have the competence to fairly and constructively criticise Judges and judgements, in the public interest, and such act is not inimical to the health of the judiciary the third branch of government.
It is dangerous for non lawyers especially journalists who are not schooled in the theories and practice of law to embark on criticism of judgements as that will constitute entering the "densest of legal thickets" and in the process slip in to error of incitement, making them liable.
The Supreme Court judgement, dated 8th day of September 2015 consequent upon various arguments presented by parties at the Supreme Court involving:
1. Sierra Leone People's Party (SLPP) Plaintiffs
2. People's Movement for Democratic Change (PMDC)
AND
1. The Attorney General and Minister of Justice – Defendants
2. Arrow John Bockarie, Deputy Minister of Justice
3. The Deputy Speaker of Parliament
4. Macksood Gibril Sesay (Electoral Commissioner, Northern Province)
5. Agusta Bockarie, (Electorial Commissioner, Northern Province)
6. Augusta Bockarie, (Electorial Commissioner, Southern Province)
7. All people's Congress Party (APC)
8. Victor Bockarie Foh
and also Supreme Court judgement, delivered on the 9th day of September 2015, between: Alhaji Samuel Samsumana and The Attorney General and Minister of Justice and another have been celebrated as constituting brilliant exposition of the law, especially the arguments of lawyers on both sides.
The Sierra Leone Supreme Court panel of Judges have been challenged in such very serious constitutional matter and reminds one of the proposition of a legal luminary when his opinion was sort on the said judgements and said that the Supreme Court cannot contribute to the growth of the law without the required inputs by lawyers as officers of the court. It is Counsel, who by their argument, inform by painstaking research and industry would and should challenged the Judges of the Supreme Courts to deliver judgements that advance the developmental growth in the law; he further commented that Judges of the Supreme Court can best deliver the goods, as it were, if the researched argument of Counsel are matched by a change in orientation in the attitude and perceptions of the Judges of the court itself; he further stated that the Judges must be seen by such orientation, to be evolving jurisprudential and philosophical principles on which their decisions are founded; he concluded that the Judges of the Supreme Court in determining constitutional issues should view as relevant, the social, economic and political implications' of their decisions; this is what the Judges have done in the said matters.
Sierra Leoneans are encouraged to trust that the Supreme Court has used its interpretative and enforcement jurisdiction or powers under the relevant constitutional provisions with a view to promoting the much-needed reconciliation and the healing of wounds and the feeling of forgiveness among Sierra Leoneans considering the experiences of the decade of the Sierra Leone civil law. Second, Sierra Leoneans should regard the decision and pronouncement of the Supreme Court with a view to imbue in Sierra Leoneans a high sense of patriotism, devoid of partisanship so as to ensure a very stable democratic and peaceful Sierra Leone. Such reconciliation and deep sense of patriotism would bring about social peace which would, in turn, usher in the much-desired political, social and economic development and prosperity.
A balance assessment of the two sets of judgement aforesaid will come up in the next edition.