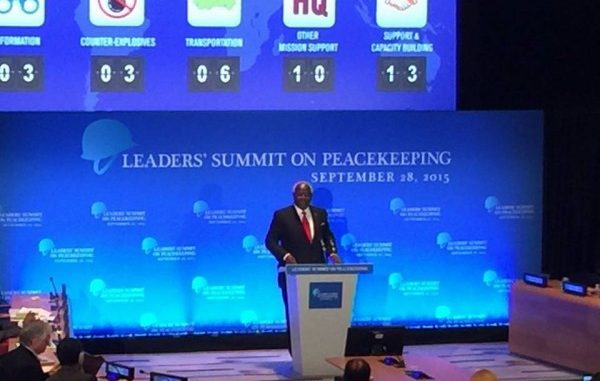 By State House Communication Unit
The United Nations Leaders Summit on Peacekeeping Operations on Monday 28th September brought the largest summit of world leaders together to exchange innovative ideas on issues of peace and security across the world.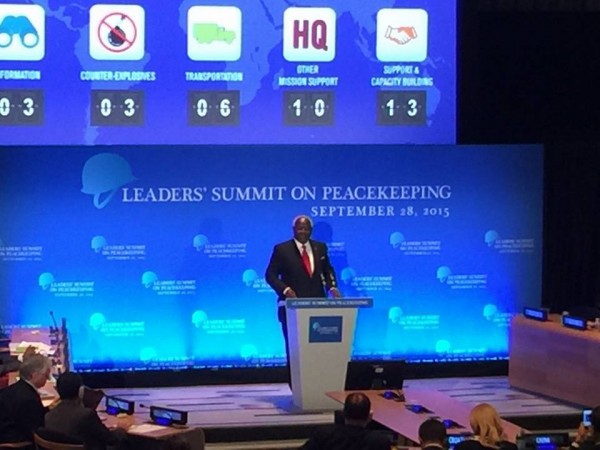 Sierra Leone's President Ernest Bai Koroma delivering an animated speech on his country's contributions to peacekeeping operations in Africa reiterated Sierra Leone's strong commitment to the aims and objectives of global peace and security. "We stand ready to increase our profile in the peacekeeping landscape to ensure successful peacekeeping operations," he said. In this regard, the president assured that Sierra Leone as a country will continue to actively engage in all initiatives to strengthen United Nations Peacekeeping Operations.
President Koroma also pledged, in accordance with the United Nations Peacekeeping Concept Note, a contribution of an Infantry battalion to UN peacekeeping operations in Africa. He highlighted the tremendous contributions Sierra Leone has made towards UN/AU Peacekeeping Operations in Sudan and Somalia.
"Against this background, let me on behalf of the Government of Sierra Leone (GoSL) and in accordance with the document titled "UN Peacekeeping: Current Gaps and Other Capability Requirements updated on 15 July 2015" declare our commitment to provide one Infantry Battalion, 500 individual police officers comprising 300 female and 200 male officers, Formed Police Units, Special Weapons and Tactics (SWATS) Units and two Police Guards under Section 3 of the "General Commitments for Uniformed Capabilities", President Koroma said.
He however noted that the pledge goes with a caveat for the Republic of Sierra Leone Armed Forces (RSLAF) to meet the equipment and vehicle requirements and to further meet the individual mission Statement of Requirement (SOR). "This commitment will mature in April 2016," he assured.
He also reaffirmed commitment to engage with member states on all initiatives for a review of civilian capacities aimed at integrating early peace-building elements into peacekeeping concepts, with the view to building a cohesive synergy in the aftermath of conflicts.
Stay tuned for more on this and other updates on the activities of His Excellency President Dr Ernest Bai Koroma during this US visit.