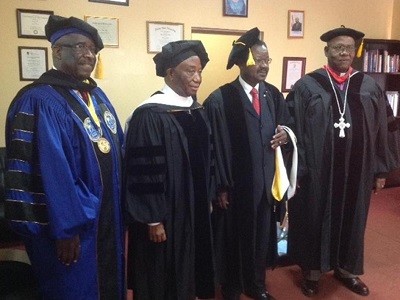 By Alimatu Foh
Vice President of the Republic of Sierra Leone, Ambassador Dr. Victor BockarieFoh on Saturday 26th September 2015 was awarded a Doctorate Degree in Philosophy (Honoris Gratia) by the Cuttington University in Suakako, Gbarnga, Bong County in Liberia.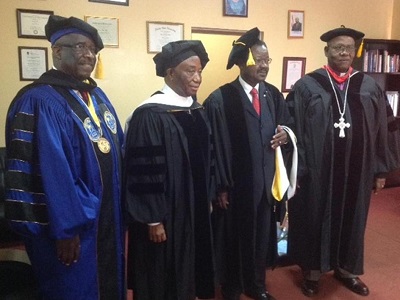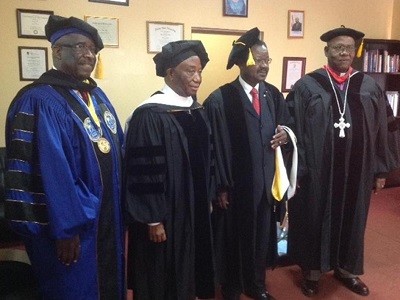 Dr. Foh ( Second from right )
Speaking at the 54th Commencement Convocation ceremony where he served in multiple capacities as Guest, Guest Speaker and a Grandaunt of the class of 2015, the Hon. Vice President Ambassador Dr. Foh conveyed His Excellency, Dr. Ernest Bai Koroma's warm and fraternal greetings to her Excellency, Madam Ellen Johnson Sirlleaf, her government and people of Liberia through his Liberian counterpart, Hon. Joseph NyumaBoakai and also to congratulate her for her continued promotion of friendship that is existing between the two sister countries and for making Liberia Ebola Free.
While addressing the 2015 grandaunts, Vice President Ambassador Dr. Foh gave a historic account of the bilateral relationship that exists between the two countries and described the nature of the relationship as enduring.
He went on to explain how the bi-lateral relationship has served the two countries, how well it has been nurtured over the years and bore fruition.
Vice President Fohnarrated the benefits the two countries and their people have derived from the relationship which, among them, were that most Sierra Leoneans regard Liberia as their second home, the people of the two countries regard and treat each other as brothers and sisters and that where necessary, they help each other to accomplish their aims without the other first asking questions.
This, he maintained, was manifested in Maythis year at the African Development Bank Presidential election in Abidjan, when the Liberia's Foreign Affairs Minister, Mohamed Amara Koneh campaigned vigorously for hisSierra Leonean counterpart, Samura Kamara.
He added that another practical realization of the benefit of such a good relationship was what was witnessed at the 54th Convocation Stand at the Cuttington University where he was conferred a Honorary Doctorate Degree.
He profusely expressed his profound thanks and appreciation to the University for such anHonour given to him, adding that he accepted he the singular honour on behalf of and in the name of his fellow Sierra Leoneans and Liberians as well.
He maintained that he is confident that the relationship between the two countries as ever as before will continue to blossom and grow from strength to strength.
Vice President Dr. Foh expressed special thanks to the President and Faculty of the University for incorporating two programmes into their curricular (Peace and Conflict Studies and Service Learning Programme) for which he said he was impressed.
These programmes, he said, were not only important but also very useful as they respond to the challenges of development in present day Liberia and Africa as a whole.
The programmes, he reiterated, are among those of a special knowledge-based education that are needed to rebrand and transform Africa.
The Vice President commended Cuttington University for being on the right path of providing knowledge for the New Africa, noting that Cuttington University was at the forefront of inter and intra-University collaboration not only in Liberia but with other institutions in the West African Sub-region, not excluding Njala University wherein students were engaged in exchange programmes.
This, he went on, broadened the students outlook beyond their immediate borders and prepare them better for modern day challenges.
He implored both Universities to resuscitate such mutual learning exercise and take it to a higher height.
Addressing his fellow grandaunts, Hon. VP Dr. Foh admonished them to be moderate in their expectations and should not vainly compare themselves with others.
He encouraged them to be creative, innovative and endeavor to be self-reliance as government doesn't have the capacity to employ them all even though government is the largest employer.
"You are products of the Cuttington University of Liberia. Rise up, make a difference and earn the respect of your compatriots. Be of service to your country and humanity," he concluded.
The Vice President of Liberia, Hon. Boakai, in his statement on behalf of Her Excellency, Ellen Johnson Sirleaf congratulated his Sierra Leonean counterpart, Hon. Ambassador Dr. Victor BockarieFoh for receiving such an honor,saying he was impressed with him.
VP Boakai emphasized on the bilateral relationship between the two countries which he said have yielded fruits bybenefiting their citizens.
He concluded by calling on the grandaunts to focus in serving humanity and their country and always serveas ambassadors for their fellow citizens.
The President of the University, Dr. F. Tokpa, in his address, gave a historical perspective of his institution, the challenges and achievement they made so far.