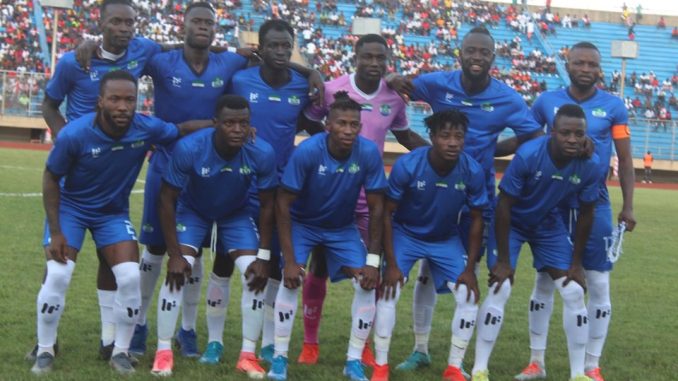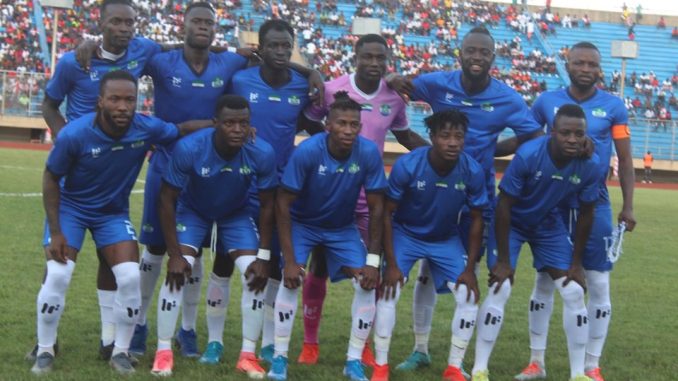 Redemption Battle: Who will Sink to the Red Zone – Benin's Squirrels or Sierra Leone's Leone Stars*
*13:00 HRS GMT (2PM Benin local time)*
By Abubakarr Kamara
After losing away to Nigeria 2-1 last Wednesday on Match Day 1, the Squirrels will be forced to use all their might to win at home to a Sierra Leone side that drew 1-1 at home to Lesotho; with both sides determined to avoid sinking down to the red zone of Group L.
The Squirrels of Benin will today Sunday November 17, engage the Leone Stars of Sierra Leone in the AFCON 2021 Match Day 2 kick off at the Charles De Gaulle stadium, Port-Novo in Benin.
The Beninese have a 100 percent record over their Sierra Leonean counterpart, who never scored a goal in the two times both sides have met.
The Benin team won both home and away duels against the Sierra Leone team by a 2-0 margin each time they met (October 8, 2006 and October 12, 2017 respectively).
The last time Benin won at home was a 1-0 win in October last year against Algeria while Sierra Leone last won an away match (3-1) against Equatorial Guinea in 2002; with the last away goal in the AFCON qualifiers scored in November 2014 in a 3-1 defeat to the Congo Democratic Republic in Kinshasa.
While Benin will pin their hopes on the experience Stéphane Sessegnon, Sierra Leone will depend on youngster Kwame Quee to get the desired results and bring back hopes to their respective fans.
Despite having first team players such as David Djigla, Saturnin Allagbé, Cesio Soukou and Khaled Adénon, all injured, defensive minded coach Michel Dussuyer will still stick to his 4-1-4-1 formation, though football pundits are expecting a slight change to effect an attacking side.
"We know they are here well determined after what happened in their match against Lesotho. We will try to do our best and make good use of our chances on the field if we're disciplined. We already have some experience of playing such matches. We're going to play a game with ambitions," coach Dussuyer said.
On the other hand, Sierra Leone, who also is affected with injuries to first choice goalkeeper, Solomon Zombo Morris and Swedish top tier league goal king, Mohamed Buya Turay; coupled with the unexpected retirement of MLS based Kei Kamara and the suspended George Davies, coach Sellas Tetteh will be left with no option but to field in young players he believed would do the job.
"We are at a transition period which makes things very difficult and yes, the Benin team has a very good squad. But we are here for the best and at the end of the 90 minutes, we hope to come out with our heads raised up. We can't afford to lose and I'm optimistic the boys will do their best in that direction," coach Sellas Tetteh said.
Currently, Nigeria tops Group L with three points followed by Lesotho and Sierra Leone on 1 point each while Benin lay bottom with no point.
*Benin last 5 International Matches*
Nigeria vs Benin 2-1
Senegal vs Benin 1-0
Morocco vs Benin 1-1
Benin vs Cameroon 0-0
Benin vs Guinea Bissau 0-0
*Sierra Leone last 5 International Matches*
Sierra Leone vs Lesotho 1-1
Sierra Leone vs Liberia 1-0
Liberia vs Sierra Leone 3-1
Ethiopia vs Sierra Leone 1-0
Sierra Leone vs Kenya 2-1
*Probable Lineup:* 4-1-4-1
Benin – Squirrels Predicted Eleven: Farnolle: Verdon, Bazare, Adenon, Imorou: Adeoti, Soukou, D'Almeida, Sessegnon, Pote, Mounie.
Coach -Michel Dussuyer
*Sierra Leone – Leone Stars Starting Line-up:* – 4-3-3
Mohamed Kamara, Mustapha Dumbuya, Hassan sesay, Umaru Bangura, Alie Sesay, John Kamara, Kwame Quee, Abu Dumbuya, Mustapha Bundu, Ibrahim Conteh and Prince Barrie
Coach – Sellas Tetteh Teivi
*Match Officials:*
Commissioner- Omar Kouame Dehoule (Côte d'Ivoire)
Referees – Jean Marc Ganamandji, Joseph Luckner Malonga, Oscar Vujovic Serengapou, Merveil Melvin Mandekouzou-Vendafara (Central African Republic)
Refereee Assesor – Kokou Djaoupe (Togo)
Leone Star's Update!* by Esther Samura
Leone Star's Head Coach Sellas Teteh has selected his squad to play in today's AFCON qualifying match against the squirrels of Benin which is scheduled to be played at the Charles de Gaulle Stadium at 2pm Benin time( 1pm Sierra Leone). Goalkeeper Sombo Morris and in form striker Mohamed Buya Kamara both missed out due to ankle and swollen toe injuries respectively.
1. Mohamed Kamara (GK)
2. Mustapha Dumbuya (RB)
3. Hassan Milla Sesay ( LB)
4. Alie Sesay (CD)
5. Umaru Zangalay Bangura (CD) (c)
6. Abu Dumbuya (DM)
7. kwame Quee ( LW)
8. John Kamara ( AM)
9. Mustapha Bundu ( S)
10. Ibrahim Kamara (AM)
11. Prince Barrie (RW)
Subs:
John Trye
Osman Kakay
Morie Alie
Abdul Sesay
Ibrahim Mansaray
Suffian Kalokoh
Mamoud Fofanah
Alimamy Bundu
Salliue Tarawalie
Technical Team:
Sellas Teteh- Head Coach
John Keister- Asst Coach 1
Amidu Karim- Asst Coach 2
Tamba Moses- Gk Coach
Philip Core- Fitness Coach
Abdul Karim Labay- Team Doc
Alusine Kabba- Welfare Off
James Fofanah- Team Coordinator
Christian Dauda- Team Manager
© *Esther Marie Samura- SLBC*