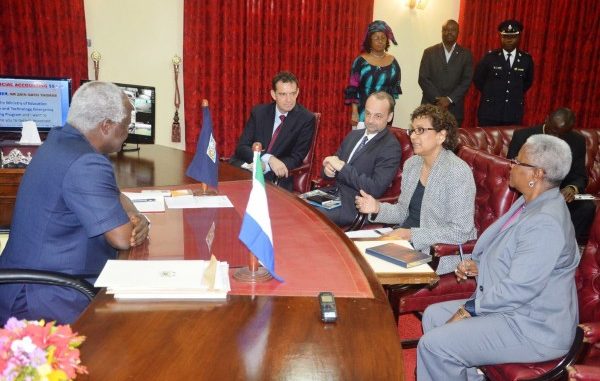 By State House Communications Unit
As the nationwide social mobilization drive mounted by President Ernest Bai Koroma for community involvement and ownership of the fight against Ebola gathers momentum, the Deputy Executive Director of the United Nations Children's Fund (UNICEF) Mrs. Geeta Rao Gupta during a courtesy call at State House Wednesday 21 January, commended the effective leadership of the president and the overall resilience and strength shown by the people of Sierra Leone amid the deadly Ebola outbreak.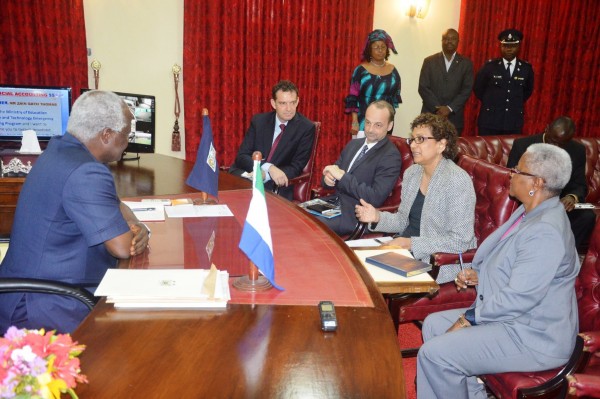 President Koroma expressed appreciation for the support and efforts of UNICEF in putting in place structures and enhancing the national response towards the fight against the disease. He stated that UNICEF has played an active part in all of the pillars and coordinated the fight in the area of social mobilization, child protection services and the establishment of community care centers (CCCs). With the reduction in new infections, President Koroma expressed optimism of the end of the outbreak, adding that the national response and other activities have improved substantially. In that regard, he noted that government is currently preoccupied with discussions on the reopening of schools but however expressed concerns over the sanitation facilities and conditions of schools which have to be disinfected.
The president underscored the significance of addressing the issues of children affected by the Ebola outbreak and to further prepare the minds of pupils, teachers and parents across the country. "These are all issues we need to contend with and which we need to run with quickly within the next few weeks because we intend to having schools reopen by March," he said. He also stated that since new confirmed cases are on the decrease, government will use the available resources to reopen schools and strengthen the health sector as the country inches towards post-Ebola activities.
Mrs. Geeta Rao Gupta said UNICEF has put enormous efforts to responding to child protection services. She expressed her commitment on behalf of her Executive Director Mr. Anthony Lake to assist in any way necessary to stop the spread of the virus and for Sierra Leone to recover and come out very strong, saying that UNICEF's role is to establish community care centers and play a pivotal role to protecting children affected by the outbreak. She continued that UNICEF has played a crucial role in community social mobilization, community education and water and sanitation.
Jarrah Kawusu-Konte Kamanda Joseph Alhaji Moijueh KaiKai Alusine Dainkeh Alhaji Yunisa Alim Sesay Thullah Wise John Ismael Koroma