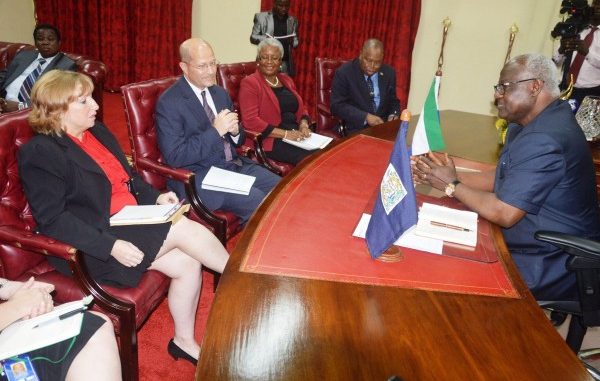 The outgoing Deputy Head of the United States Mission in Sierra Leone Madam Kathleen Fitzgibbon on Monday 17 August 2015 paid a farewell call on President Dr Ernest Bai Koroma at State House, Freetown.
Bidding farewell to Madam Fitzgibbon, President Koroma described plans by the US to establish a permanent office for the Centre for Disease Control as welcome development, particularly so when a lot of work is needed to strengthen Sierra Leone's health sector. He expressed optimism that the outbreak will soon end, and said government was looking forward to the stakeholder meeting among the United States, China and the United Kingdom slated to take place in October, 2015. The meeting, the president said, will lay the basis to assigning roles and responsibilities, driving force for public health and the outcome to be the base for establishing a national centre for disease control and prevention.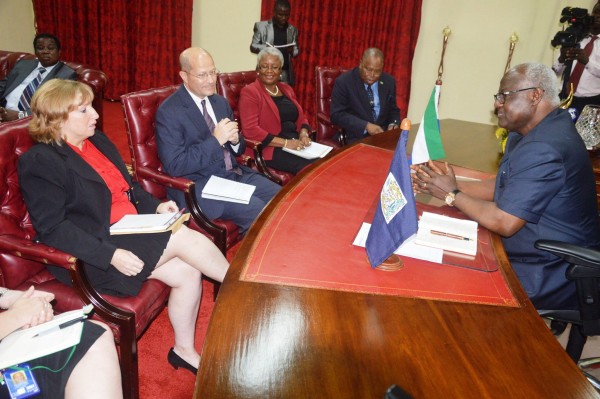 President Koroma also expressed delight over the mutual cooperation among members and the ability to coordinate to see things done. While calling for the establishment of satellite laboratories across the country, he underscored the need to strengthening the country's healthcare system and build the capacity of health personnel.
The US Ambassador to Sierra Leone, John Hoover stressed the need to collaborate with China and the United Kingdom and create the synergy to strengthen the health sector. He noted the importance of the Ministry of Health's management of the post Ebola process and the transfer of the needed skills and expertise that would enable the ministry to respond to other issues.
In her farewell statement, Kathleen Fitzgibbon acknowledged President Koroma's leadership in the fight against the receding virus and said the president made tough decisions in the general interest of the country.
The Country Director of United States Centre for Disease Control Sara Hersey informed about health care worker vaccine trial and said the CDC will be focusing on activities of health care workers and workforce development. While informing that the stakeholder meeting will form a platform to discuss among other things programmes that are in sync with government's programmes, she furthered that they will also be working on capacity building on disease surveillance, short term training session, laboratory support, national reference laboratory and information and data systems.