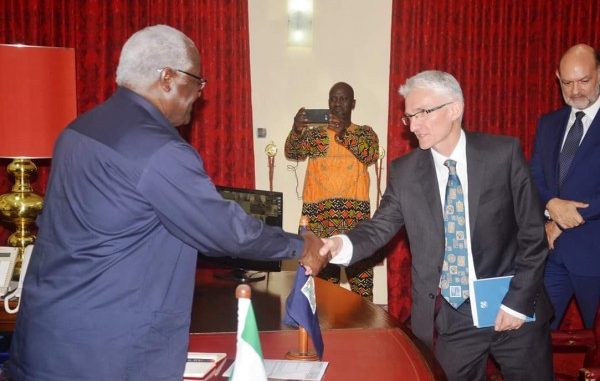 By State House Communication Unit
The United Kingdom Permanent Secretary for the Department for International Development (DFID), Mark Lowcook, today (Thursday June 16, 2016) reassured President Dr Ernest Bai Koroma that Britain through its development office will continue to support Sierra Leone in its recovery efforts. Mr Lowcook gave the assurance during a courtesy call at State House in Freetown, where he informed that he was in the country to see how the 10-24 months recovery efforts were going.
Mr Lowcook recalled that a year ago just before the international conference on Ebola in New York, President Koroma registered government's strong commitment to get to zero and remain resilient, for which he commended the president and encouraged government to continue to remain committed as part of greater confidence building.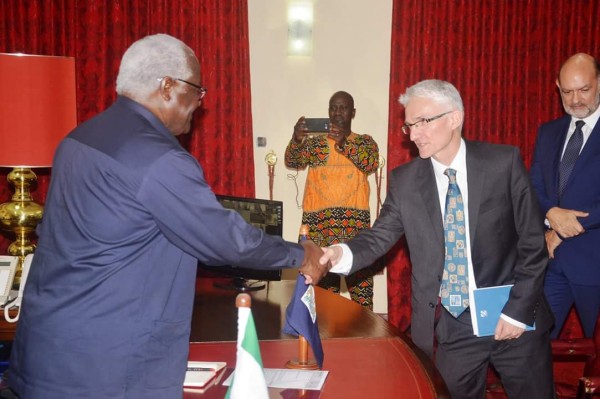 He informed the president that Britain, through DFID, has kept its commitments, and emphasized the importance of the positive outcome of the July conference in New York, where Britain promised to redouble her efforts in providing assistance to Sierra Leone. "We have tried to live up to our commitments," he said and quickly added that they were also trying to get other development partners involved.
Responding, President Koroma pointed out that government has made considerable progress since the Ebola conference in New York and also noted that substantial gains have been made in the planning of the 10-24 months recovery programme, which is expected to be launched next week Monday, June 20. He expressed hope that the delivery team and the enhanced collaboration during the 6-9 months recovery plan "would help us move on with the implementation of the 10-24 months recovery programme with greater success".
The president expressed optimism that with the lessons learnt during the implementation of the 6-9 months recovery phase, there is every likelihood that, "we will be able to achieve our set goals in health, education, water, energy and other sectors" under the 10-24 months recovery programme.