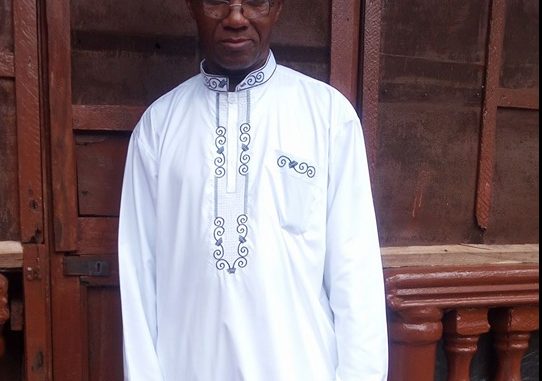 By Alhaji M.B. Jalloh
WHY SLBC's CLAUDIUS BECKLEY WAS TERMINATED ?*
In a letter signed by the Sierra Leone Broadcasting Corporation (SLBC) Director of Administration and Human Resources, Lucy –Ann Ganda, Mr. Claudius Beckley's employment with the State Broadcaster was terminated with immediate effect from the 24th April, 2020.
In her letter copied to the Corporation's Director General, his Deputy, the Board of Trustees and the Director of Finance, Mrs. Ganda says Mr. Beckley's termination arose from his "outrageous and persistent conduct of bringing into disrepute the image of the Corporation."
In his Facebook post a day after he was terminated, Mr. Beckley who was Head of Entertainment and one of the Senior Camera Operators at SLBC says, his termination was as a result of "my riddle postings on my Facebook page and praise – singing former officials".
On Mr. Beckley's Facebook posts, the Director of Administration and Human Resources says the terminated Head of Entertainment's "persistent Facebook political posts with innuendoes understood to carry political designs have brought an unbearable burden on the good image of the SLBC".
Sources at the Ministry of Information and Communications say Mr. Beckley's termination was an order from above. And that, the Director General, Joseph Egbenda Simon Kapuwa who is also a political appointee had no option but to direct the Director of Administration to terminate the services of Mr. Beckley who served the broadcaster for 26 years before he was asked to quit last Friday.
The wave of sackings and resignations under the current leadership of Mr. Egbenda Kapuwa is unprecedented, says an official at the Information ministry.
Just last year, the official said, a Reporter, Rose Konima Stevens resigned as result of bitter blood she had with the Head of News, Hawa Bockarie even when the former had gone out and use her resources to cover a human interest story in Bonthe. Upon her return, the source added, Hawa Bockarie reportedly scolded, berated and lampooned her like a mistress could do to her maid. "She became frustrated and resigned."
Before Rose's resignation, the source went on, a Producer, Judith Sannah, also resigned for reasons not unconnected with the intimidation of the powerful Head of News.
Few months ago, Johnny King, Head of Digital Editing also resigned. Before King left, the head of IT, Ibrahim Sesay also resigned.
All the above resignations, I learned, have been linked to the current alleged mismanagement that the corporation is witnessing. King Millan, a popular entertainment TV Presenter also faced the hammer on the 1st January this year when he was suspended for three months without salary.
"The intimidation that staff are facing at SLBC is unheard of. Some are now even scared to post something critical on Facebook," my source concluded.
*Journalist Sayoh Kamara writes*
I want to express my sympathy to Claudius Beckley for the unfortunate situation that has met him. This though is not the first. I am a victim of double tragedy in the hands of this Paopa administration and unfortunately, SLAJ with Kelvin Lewis as President and no other journalist took up my issue even when I personally took the matter to Kelvin, Umaru, Isaac, Sorie, Sheik, Jonathan, etc when I was hounded and hunted by a colleague Journalist, Asmaa James. They sacked me at the Ministry of Finance rudely and unceremoniously and again as recent as December, 2019, I was hounded and hunted by the same Asmaa James at NATCOM and I was sacked one month after my appointment.
There is so much bad blood today in the media and among journalists.
I don't think SLAJ can or will take up this. I am pessimistic out of my own experience. Individuals can raise up the issue in the SLAJ forum and we will certainly see reactions that may not suit our collective interest here.