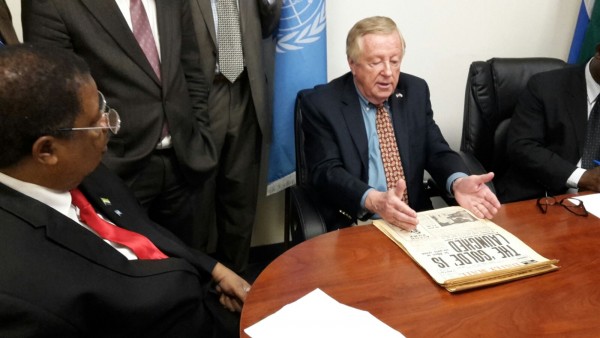 The years 1966 and 1967 are so important in the socio-economic , cultural and political life of Sierra Leone that anything that brings the memories of those historic years alive again  is a momentous treasure.
Well, Mr. Gary Schulze  the former Peace Corps volunteer who found the original photo of Sierra Leone's legendary warrior, Bai Bureh, at E-Bay and spent fortunes to procure it and donate it to President Ernest Koroma and the nation ,  has done it again. He has donated  to the Permanent Mission of Sierra Leone to the UN copies of the immortal SIERRA LEONE DAILY MAIL ,  covering the whole 1966 and part of 1967 before the military coup .
He  donated these well-preserved  copies of the legendary Sierra Leone Daily Mail to the Permanent Mission  in a big news event arranged at the Mission yesterday by Minister Plenipotentiary and Head of the Information Unit, Leeroy Wilfred Kabs-Kanu . The newspapers which have been so preserved that they do not have any sickish, stuffy-nose causing smell, were donated following a request to him by Mr. Kabs Kanu, in his capacity as  a rebrander of Sierra Leone , after Mr. Schulze posted some historic pictures on FACEBOOK and Mr. Kabs Kanu learnt from him that a peace corps friend had turned over 1966 and 1967 old Daily Mail copies to him.
The newspapers will be used by Kabs Kanu  to make some important research and fill in some important gaps for  two books on Sierra Leone politics that he is busy writing after which they will be handed over to the FBC library for archiving, according to Mr. Schulze's wishes.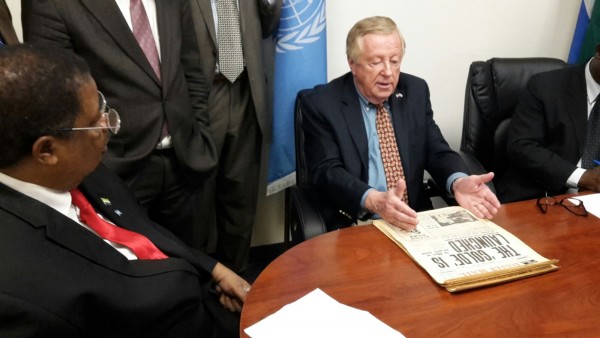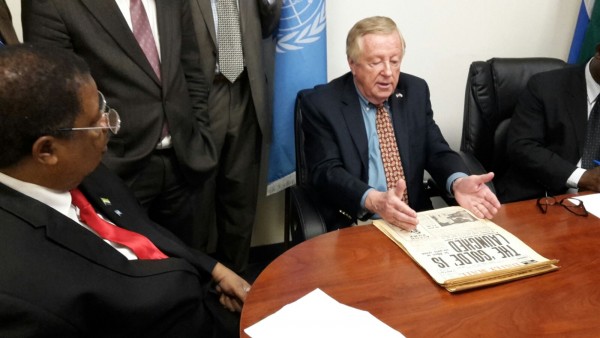 MR. SCHULZE EXPLAINS HOW HE GOT THE BAI BUREH PICTURE. SEE STORY IN ANOTHER COLUMN
Yesterday's event was attended by Ambassador Amadu Koroma , the Deputy Permanent Representative for Political Affairs,  the Minister Plenipotentiary and Head of Chancery, Mr. Alhusine Sesay , the military Adviser, Col. Muana Massaquoi, top officials of the Mission and Mr. Foday Mansaray, a top party functionary and community leader in New Jersey.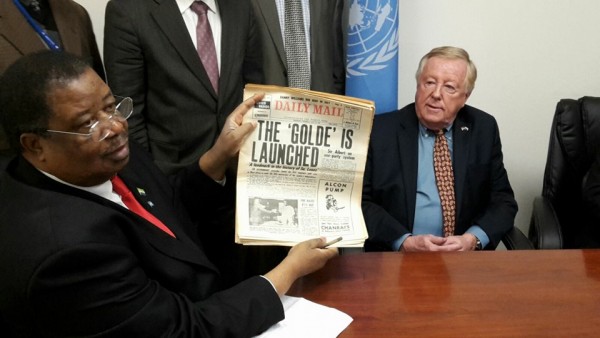 DISPLAYING ONE OF THE OLD EDITIONS
In introducing the program, which he also televised for the emergent internet TV , SIERRACAST, Minister Kabs Kanu praised Mr. Shultz highly and stated the significance of the newspapers.  Ambassador Koroma and HOC Mr. Sesay also showered praises on Mr. Schulze for his profound interest in Sierra Leone and for helping provide historical materials for the country.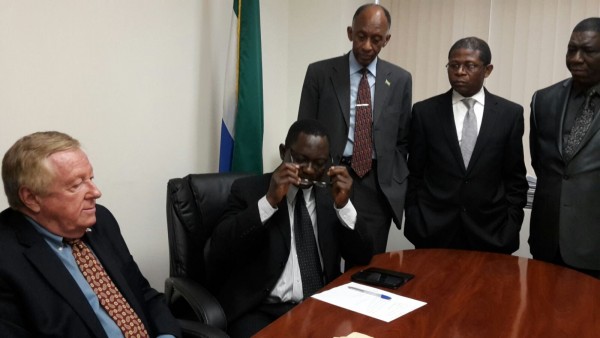 DURING THE PRESENTATION CEREMONY :  SEATED ARE MR. SCHULZE AND AMBASSADOR KOROMA. STANDING FROM LEFT ARE : MESSRS SESAY, SHEKU MISALI AND FODAY MANSARAY. MORE PHOTOS OF THE EVENT ARE PENDING AND WILL BE PUBLISHED WHEN RECEIVED .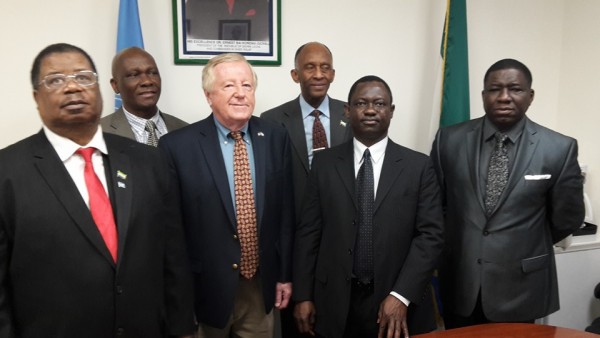 PHOTO : KABS KANU, MILITARY ADVISER COL. MUANA MASSAQUOI , GARY SHULZE, ALHUSINE SESAY, AMADU KOROMA AND FODAY MANSARAY
ANALYSIS
It is a known fact that 1966 and 1967 represent historic and watershed moments in the history of our country for the seeds of many of the most significant political events that have taken place in our country were sown in 1966 and 1967. We had just achieved Independence and a British-styled parliamentary democracy was prevailing, with an army and civil service that were insulated from politics. Even the very Daily Mail , which was the official government newspaper, was not involved in partisan politics, though it presented the government position, of course in a straight reportage, without editorializing. The system was working well in Sierra Leone.
But note It was also the eve of the most crucial General Elections after Independence .
Then all hell broke loose. Thuggery was introduced in the electioneericampaign , the elections were tampered with and when that failed to stop the title surge of the opposition. The army was introduced into politics for the first time, leading to the first military coup ever in our country's history. . Sierra Leone has never fully recovered from these fractures to her own flawless socio-political system. These newspapers will answer the question ; How did we get here?
It is significant to know that most of the country's vocal media and ng civil society activists and even politicians , had not been born when these papers were published. Even the President was a boy . I was 12 years old, though I started reading newspapers at 9 and I have been recounting most of the things contained in these newspapers, with some of you doubting me. Well, thanks to Gary Shultz. an opportunity has been provided us to savor one of the most important moments of history in our country.
For my readers online and the social media, I will use the papers to share very interesting social, political, economic and cultural titbits and pictures from these newspapers. Remember that it was the same 1966 that glamor life really started in Sierra Leone, which prompted the then original Sabanoh Kings dance band to release the epic record, with these lyrics  :
1966,  FALSE LIFE CAM NAR TOHN .ALL DEN MAN EN WOMAN, PEKIN SEF NOR LEF, MAMA WERR LONG PANTS, DADDY WERR LONG PANTS .
THIS is how important the year 1966 was to Sierra Leone. It will interest you to know what the fashions were, what stores were in vogue, the radio programs, and what the social and cultural climate looked like.
And sports. Oh wow. Some of you have never seen the photos of our soccer legends like King Kama Dumbuya, Abdulai Garrincha Sesay, Bai Kabia, Conton Sesay, Allie Teeth and others. I am going to flood the internet with them.
We do not even have online many pictures of former Premier Sir Albert Margai , former Governor General Sir Henry and the political leaders of the time .I will post these photos online and all credit must go to Gary Schulze , because he provided the opportunity. Sir Albert nar bin showman en bluff man. LoL. I will post some of the interesting articles.
I will try to make it very interesting . The papers are (in the words of an FBC fresher in 1971, quoted by the Aureol Times ) A KALEIDOSCOPE OF ENDLESS VARIETIES. You will laugh ; you will giggle; you will be excited; You will blush; You will learn . You will be thrilled. It is the Daily Mail, the only one of two big media (The other being the SLBS ) we had in those days.
Keep a date.
Thanks a lot to Gary Schulze.
The papers will also help my autobiography to be more interesting because they will help me recall many exciting things as is done by music and media. I now recall, for instance , that the year my favorite uncle, Aikeh , the most interesting character you would love to meet, moved in to live with the family was 1966, not 1965 as I initially thought. He gave me the 2 cents I used to buy the Daily Mail covering the F.A. Cup final between Old Edwardians , my team and Kenema.