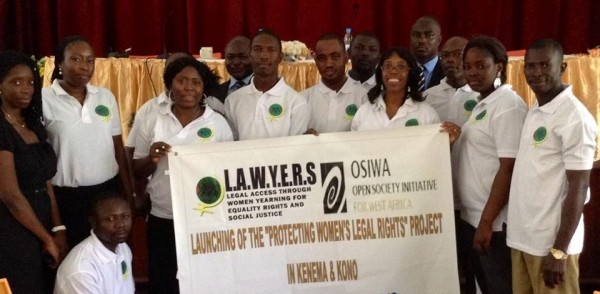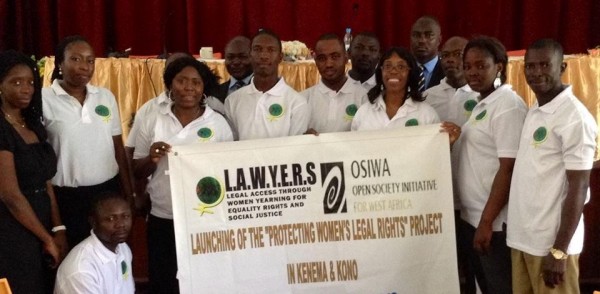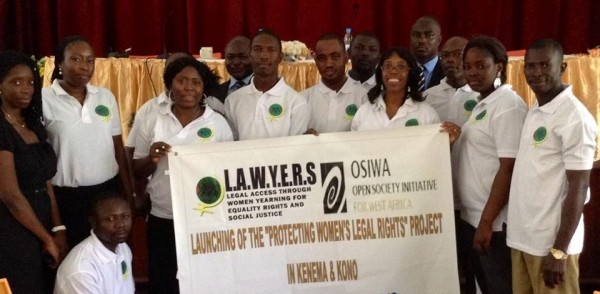 Girls, Women, the Law & Valentine's Day
L.A.W.Y.E.R.S' 20 years of Serving Society by Protecting Women and Girls Through the Law
By Ahmed Sahid Nasralla (De Monk)
14/2/2017
Launching of the 'Protecting Women's Legal Rights' Project in Kenema and Kono
On a traditionally romantic day on 14th February, 1997, when most successful women were busy cracking their brains on how to get the best from their partners, a small group of young female lawyers in Sierra Leone came together to form L.A.W.Y.E.R.S (Legal Access through Women Yearning for Equality Rights and Social Justice), a clear demonstration of their love and care for the country's most vulnerable group of people.
Answering to the call of the socio-economic, political, environmental and legal injustices facing Sierra Leonean girls and women following the more than decade-long civil war (1991-2002), the group today- 14th February 2017- marks 20 years of defending, protecting and promoting the rights of girls and women across Sierra Leone.
Women and children, mostly girls, suffered the brunt of the war. Thousands were abducted and raped systematically.
"It has been a long 20 years, from the founding members to one president after another, overcoming one challenge after another and recording great achievements," says Lois Anita Kawa, the organisation's current President.
However, the organization is observing the anniversary today without having to blow its trumpet loudly at a low-profile ceremony at its 11 Percival Street, Freetown office. According to Lois, they are still far away from achieving the founders' vision of 'a country in which women and girls live in a healthy environment, have uninhibited access to opportunities and are able to fulfill their potentials', but there's a lot to celebrate about.
One of the organisation's greatest achievements is its lead role in the enactment of what has come to be known as the landmark Three Gender Acts in 2007, and the subsequent Sexual Offences Act in 2012. The Three Gender Acts include the Domestic Violence Act 2007, The Registration of Customary Marriage and Divorce Act 2007 and The Devolution of Estates Act 2007.
"We believed that by reforming the laws which discriminate against women and girls we are building the foundation for their protection and development," says Melinda Davies, under whose tenure as President in 2007-2009 the laws were passed.
L.A.W.Y.E.R.S' role did not just end at the enactment of the laws, they engaged Judges and Magistrates who are the people tasked with the application of the laws, and took on the challenge of educating and sensitising the public on the contents of the three Gender Acts through radio programmes and community engagements.
Another big achievement is the establishment of the Legal Clinic towards the end of Melinda's tenure in June 2009. Through this clinic, women and girls with legal issues ranging from domestic violence, sexual violence and other legal matters would come to L.A.W.Y.E.R.S' Secretariat where they were provided with legal counseling and representation in the Magistrates Courts and High Court. The work of the Legal Clinic became the heartbeat of the organisation, with the services provided free of charge to women and children in need of help.
Not forgetting women who were already in conflict with the law, the organisation visited Correctional Centers (formerly Prisons) where women who had been incarcerated because of debts owed had their debts paid for them by the organisation and they gained their much needed freedom. It was no surprise therefore when in 2008, the organization was awarded with a certificate of recognition for its role in advocacy and promotion of women's rights under the law by UNIFEM and Women's Forum.
Initially operating from Freetown, the national capital, L.A.W.Y.E.R.S under the presidency of Mariama Dumbuya (2010-2012) extended into the provinces with offices in Bo, Kenema and Kono with staffs and paralegals and providing pro bono representation for women and girls who have been victims of abuse or whose rights have been violated. In Kono for example, L.A.W.Y.E.R.S paralegals ensured that a man who broke up with his wife after 10 years of marriage took full maintenance of his children under the custody of the wife. In another instance, the paralegals ensured a woman reclaimed from her late husband's family the right to inherit the deceased properties, including a house. The interventions of L.A.W.Y.E.R.S in these types of cases became so popular that Mariama on behalf of the organization received the prestigious AWOL National Achievement Award 2010 for Best Legal Organisation of the Year.
"We continue to challenge deeply rooted reprehensible traditions and negative perceptions against women and girls and we are proud of the national dialogue we are creating," says Simitie Lavaly, another past President 2012-2014, adding that the focus is to strive for a society where women and girls are valued and have access to the same educational and employment opportunities as their male counterparts.
Just at the infamous Armed Forces Revolutionary Council military coup in 1997 abruptly disrupted the enthusiasm of the organisation shortly after it was formed and inaugurated by the late First Lady Patricia Kabbah, so also was the Ebola outbreak that engulfed Sierra Leone in 2014. However, this time the organization did not go dormant along with most organisations whose activities were unrelated to health emergencies. Instead the organization decided to think outside the box and made itself relevant throughout the period of the outbreak.
"We realized that statistics was showing that more women than men were affected by the outbreak," says Rhoda Suffian Kargbo Nuni, who was President at the time. "L.A.W.Y.E.R.S was the first NGO to issue a press release calling on the Government of Sierra Leone and health partners to put measures in place to quickly tackle and put the situation under control."
Beyond that, the organisation developed docu-dramas explaining in simplified forms the laws under the State of Emergency instituted by the Government of Sierra Leone to curb the spread of the disease, as well as cautioning and advising on measures to stay safe through Sign Africa and television screens all over Freetown for over a month. Proceeds from the sale of CDs and DVDs of a song and accompanying video clip done by the members themselves titled "L.A.W.Y.E.R.S Against Ebola" were later used to provide bursaries and school items to Ebola orphans and child survivors. This was also the first time since its establishment that the organization embarked on its own fundraising drive.
Yet it has not been a female to female affair exclusively. Male lawyers have also been supportive to the cause of L.A.W.Y.E.R.S.  "Any issue concerning our women should be a concern to every responsible man," says lawyer Sulaiman Kabbah Koroma, one of the several male lawyers who provided their professional services pro bono to the organisation. "They are our mothers, our wives and our daughters. We owe a moral obligation to ensure that they are treated right and given equal access to justice and opportunities. I don't remember the details of the cases I dealt with because it was a long time ago, but I did so with the conviction that I was contributing to a good cause."
Meanwhile, though seriously constrained by lack of funding, the lawyers all envisaged an organization whose activities will expand extensively into all corners of Sierra Leone and pushing for legal reforms that will guarantee the quality education of all girls and the social, economic and political empowerment of all women.
"Yes funding is a huge challenge for us as we plan ahead," say Lois, "but on a day like this it's but fitting to pay tribute to all the founding members- Justice Claudia Taylor (R.I.P), Justice Valerie Nicol (R.I.P.), Winstonia Younge, Yasmin Jusu-Sherrif, Maureen Greene, Isha Dyfan and others . And to our key partners- UNFPA, UN Women, Action Aid, OSIWA, the Judiciary and more."
Looking back , Jamesina King- a founding member and past President- says the good thing is that the organization has got a strategic framework that will ensure continuity through recruitment of young female lawyers who believe in the cause and which will  guide its programmes, but going forward she says the organisation has to be creative in overcoming its fund raising challenges.