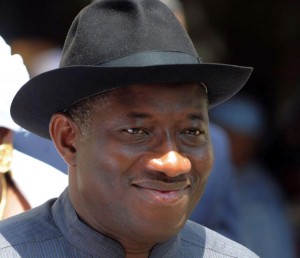 By CHINELO OBOGO
Just as his name,  good luck has always dogged the path of President Goodluck Jonathan. He became governor by chance. He became vice president when nobody mentioned him in the calculation. And he became president also by chance. However,  his luck could not shine in the 2015 presidential election, as he lost to General Muhammadu Buhari of the All Progressives Congress (APC). He, therefore,  becomes the first incumbent president to lose election.
Yes, President Shehu Shagari, who was elected president in 1979, got re-elected in 1983, before he was toppled in a military coup by Buhari and co. Olusegun Obasanjo, who was elected president in 1999, won a second term in 2003. Jonathan failed in his second term bid, but he is gracious in defeat, having called Buhari, as soon as it was obvious that he had lost the election, even before the result of the last state had not been declared, to congratulate him.
Born on November 20, 1957 in Otuoke, Bayelsa State, Jonathan attended the University of Port Harcourt, where he earned a B.SC. in Zoology (1981), an MSc. in Hydrobiology and Fisheries Biology (1985). He obtained a Ph.D. in Zoology in 1995.
He taught at Rivers State College of Education, from 1983 until 1993. He then served as an assistant director at the Oil Mineral Producing Areas Development Commission (OMPADEC), a now defunct government agency (1993-1998).
Jonathan's political career began when he became involved with the Peoples Democratic Party (PDP) in the late 1990s. He was elected deputy governor of Bayelsa State in 1999 on the party's platform. He served in that position until 2005, when he was elevated to the governorship position, after the then governor, Diepreye Alamieyeseigha, was impeached. In 2007, he won the governorship ticket of the PDP, before he was selected as the vice presidential candidate of the PDP, to pair with the presidential candidate, Umaru Musa Yar'Adua. He and Yar'Adua were elected in April 2017 and inaugurated in May 29, 2007.
The president's profile rose in early 2010 when Yar'Adua's extended absence from the country for medical treatment made many Nigerians anxious and generated calls for him to formally transfer power to Jonathan. As concerns mounted and there was no word from Yar'Adua on the request to transfer power to his vice president, members of Nigeria's National Assembly on February 9, 2010, invoke the "doctrine of necessity" and thereby empowered Jonathan to take over the rein of government as acting president until Yar'Adua was able to resume his duties.
When Yar'Adua returned to Nigeria on February 24, 2010, it was announced that Jonathan would remain acting president, as Yar'Adua continued to recuperate. When eventually Yar'Adua died on May 5, 2010, Jonathan was sworn in as substantive president. He had vowed to continue his involvement in the Niger Delta peace negotiations and declared his intentions to reform the country's oft-criticised electoral process as well as tackle corruption and deal with the country's energy problems.
Jonathan's declaration, in September 2010,  to stand for presidential election generated controversy, as many argued that the North was still owed another term in office following Yar'Adua's death. In the PDP's presidential primaries that year, Jonathan was elected to be the party's candidate for the presidency. His overwhelming victory showed that his candidacy had considerable support—in the North as well as the South—even though it was a departure from the unofficial North-South rotation policy.
Jonathan was also victorious in the country's presidential election, held on April 16, 2011. He won about 59 percent of the vote, securing an outright victory over General Muhammadu Buhari of the Congress for Progressive Change (CPC). Reforming Nigeria's electoral process has been one of Jonathan's goals and international observers praised the current elections as being largely transparent, free, and fair.
Jonathan entered the race for a second term with much disadvantages. At that time, his party, the PDP, was recovering from a shocker caused by the defection of five of its governors to the All Progressives Congress (APC). Also, the party suffered a shocker when the Speaker of the House of Representatives, Aminu Tambuwal, also defected to APC. But determined to give his reelection bid the best shot, he put in everything. But his best was not good enough for him to get a second term.
Jonathan will be remembered as the president who faced the toughest opposition in the country. Right from the day he never had rest. His decision to seek election was a problem, as members of the PDP from the North wanted him to step down, so somebody from the zone became president. There argument was that the North needed to do eight years before relinquishing power, as rotation prescribed. And his second term bid was also a problem. Apart from criticism from the opposition party, he faced a bitter condemnation from former President Obasanjo, who, in the first place, was instrumental in him becoming vice president.
However, despite the criticism, Jonathan will be remembered for many good things. When the country's achievement in the agricultural sector is mentioned, he will be remembered. His government restored the railway system, rebuilt airports, boasted the National Independent Power Projects (NIPP), engineered electoral reforms and attracted many foreign investors, among others.
Out of office, he will be remembered for his effort in delivering free and fair election.