INTERNATIONAL TRAVEL GUIDE ON SIERRA LEONE SAYS COCORIOKO IS THE REAL ONLINE HIGHLIGHT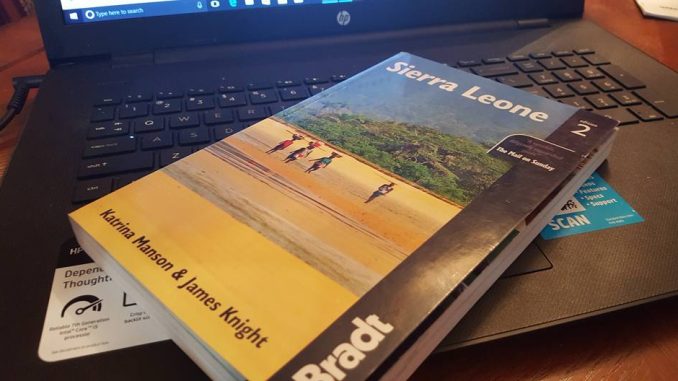 IT is a well-researched tourism book and travel guide on Sierra Leone, a tell-all book that describes everything you need to know about Sierra Leone -from her friendly people to all the various tribes, cultural practices. government, institutions. Places of interests in all the major cities including historical relics, beaches, night clubs, entertainment spots, hotels, motels, NGOs, civil society groups , media etc.you need to have it.
IT is called the BRANDT TRAVEL GUIDE. For those of you who know, it is the most authoritative travel guide for tourists and it features different countries and it is written by two of the most world-renowned tourism experts Katrina Manson and James Knight.
This book has said it — COCORIOKO IS THE REAL ONLINE HIGHLIGHT  AMONG  Sierra Leone newspapers online.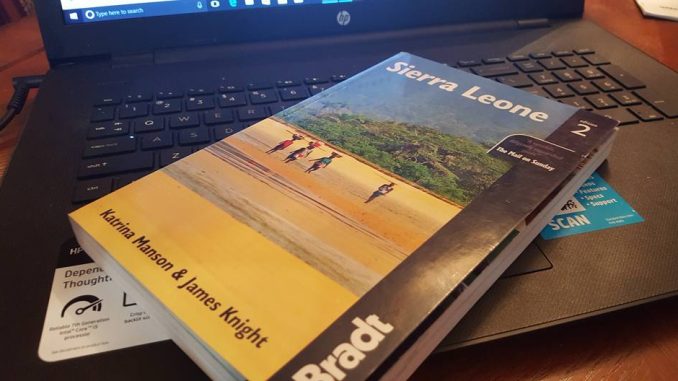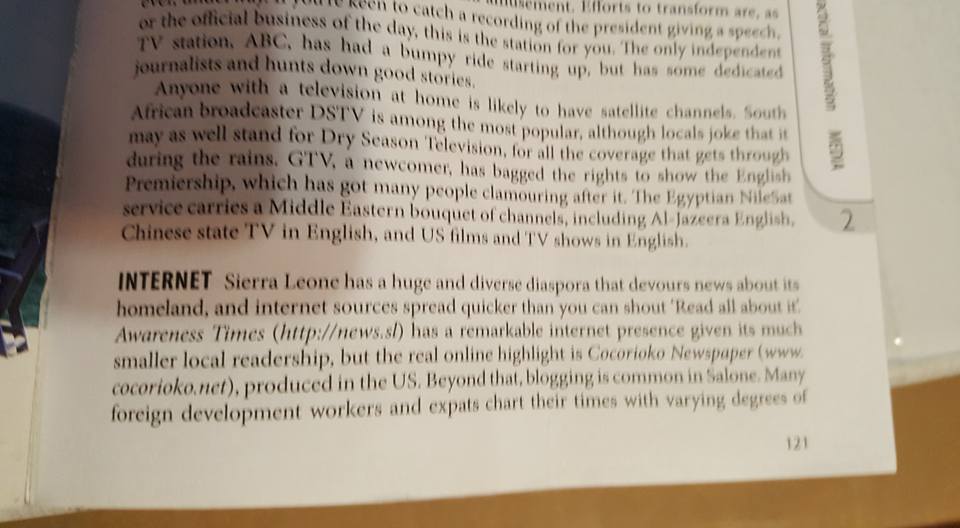 The book goes on to give us great commendation by saying that the real online highlight in Sierra Leone is COCORIOKO..
This is not the first time we have been internationally recognized. The Nigerian Master Web describes COCORIOKO as one of the most favourite online newspapers for the Nigerian reading public.
COCORIOKO has also received more awards than any other Sierra Leone newspapers. We have received almost all the famous awards out there- the NOSLINA AWARD ( Sierra Leone's version of the U.S. Academy or Oscar awards), the Hall of Fame award from the Save Sierra Leone organization ; the Gems of Africa Award, the 50th Independence Anniversary Award and many more.
Please pop the champagne bottles for us. We know we have our detractors who think we PRAISE the present government too much, but what we say inn our rebranding crusade is true because President Ernest Koroma's infrastructural and other socioeconomic developments are all there as evidence to be seen and secondly international organizations like the UN, EU, AU, DFID, IMF, World Bank etc. say the same things we write.
To keep COCORIOKO on top as the biggest and most widely read Sierra Leone online newspaper is not easy. I spend no less than $400 every month to sustain the paper. Cocorioko does not enjoy sponsorship from any other sources. Everything you see comes from my hard-earned pocket, so at least I should be encouraged for producing such a paper that is helping to rebrand our country and project a positive image of our nation. Sierra Leone deserves it. We mag have our challenges and foibles as a nation, but the world needs to see the beautiful side of our country.
We have helped promote investment and tourism and many Sierra Leoneans have received legal status and humanitarian assistance in the U.S because of our reports. We have evidence to prove these facts.
At times, people criticize me unfairly. If AMERICANS Europeans and other Africans see all this good in the newspaper, who cares about what negative Sierra Leoneans say ?
I set up COCORIOKO at FBC in 1973. All the people in power today , from President Koroma, down to the ministers , lawyers, politicians and ambassadors who attended Fourah Bay College in the early to mid 70s know the origins of this newspaper. They were there when I set it up in 1973.
We have registered the paper in Freetown and we will one day hit the newsstands in Sierra Leone. It is just a matter of time. We have not given up on our expansion plans.
We call on you all to continue giving us our moral support . We know we cannot please everybody and nobody or institution has ever pleased everybody.
We will continue to give off our best in the interest of the nation. It is not an easy job but we continue to thank God for his empowerment and strength.
Congrats to both Cocorioko and Awareness Times for this magnificent recognition by an international organization that is not involved in our politics. They looked at the standard of journalism we are providing and how many people read our papers before making this assessment, so we deserve it.
May God continue to empower us.