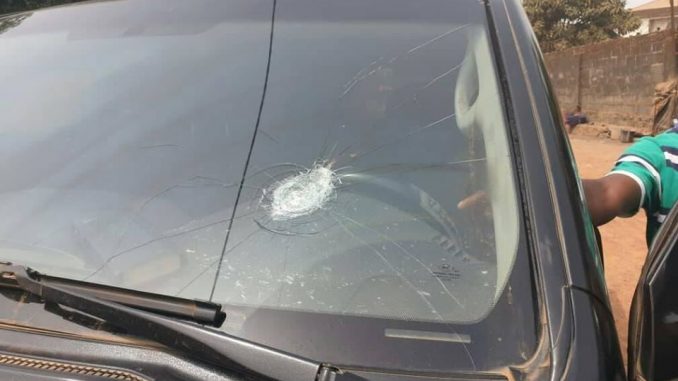 Just how much Sierra Leone has become unstable under the Government of President Maada Bio,  the Minister of Local Government and Rural Development, Hon Tamba Lamina  today alleged that he had been attacked on the Makeni Highway. The minister did not explain why he was attacked  and who were his attackers .
Sierra Leoneans on social media have however suggested that the attack was probably not unconnected with the immense anger people are now nursing  for the government because of the hardship in the country. Since the government came to power in 2018, cost of living has multiplied with people complaining of shortage of money in circulation, scarcity of food, electricity power cuts and delays in the payment of salaries of government workers.
Minister of Local Government and Rural Development, Hon Tamba Lamina writes:
At about 11.20am whilst driving along the Makeni Highway, close to Makare village, my official vehicle was pelted with a heavy stone that dropped on the windscreen. The thrust of the heavy object threw fear into us whilst the driver struggled not to lose control of the vehicle. I am fine but quiet shaken by this incident. The incident has been reported at the Makeni City central police station. It's really sad to be targeted whilst on an official mission to represent our President and First Lady at the funeral of Musa Sandi alias Macdoff who will be laid to rest in Koidu City this afternoon. This incident further strengthens my resolve to work for Salone in betteh wan. Nothing with distract. @Tamba Lamina, MLGRD.