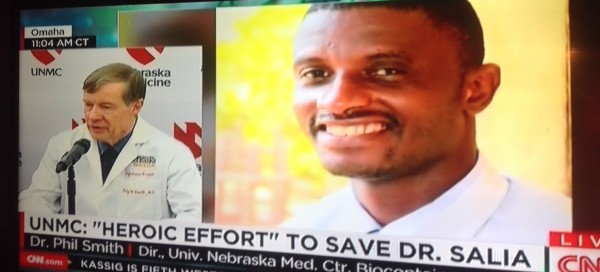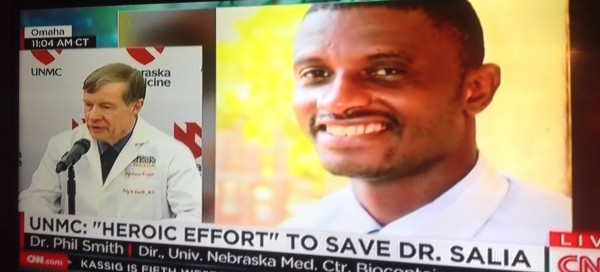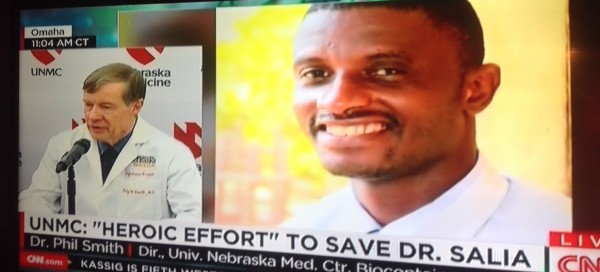 The doctors who treated Dr. Martin Salia in Nebraska have given details about efforts they made to save his life.
Update on Nebraska Med Ebola patient Dr. Martin Salia from Drs. Phil Smith, Chris Kratochvil, Daniel Johnson and Chief Nursing Officer, Rosanna Morris:
Dr. Salia arrived at the Biocontainment Unit on day 13 of his disease. (Other Ebola patients got here on days 6 and 8.) Dr. Salia was unresponsive, had no kidney function and was working hard to breathe.
He went into cardiac arrest Monday morning and passed away around 4:00 a.m. "We gave it everything we could," said Dr. Johnson, Division Chief of Critical Care Anesthesiology. "Our staff worked around the clock to save him. He was given a dose of convalescent plasma and ZMapp therapy.
We also tried dialysis and respiratory support." Our staff is deeply saddened and grieving this loss, but they are still dedicated to treating Ebola patients. "I want to thank our local heroes who took care of a global hero," said Morris. "Their work was second to none."
==========
President Barack Obama issues condolences to the family of Dr. Martin Salia, the patient with the Ebola virus who died here today:
We extend our heartfelt condolences to the family and loved ones of Dr. Martin Salia, who succumbed this morning to Ebola at the University of Nebraska Medical Center, despite the heroic efforts of that institution's incredibly talented team. Dr. Salia leaves behind loved ones in the United States, his adopted homeland, and in Sierra Leone, where he was born.
A general surgeon, Dr. Salia dedicated his life to saving others. He viewed this vocation as his calling, telling his fellow United Methodist Church members that he pursued medicine not because he wanted to, but because he firmly believed it was God's will for him. Dr. Salia's passing is another reminder of the human toll of this disease and of the continued imperative to tackle this epidemic on the frontlines, where Dr. Salia was engaged in his calling.
It was a tough day for these folks. We want to say thank you to all the members of our Biocontainment Unit medical team and those who are there to answer questions in good times and bad.
Source from: Nebraska Medicine fb page…