By Mohamed Faray Kargbo
The Parliamentary oversight Committee on Tourism and Cultural Affairs says they will do everything within their power to ensure that the tourism industry develops in Sierra Leone.
In a familiarization meeting with stakeholders of the industry on Friday 10th June, 2016 in Parliament, the Committee requested an update from the ministry. The Minister in charge of Tourism, Sidie Yahya Tunis highlighted the plethora of challenges that are militating against the progress of tourism and culture in Sierra Leone. The meeting took place two days after the Minister did an assessment of the cultural heritage assets in the Western Area.
"Lack of professional human resource capacity, absence of appropriate administrative structures; lack of vehicles for mobility, challenges in the aviation industry and inappropriate monitoring of touristic sites are some of the factors responsible for the slow growth of the industry."
Minister Sidie Yahya Tunis lamented that the allocation to the Ministry is not only minimal it is equally difficult to access, making it even more herculean for the ministry and its sub vented agencies to accomplish their goals.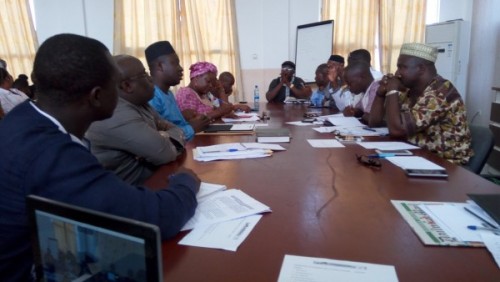 The Minister spoke about plans to increase the visibility of Sierra Leone's potentials in the tourism industry so as to attract more tourists into the country.
A member of the Parliamentary Committee on Tourism and Culture, Hon Ibrahim Ben Kargbo asked for greater collaboration among various line ministries to promote tourism. The Ministry of Tourism should forge collaborative ties with the Ministry of Foreign Affairs, Information and Transport to efficiently utilize Sierra Leone's touristic potentials. He concluded thus "Members of Parliament must put pressure on the Ministry of Finance to provide funds for the protection and preservation of Bunce Island. We should also promote internal tourism."
"The Ministry has not made itself relevant over the years, hence the low budgetary allocation." Remarked Hon Kombor Kamara.
The Monuments and Relics Commission (MRC) is the agency charged with the responsibility of promoting the cultural heritage of Sierra Leone. Implementing a workload of over 60 years remains a very big challenge for a Commission that was reconstituted only two years ago, according to the Chairperson, Isatu Smith.
Sierra Leone's cultural and tourism sector needs a lot of resources to fix, regrettably, budgetary allocation has not been impressive over the years. Most of the heritage assets are in a state of disrepair. The Government of Sierra Leone recently provided funds for the restoration and preservation of some of the assets in Freetown. These include the Old Fourah Bay College building, St John's Maroon Church, the Sierra Leone National Museum and the National Railway Museum.
The Parliamentary Oversight Committee on Tourism and Culture promised to overhaul the situation by making strides aimed at improving the sector in Sierra Leone. Until this is done, culture and tourism remains a treasure hidden underground.